Para-snowboard banked slalom to debut
Around 40 riders from over 10 countries will compete in the first ever banked slalom races at World and Europa Cups beginning on Wednesday (19 November) in Landgraaf, the Netherlands.
18 Nov 2014
Imagen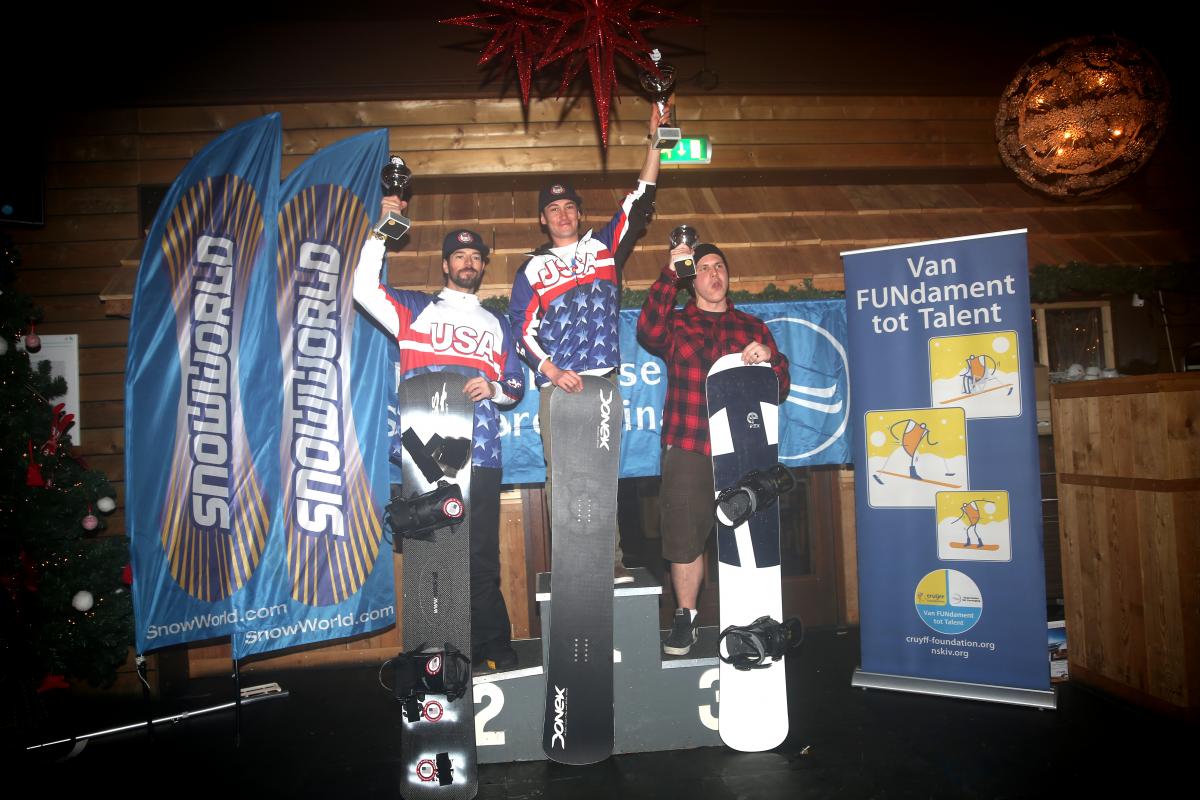 ⒸEdo Jugerius
By IPC
Around 40 snowboarders from over 10 countries will line-up to compete in the inaugural banked slalom races at the first para-snowboard World and Europa Cups of 2014-15 from Wednesday (19 November) in Landgraaf, the Netherlands.
The competitions are the curtain-raiser on the season which features the 2015 IPC Para-Snowboard World Championships in La Molina, Spain, between 23-28 February.
The introduction of banked slalom joins a new format for snowboard-cross, which will see riders race head-head after an initial qualification round, after the successful debut of para-snowboard at the Sochi 2014 Paralympic Winter Games.
A series of prolific athletes will line-up at the indoor course at Snowworld for banked slalom, including the all-American podium from the men's snowboard-cross at Sochi 2014 and the women's Paralympic champion Bibian Mentel-Spee, racing at home.
Men's Paralympic and world champion Evan Strong will ride in the SB-LL2 classification for athletes with an impairment in one or two legs or with less activity limitation. IPC Alpine Skiing, the international governing body of para-snowboard, recently announced a split in the lower-limb impairment classification between that and a category for athletes with a significant impairment in one leg or a significant combined impairment in both legs (SB-LL1).
Strong is eager to get started. "My goals for the season are to keep progressing, keep learning," he said. "I'm extremely excited that there are more disciplines. I'm also really excited that there have been new divisions created for upper-limb [at La Molina 2015] and above-knee amputees. It's definitely going to turn a lot of racers onto the sport and it's going to grow the field and strengthen the sport overall."
Strong tipped teammates Mike Shea and Keith Gabel, the silver and bronze medallists from Sochi, as potential contenders for the banked slalom title in 2014-15.
Mentel-Spee also heads into the new season as a defending world champion and will face American 2013-14 snowboard-cross world No.2 Heidi-Jo Duce in Landgraaf in the women's SB-LL2.
"I'm really looking forward to the first banked slalom, that's going to be really exciting," she said. "It will be interesting to see how the banked slalom and boarder-cross format is going to work out for me. I'm fit, I'm feeling good. The first competitions are going to be a test - have I done enough? Am I on the right path?"
In the men's upper-limb impairment races, Austria's world No.4 Patrick Mayrhofer will join No.6 American Fatu Matagi in the race to the line.
IPC Alpine Skiing Europa and World Cup races kick-off with a Europa Cup on 19 November and World Cup on 20 November. The full calendar can be found online.
The first head-head races will take place in Aspen, USA, from 11-13 January.
La Molina 2015 will see around 80 athletes from 20 countries gather for the biggest meeting of para-snowboarders since Sochi 2014.