Petrucio Ferreira, Silvania Costa win Brazil's 2016 Paralympic Awards
The great and good of Paralympic sport gathered on Wednesday night at Rio's Vivo Rio music hall.
08 Dec 2016
Imagen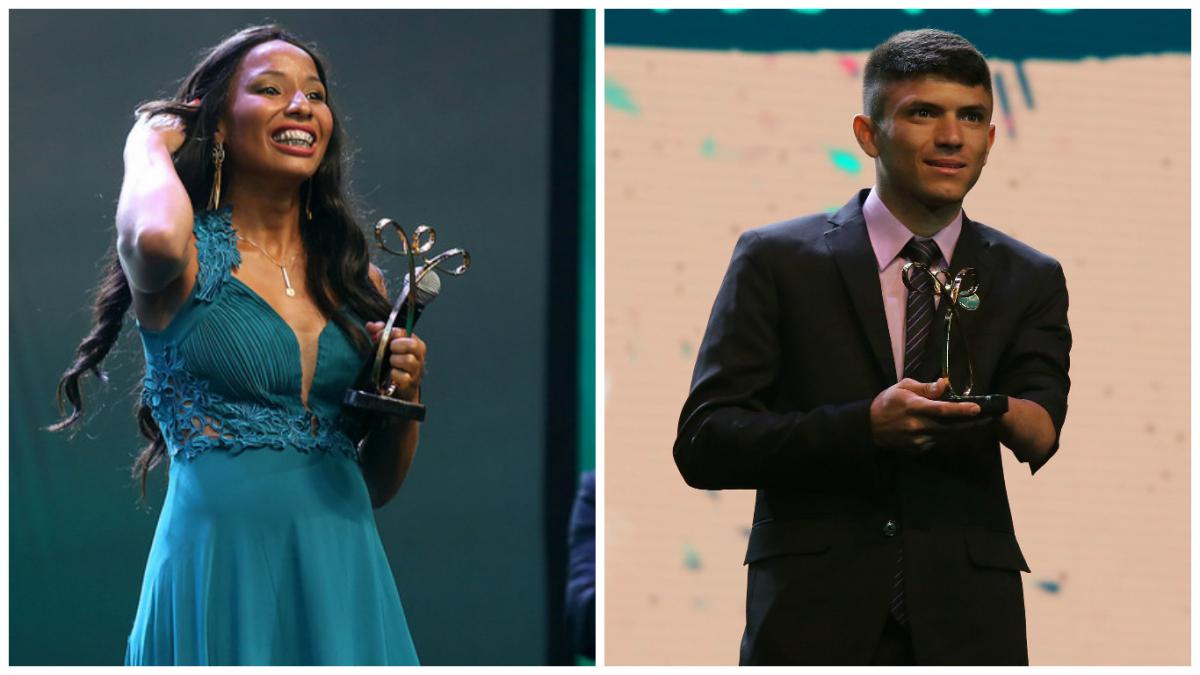 ⒸFernando Maia/Mpix/CPB
By Brazilian Paralympic Committee
Sprinter Petrucio Ferreira and long-jumper Silvania Costa were chosen by the public as Brazil's best Paralympic athletes in 2016 and honoured in a ceremony at Rio de Janeiro's Vivo Rio music hall on Wednesday (7 December).
In the men's contest, Petrucio got the best of multi-medalist swimmer Daniel Dias and football 5-a-side star Jeferson Gonçalves, also known as Jefinho in Brazil.
Ferreira won the 100m T47 at the Rio 2016 Paralympics in a world-record time of 10.57 seconds. He went on to claim silver medals in both the 400m and the 4x100m T42-47 relay.
He received 53 per cent of the public vote. Daniel Dias, who won nine medals at Rio 2016, finished second with 26 per cent. Paralympic champion Jefinho was third with 21 per cent.
"Coming back to Rio three months after the Paralympics is a great feeling because now I know I did my best for my country and its flag during the Games. I used to tell my mother, when I was younger, that this was my dream. I can tell you all that this dream came true at home. I thank everyone who believed in me since the beginning in 2013 when I first ran in Paralympic events," said Ferreira.
Silvania Costa had a perfect year. She twice set new long jump world records in the T11 class, before winning the gold medal in the event at Rio 2016.
She was honoured after receiving 61 per cent of the votes, against 23 per cent who voted for javelin thrower Shirlene Coelho, also a gold medallist in Rio. Evani Calado, who was part of Brazil's BC3 Paralympic champion boccia team, finished third, with 16 per cent.
Costa said: "This is a great night, one that I am going to keep deep in my heart. I can say this year is coming to an end and I am glad I could fulfil my dreams. I was able to break world records and I am Paralympic champion. I thank everybody, because I know nobody achieve anything alone. This trophy right here shows that I achieved not only medals but also the heart of the people who voted for me."
Alongside Ferreira and Costa, the Brazilian Paralympic Committee (CPB) also elected the best athletes in each of the 22 sports of the Paralympic Games programme. Amaury Veríssimo (athletics) was chosen the best individual coach and Fabio Vasconcelos (football 5-a-side) won best team coach. Fabio Bordignon, twice a silver medallist in the T35 sprint races in Rio, was elected the best young athlete.
CPB president and IPC vice-president Andrew Parsons honoured the Rio de Janeiro city mayor Eduardo Paes, as he was awarded the 2016 Paralympic Personality of the Year prize. Paes could not attend the event, but was represented by Joaquim Monteiro de Carvalho, head of the Municipal Olympic Company. Former swimmer Clodoaldo Silva was also acknowledged with the Aldo Miccolis prize for his great career.
It was an emotional evening at Vivo Rio. The 2016 Paralympic Awards held a minute's silence in memory of the victims of the plane crash with Brazilian football club Chapecoense. In the same evening of the event in Rio, Chapecoense would have played the final of Copa Sudamericana against Colombian side Atletico Nacional.
In one of the most remarkable moments of the event, four-time Paralympic medallist Marcia Malsar received the Paralympic torch she carried at Maracanã in the Opening Ceremony of the Rio 2016 Paralympic Games. Brazil's first-ever Paralympic gold medallist, Malsar dropped the flame when she was carrying it during the Opening Ceremony in Rio. She left the stadium that night without the torch and finally received it in the Paralympic Awards.