PyeongChang 2018: Bronze brings confidence for Italy's Luchini
World Championship medal has given the Para snowboarder a boost, yet keeping him grounded.
21 Aug 2017
Imagen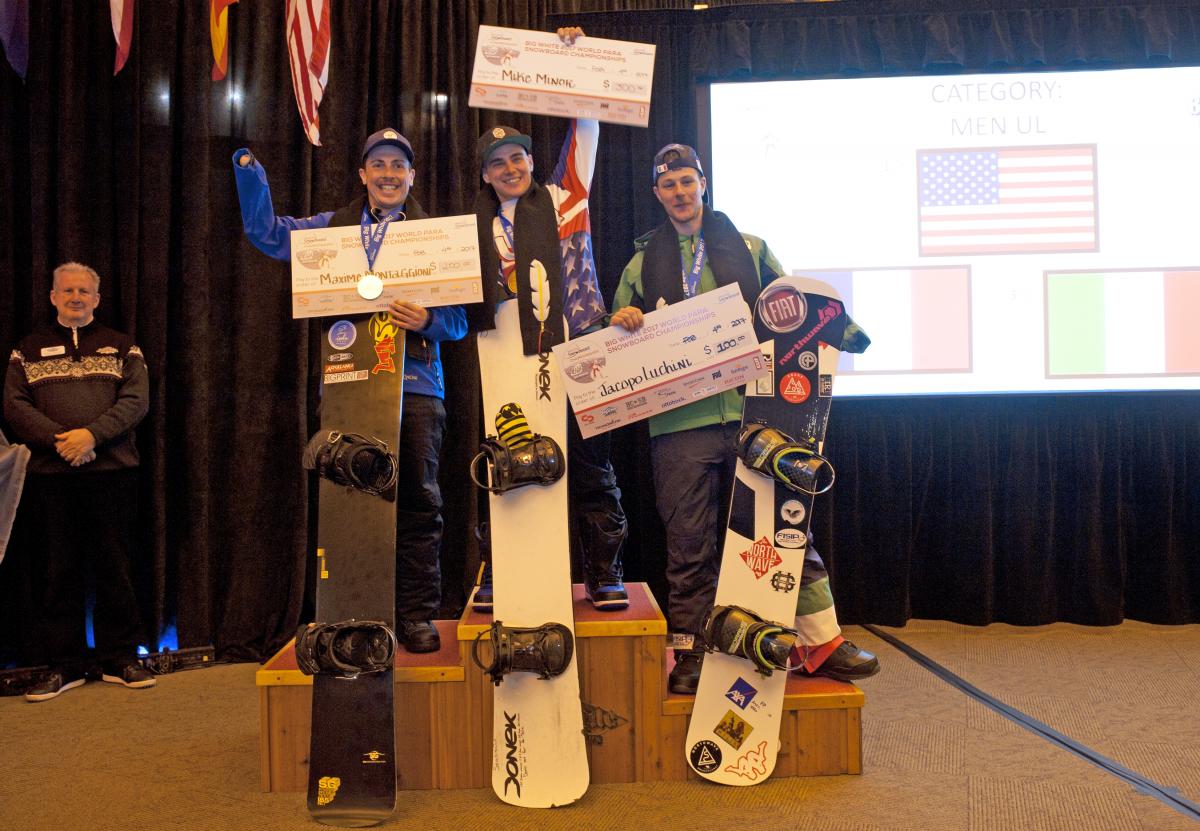 ⒸGavin Crawford
By Dave Phillips and IPC
"My success at Big White has certainly helped me to believe more in myself and my ability and consequently to raise my ambitions..."
One World Championship medal was enough to boost Jacopo Luchini's confidence heading into the PyeongChang 2018 Paralympic Winter Games, which are just 200 days from today.
The 26-year-old Italian found his way on the podium in the men's snowboard-cross SB-UL in Big White, Canada, a significant accomplishment for his World Championships debut.
"My success at Big White has certainly helped me to believe more in myself and my ability and consequently to raise my ambitions, of which I aim at least to get on the podium," Luchini said.
"But it has also made me realise that the road to the top is still very long. I've never won more than a third place, neither in national or European races, so this keeps my feet on the ground and helps me focus on improvement in all aspects as an athlete."
Luchini described a "glaring error" in the semi-final that led to his defeat to France's Maxime Montaggioni, the eventual silver medallist. But in a head-to-head event, he said those errors are the "beauty of snowboard-cross" and it should be no different come PyeongChang 2018.
The banked slalom event is still coming along.
Luchini finished a modest fifth-place at Big White 2017. Considering it was his third World Para Snowboard season, he acknowledged he "still has a lot to learn."
Looking back, his expectations heading into Big White were "those of an athlete in just his second international competition and first World Championships, knowing that I could do well but at the same time, needing to maintain the humility of a novice."
The Test Event in PyeongChang 2018, which coincided with the World Cup Finals, was important for Luchini as he targets a Paralympic debut.
"It was particularly fast and frozen, and while the course may be revised and modified, there is nothing else to do but to train as best as possible to be ready for everything which comes my way," he said.
That is just what he has been doing in the offseason.
Twice a day, Luchini can be found working out in the gym, and a couple of times a week there are also sessions in the skate park to retain the muscle memory and feelings of riding. Given the difficulties athletes may face in PyeongChang, there has been attention to detail from the coaches.
"At the moment we're in the hands of our athletic trainers, who have provided us with meticulous training cards, which each of us carries out with our personal trainer," Luchini said. "These are then verified during by all the staff when the athletes come together. We try to take the best out of every past competition, or workout to improve in every single detail."
The Paralympic Winter Games will take place in PyeongChang from 9-18 March 2018.