PyeongChang 2018: Fabulous French win relay gold
Final day of cross-country races sees medals for Ukraine, Canada, Norway and Germany
18 Mar 2018
Imagen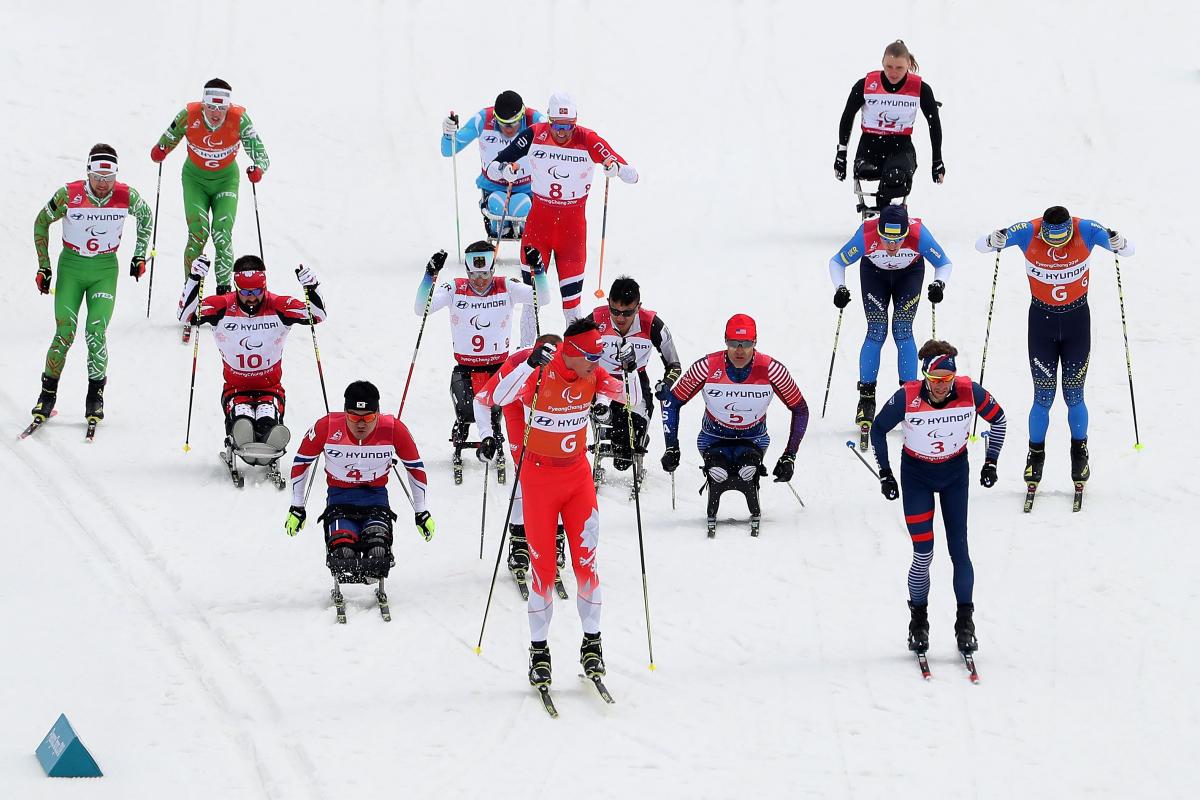 ⒸGetty Images
By Louise Wood | For the IPC
The cross-country competition of the PyeongChang 2018 Paralympic Winter Games ended in style with some stunning relay action at Alpensia.
World champions France claimed open relay gold to add to their world title.
The team of Benjamin Daviet, Anthony Chalencon and Thomas Clarion with their guides Simon Valverde and Antoine Bollet were too strong for the opposition. Daviet in particular was excellent, racing in the first and third leg to leave his team in the lead. That makes three gold medals and one silver for Daviet at the Games and a gold and bronze for both Clarion and Chalencon.
"It is a real satisfaction, a great victory with my team. I'm very proud to be in this team. It was a very great race for us and I'm very happy," said Chalencon.
"Our group is really strong. We are close all together, so it is really nice to win all together," added Clarion.
The silver medal went to the Norwegian team of Nils-Erik Ulset, who did two legs, Hakon Olsrud and Eirik Bye with his guide Arvid Nelson.
"We value this team race really highly and you don't want to be the guy who ruins it for the whole team. But today I felt that the whole team was doing great legs," said Ulset after the race.
"It's so great to win medals together," he continued. "It's us who are training more or less every day at training camps, spring, summer and autumn, so it's nice to see everyone succeed and to get the result that we got here today."
The bronze went to Canada with a team of Collin Cameron and Brian McKeever with his two guides Russell Kennedy and Graham Nishikawa.
The Ukrainian team who were favourites for a medal received a penalty for a violation of the start rules and so could not make the podium.
In the Mixed Relay however they won the gold medal. The team of Iurii Utkin with guide Ruslan Perekhoda, Liudmyla Liashenko, Yuliia Batenkova-Bauman and Oksana Shyshkova and guide Vitaliy Kazakov were unstoppable. They led the race from beginning to end and no other team could get near them.
For Batenkova-Bauman it was her first medal here.
"I can't believe in this happiness after all the suffering that I went through. I've been working towards this for so many years and I was not expecting it. It is such a great happiness for me. I am exploding on the inside because of this gold medal."
She was especially happy to have done it with her teammates.
"When it is a team, the team spirit is so strong that you can sense it in the air and you understand that you are not alone. You are with the team and there is a lot of responsibility, but at the same time, it's like a family."
There was a great battle for the silver and bronze medals behind Ukraine. Going into the final leg of the race Japan were in second place followed by Germany and then Canada. In the end it was Mark Arendz, winning his sixth medal in six races, who managed to pass both the others and give Canada the silver medal.
His teammates Natalie Wilkie, Emily Young and Chris Klebl left him in a great position and he was able to finish strongly giving Canada two medals on the final day of competition.
The bronze medal went to the German team of Andrea Eskau, Steffen Lehmker and Alexander Ehler. It was the first medal here for the two men on the team but for Eskau it was her sixth. She raced two legs in a phenomenal performance considering all the racing she has done this week.
"This time it was just for the boys," she explained. "They have worked so much the whole year and I was so hopeful that we could get a medal here, because winning medals is the greatest thing in the Paralympics. You will always remember the medals. This was the last big chance and that we won it is so amazing."
The Closing Ceremony of PyeongChang 2018 can be watched live right here on the International Paralympic Committee's website. Highlights of each day's competition are also available.