PyeongChang 2018: Fitzpatrick ends Farkasova's golden run
British teenage snatches slalom title to spoil Slovakian's perfect record
18 Mar 2018
Imagen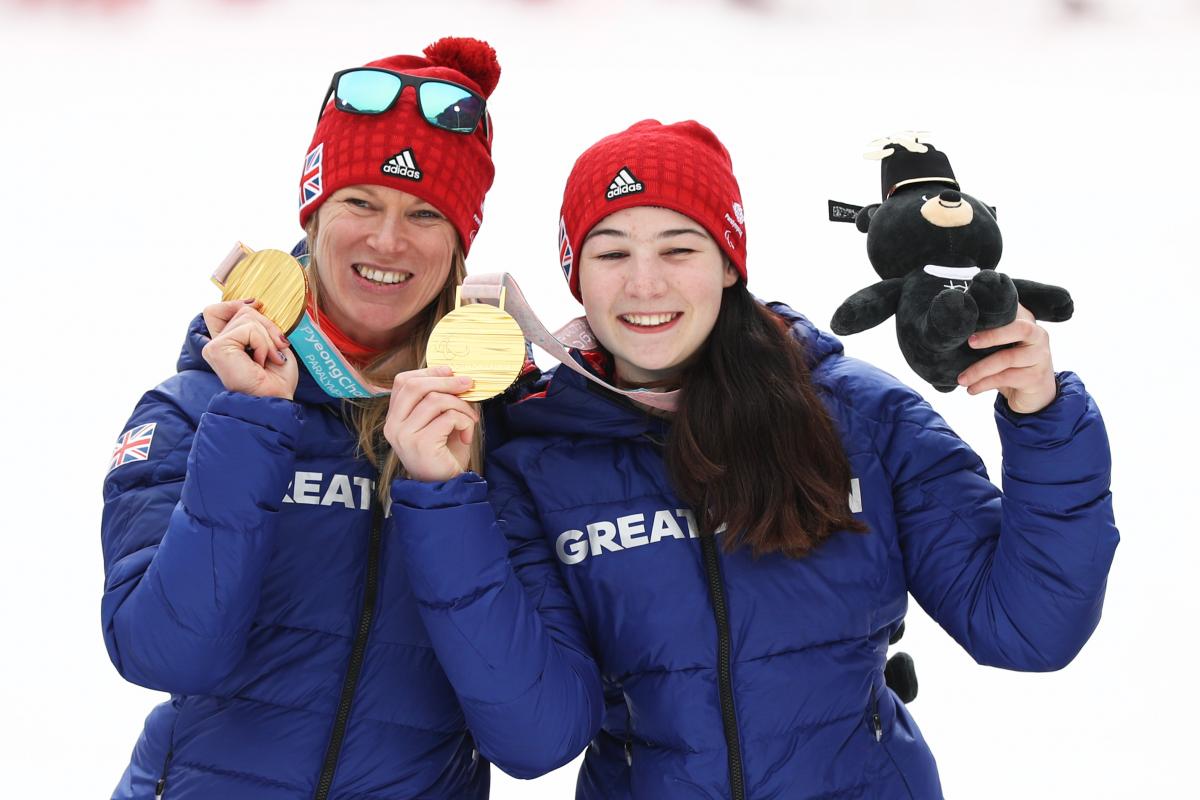 ⒸGetty Images
By IPC
The women's slalom brought alpine skiing to a close at PyeongChang 2018, with one of the biggest surprises of the alpine competition saved until last.
The script was written for Henrieta Farkasova to make it five golds from five events, but Menna Fitzpatrick stunned the Slovakian to win her first Paralympic title.
The British alpine skier, guided by Jennifer Kehoe, won the women's slalom vision impaired on Sunday (18 March), the final day of competition at the Jeongseon Alpine Centre.
The 19-year-old completed a notable debut, not only securing her country's lone gold at the PyeongChang 2018 Paralympics, but also becoming Great Britain's most decorated Winter Paralympian. She joins Kelly Gallagher as the only British alpine skier to with a Paralympic gold.
"Our main aim was to go and have fun and beat our time from previously," said Fitzpatrick.
"However Farkasova skied was out of our control. We just had to put in our best performance. And we fought the whole way down."
But she admitted the day did not start as she would like.
"I didn't have the greatest of mornings: nerves, a ski boot fell on my head," Fitzpatrick admitted.
"We had a giggle. Did some singing. We did a bit of Disney but actually it was (the song) I like Big Butts. It was the first song that popped into my head for some random reason."
There was no fifth gold for Farkasova and her guide Natalia Subrtova, as the Slovakian settled for silver in an otherwise dominant Paralympics.
But the one silver still hurt.
Behind Farkasova and Subrtova's sunglasses during the medal ceremony were tears.
"It's been a very emotional day for us as you can obviously see," Farkasova said. "We are very disappointed with our performance. It was not what we normally do, how we normally ski. There are a lot of negative emotions right now, not because of the result but because of the performance.
"It's not a very good feeling. I am sure we will fine and happy about what we have achieved. It's been amazing. We are just quite unhappy about how today went. We don't want to be a 'Debbie Downer'."
Although clocking the fastest first run, the Slovakians knew they could have gone faster as they held only a 0.66-second lead.
Coming down their second run, Farkasova lost time off the flat portion of the course and could not make up the deficit.
Fitzpatrick waited to see her opponent's time of 1:52.46 pop up.
It was 0.66 seconds slower, and that was when the emotions erupted. She finished her first Games with gold to go along with her two silvers and a bronze.
Fellow Britons Millie Knight and guide Brett Wild took bronze for their third medal in PyeongChang.
Forster the technical master
The first person to greet Anna-Lena Forster after her final run was the reigning world and Paralympic champion – and fellow German – Anna Schaffelhuber.
While many of the women's sitting skiers struggled down the slalom course, Forster was the only one to find a fast rhythm. The 22-year-old held a strong two-second lead entering her last run, and an error from her closest threat in Japan's Momoka Muraoka allowed Forster to win by more than five seconds. Austria's Heike Eder completed the podium for her first medal of the Games.
The victory was Forster's second gold of a successful Games, in which her slalom skiing in the super combined was also huge in capturing that gold. It was a vast improvement from four years ago, when she took silver in both events behind Schaffelhuber.
"I came here to give everything; it wasn't part of my plan to win two gold medals," Forster said.
While Forster showcased her technical skills, Schaffelhuber dominated the speed events leaving with two golds and silver in super combined. But the heavy favourite saw these Paralympics take a turn when she finished off the podium in giant slalom on Wednesday. Then on Sunday, Schaffelhuber lost part of her equipment during her final slalom run that threw away hopes even reaching the podium and closing the Games on a positive note.
Bochet – G.O.A.T.
Three, four, five seconds – Marie Bochet kept increasing her lead down her final run in PyeongChang. The French skier continued to add reason to why she will go down as the greatest of all time.
The 24-year-old won the women's standing category, finishing with four gold medals and bringing her Paralympic gold tally to eight since Sochi 2014.
In a 2018 Paralympics where many of the top alpine skiers – including Bochet in the super combined – faltered, Bochet bounced back to winning form overnight. The slalom was the only event she did not finish in Sochi, and was one of her two silvers from the 2017 World Championships.
"This is a special medal in the slalom. I am very, very happy to have it in my backpack," Bochet said. "It has been my best discipline since I started. I missed it in Sochi (2014 Paralympic Winter Games) and in Vancouver (2010) I was fourth and I said, 'Argh, slalom, please'. And now I have it.
"The giant (slalom) really helped me. I took so much confidence from that into this race."
Canadian teenager Mollie Jepsen proved a future talent after taking silver to go with her gold in the super combined, and downhill and giant slalom bronze medals. Germany's Andrea Rothfuss collected the bronze, adding to her four silvers.
Highlights of the action will be made available on the International Paralympic Committee's website.