PyeongChang 2018: Summer rivals reunite on snow
Wagner and Yamamoto swap athletics for snowboard at their first Winter Games
12 Mar 2018
Imagen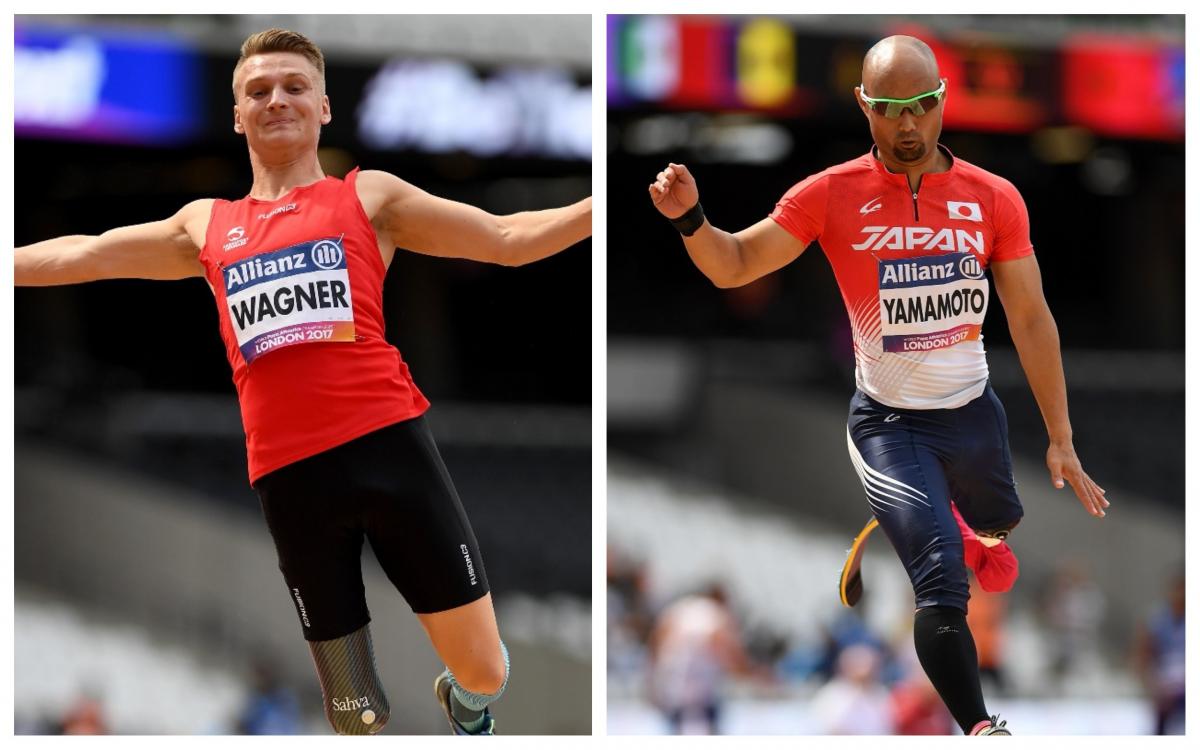 ⒸGetty Images
By IPC
"We are competitors and he's a competitive kind of guy. He's going to look at me and compare himself to me. That has to be one of his goals – he might not admit it, but I'm sure it will be because we are in the same situation. Of course, we can laugh about it, but at some point it's deadly serious as well. I hope I'm going to go head-to-head with him, that could be amazing."
The last time Daniel Wagner and Atsushi Yamamoto faced one another was in the long jump final at the London 2017 World Para Athletics Championships.
The summer sunshine lit up the stadium as Wagner leapt to gold, winning his first global title, while his Japanese rival – the defending champion – finished just 6cm behind in second place.
The pair go head-to-head again this week, but this time there is no sand pit in sight. Instead, they take to the slopes of PyeongChang, South Korea, both debuting in their first Winter Games.
Competitive will be fierce, but forget the rest of the field; if there is one man Wagner wants to beat, it's Yamamoto.
"He's going to be my biggest competition – I have to beat him, that's one of my goals, otherwise I'm going to hear about it for the rest of time in track and field!" exclaimed Wagner, who began snowboarding as a child, and returned to the sport after his right leg was amputated above the knee following a severe dislocation during a gymnastics competition.
"We are competitors and he's a competitive kind of guy. He's going to look at me and compare himself to me. That has to be one of his goals – he might not admit it, but I'm sure it will be because we are in the same situation.
"Of course, we can laugh about it, but at some point it's deadly serious as well. I hope I'm going to go head-to-head with him, that could be amazing."
As for Yamamoto, avenging his defeat in London is high on his agenda.
"I'm looking forward to seeing [Wagner] again," said the 35-year-old. "His ski performance is amazing, so I would like to ski my best in order to beat him this time."
The pair take on the Snowboard Cross on Monday (12 March) then the Banked Slalom on Friday (16 March).
Wagner first competed in snowboarding in 2014, but the change from track and field to snow sports has not been easy. As a sprinter – he also won 100m T42 world silver last year - he has had to work hard on his endurance. He's had to adjust mentally too.
"In track and field we have the call room and everything is so tense. It's not like that in snowboarding – everybody is so chilled and having a good time. At the start I was very tense all the time and everybody was looking funny at me as they seemed so relaxed, so I had to adjust," explained the Dane.
Wagner believes his existing fitness and physical shape has helped him keep focussed, while the high-pressure environment of Para athletics means he will not suffer any big-stage nerves.
"I've been competing in so many big stadiums around the world so I know what pressure is," explained the 24-year-old. "I hope there will be a lot of pressure because I will thrive on that."
Yamamoto, who began snowboarding as a teenager after losing his left leg in a motorcycle accident, also believes his strength from the track will prove invaluable.
"I think I can take advantage of my physical abilities from athletics," explained Yamamoto, who took part in his first snowboard competition in February last year.
"For athletics, I can practice or train at any time, because I live near the training ground, but for snowboarding, you practice in a specific place, making it more difficult. When I can't practice, I try to compensate with athletics training," he added.
A track and field medallist at the last two summer Paralympic Games and World Championships, Wagner knows reaching the podium this time is a big ask.
"Going over to the Winter Paralympics - which is not my greatest sport - was hard for me, because I didn't know what people would expect from me," he admitted.
"They've always expected me to win medals and suddenly now I'm not sure I'm going to win one. That was hard for me mentally – is it good enough to be in the top 10 or will people see that as a failure?"
Fortunately, Wagner thrives on being an 'underdog'.
"I don't feel like a rookie but I definitely feel like an underdog. But that's something that drives me – how can I be the best me?" said Wagner, who watched the Sochi Games on television four years ago.
"It sparked a fire in me and I'm always up for a good challenge - and it definitely seems like a big one. I didn't know what to expect but you're not going to go anywhere if you're just sitting on your couch.
"If I get top five it would be a dream and if I get anything over that we are going to pop the champagne."
Every competition as well as the Opening and Closing Ceremonies can be watched live right here on the International Paralympic Committee's website. Highlights of each day's action will also be made available.