Pyha 2019: Cecile Hernandez's bittersweet win
French snowboarder stays motivated despite rival's absence
29 Mar 2019
Imagen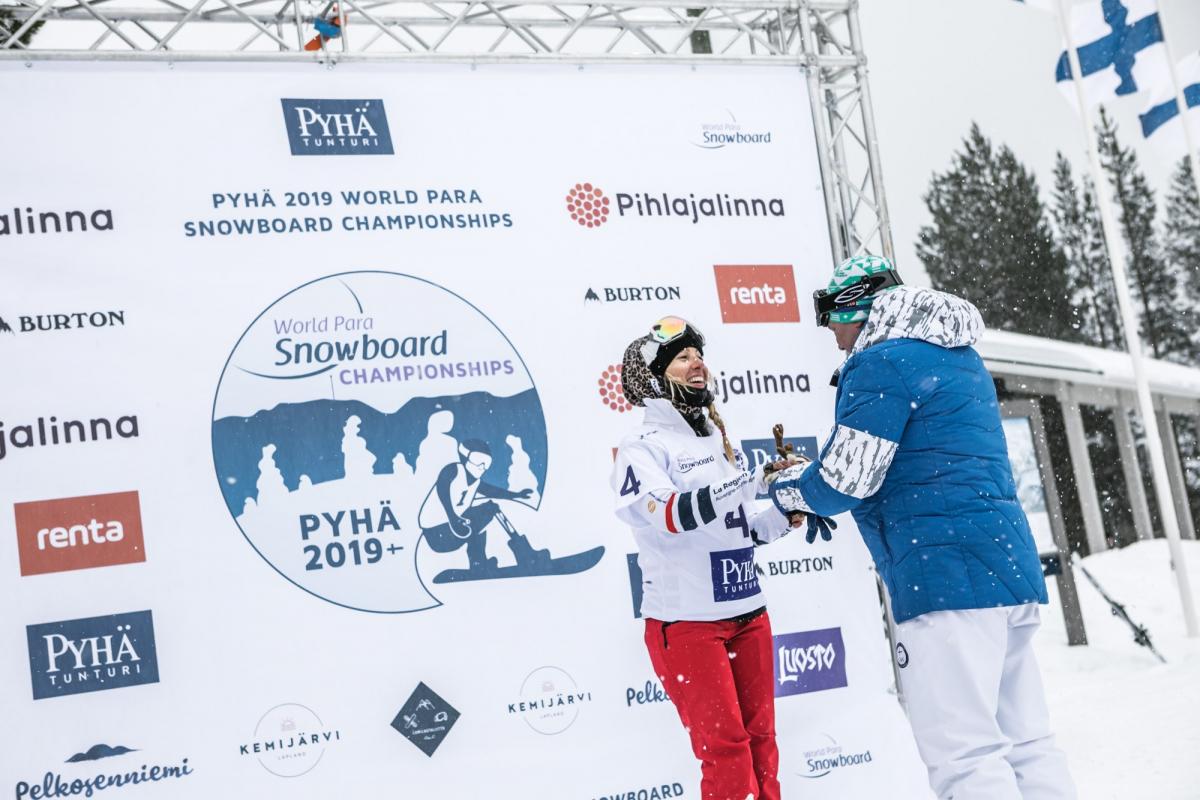 ⒸJani Kärppä / Kota Collective
By World Para Snowboard
France's Cecile Hernandez had enough reason to be happy after the first day of the 2019 World Para Snowboard Championships in Pyha, Finland.
She won gold in the women's banked slalom SB-LL1.
She shaved more than a second off her first run, an accomplishment many riders struggled to do with fresh snow falling on Wednesday's first day of action.
Still, after her final descent on the course, Hernandez got on her knees and stared at 57.94 blaring on the clock.
Fans in the finish area cheered, waving the French flag.
But something else was going through her head.
"I'm a world champion and it's a weird title," Hernandez said. "We are waiting for Brenna (Huckaby), and Amy (Purdy). But I'm happy because I improved my time on the second run and that was the job."
Health issues have kept both US snowboarders – who are also Paralympic and Worlds medallists – away from competing at the championships.
Chasing the competition
China's Liu Yunhai made her Worlds debut at Pyha, and Hernandez said it is cool to have a new athlete in the category and see how she improves in the coming seasons.
But at the same time, the feeling of winning gold could have meant more if she beat Huckaby – the person who dashed her golden hopes in both banked slalom races at the PyeongChang 2018 Paralympic Winter Games and 2017 World Championships. "Even if Brenna is not here, I'm here to compete and to do my best, and I try to do my best," Hernandez said.
"I texted Brenna and tried to convince her to come," Hernandez continued. "She said yeah but I just have one ankle and my ankle is injured. I said yeah but maybe you have a good physio and he can help. But she said no, no I need to take care of my body. But yeah next year it's going to be a good season."
Hernandez is keeping her head up with snowboard-cross set for Saturday.
She won the banked slalom world title in 2015 but has never won gold on a major stage in border-cross. In this season's World Cup circuit, Hernandez won all but one cross race, and she wants to capitalise those with the world title.
"For me, it is also the job of the whole season," she said. "The job I made of the gym, the job I made in the snow. I'm here. And I'm happy about that."
Looking to the future
Hernandez is one of the pioneers of Para snowboard, having competed in its Paralympic debut at Sochi 2014 and winning silver. With that, she has a sense of responsibility outside the field of play.
"We have a plan with all the other girls of the category [to grow the sport]," Hernandez said. "In France, we are talking with a new girl. And we try to convince with our social networks … I will go in the summer to a rehabilitation centre in France to speak about sport, about disability, about snowboard, to get some new girls for the next season."
The Pyha 2019 World Championships resume on Saturday with snowboard-cross. Highlights and live results can be found on World Para Snowboard's website.