Pyha 2019: Maxime Montaggioni's mental edge
Year-long recovery from injury sees snowboarder reconsider approach
20 Mar 2019
Imagen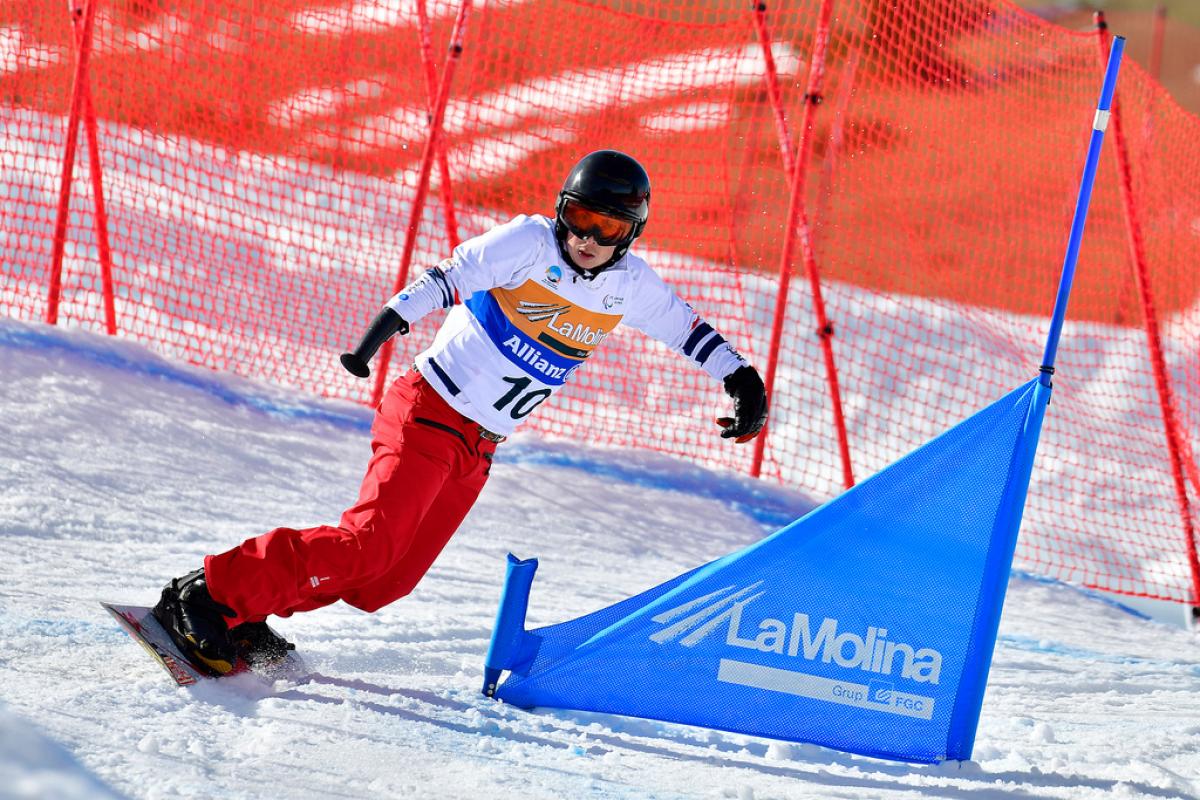 ⒸLuc Percival
By Lena Smirnova | For World Para Snowboard
"I'm completely different," Montaggioni said. "I'm less aggressive in my rides, I'm just thinking with my brain so I have strategy and I've got more maturity. Now I'm safer in my choices and in my vision of the race. I got some distance and now I use my brain more than my muscles."
Tearing a knee ligament in training a year ago gave French snowboarder Maxime Montaggioni an unlikely nickname.
"The brain, the brain!" called out the French national coach pointing to Montaggioni as he stood basking in the sun and gleam of his two new World Cup gold medals.
Montaggioni has done a lot of thinking since the debilitating injury that took him out of competition at the worst possible time in an athlete's career. The world champion and overall World Cup winner was training in PyeongChang, South Korea, for the 2018 Paralympic Winter Games when a crash turned his medal dreams into dust.
As his knee recovered, Montaggioni also underwent a mental transformation that has drastically changed how he approaches snowboarding.
Now instead of exuding the daredevil attitude prevalent in Para snowboarding, Montaggioni has become more focused on the mental side of racing. It is with this attitude that he goes into the 2019 World Para Snowboard Championships later this month, anxious to make up for missing the Paralympic Games last year.
"I'm completely different," Montaggioni said. "I'm less aggressive in my rides, I'm just thinking with my brain so I have strategy and I've got more maturity."
The brain
Montaggioni, who was born without a right hand and competes in the SB-UL class, was one of the top medal hopefuls for PyeongChang 2018, where he was to make his Paralympic debut.
The last-minute injury not only kept the 29-year-old from fighting for medals at the Paralympic Games, but also sidelined him for almost a year. As Montaggioni revisited the accident in his mind during the post-surgery recovery, his mentality also started to change.
"I'm different," Montaggioni said. "Now I'm safer in my choices and in my vision of the race. I got some distance and now I use my brain more than my muscles."
Since there is still some pain in his knee when he rides, the Frenchman found that emphasising his mental prowess is a good way to make up for any physical setbacks.
"Maybe that helped me," Montaggioni said. "I spend more time with other techniques, like my mental technique. I'm even more safe in my conditioning."
The goal
Equipped with this new mentality, he returned to the World Cup circuit in February 2019 and crushed the competition in Big White, Canada, where he took back-to-back golds in both boarder-cross races.
He was equally successful in his season's World Cup debut in banked slalom, clinching double gold in La Molina, Spain.
Montaggioni's next quest for medals will be at the World Championships, to be held from 26-31 March in Pyha, Finland.
High hopes
"It was really important before the World Championships because I accumulate confidence," Montaggioni said of his triumphant comeback. "I hope it won't be just for the World Cup and it will extend to the World Championships so I will continue to train before the big day and we will see what happens, but I feel more and more confidence race after race so I hope to continue like that."
Montaggioni won gold in banked slalom and silver in snowboard-cross at the 2017 edition of the World Championships and has high hopes for the upcoming competition thanks to his recent victories on the World Cup circuit.
"At the beginning of the season, I would say, 'we will see' but now I hope to conserve my titles, maybe get two golds," he said. "I will go for two medals, one medal in each category, and I'm very anxious to race in Finland because I love this place. I've been second twice last year there at the World Cup, so I hope it will be better."
The 2019 Worlds are particularly important for Montaggioni since he missed the sport's biggest competition last year and has had few chances to compete with the world's best since.
"Nothing is more important than the Paralympics and I missed the D-Day but for me it's important to come back, to conserve my titles and, in the future, to say maybe I will have a second chance at the Paralympics," Montaggioni said. "I will work for this."