Keith Gabel gets Hollywood ending
La Molina World Cup concludes with a dark horse in the spotlight
09 Mar 2019
Imagen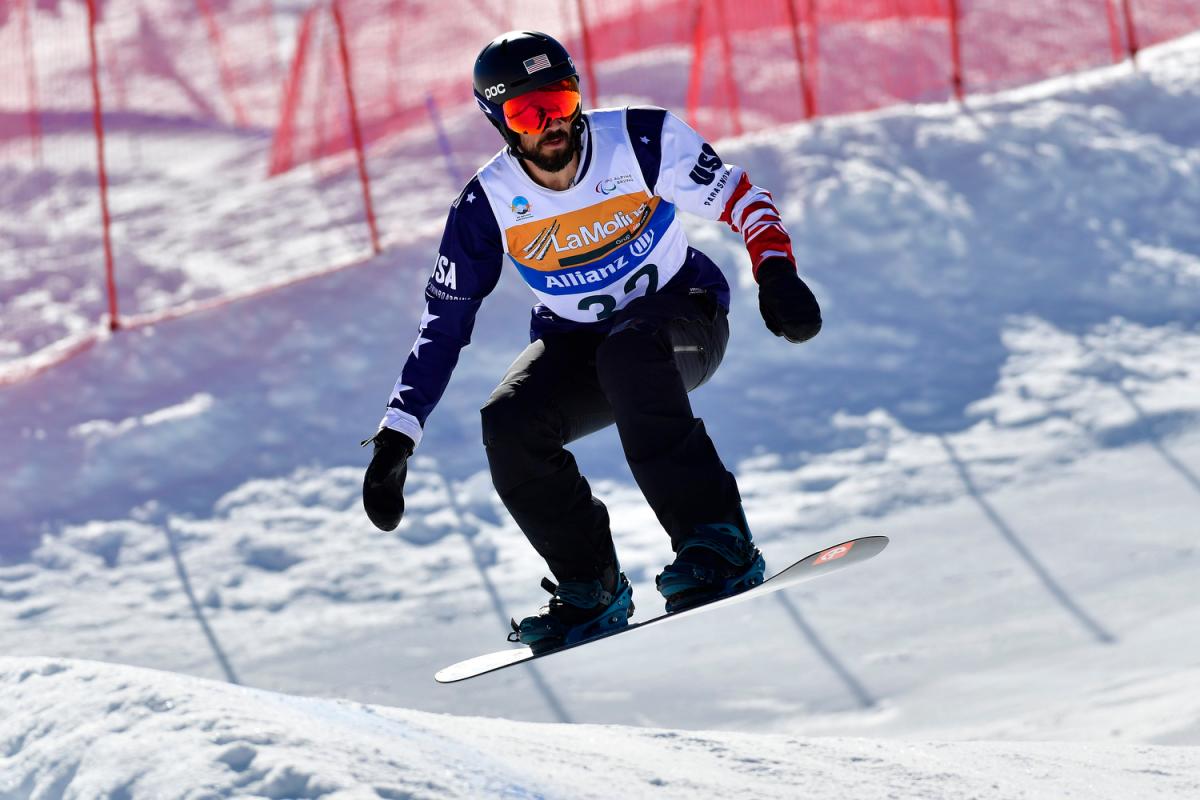 ⒸLuc Percival
By Lena Smirnova | For World Para Snowboard
"It means the world to me that I won. I'm extremely excited about it. I just wanted to go out there and have a good time and since I could see, it was amazing."
Whether it's speaking about athlete rights as an unofficial spokesperson for fellow riders or whipping through a course on a snowboard, Keith Gabel knows how to make a statement.
The US rider waited until the last race on the last day of the World Cup in La Molina, Spain to claim his career's first victory in banked slalom.
"It means the world to me that I won," Gabel said. "I'm extremely excited about it."
It was an eight-year wait for the Paralympic medallist in snowboard cross to get the coveted gold in the men's SB-LL2 banked slalom. Gabel came close to this goal in the first race, taking a bronze, and moved up to top spot in the second race.
"Yesterday was a little bit of a rough day for me," he said. "It was really flat light most of the day with the clouds rolling through and I can have a tendency to have difficulties with my eyes changing so today I just wanted to go out there and have a good time and since I could see, it was amazing."
For those who came across Gabel on the morning of the second race, it was apparent that the 34-year-old sports veteran was in the zone.
"I saw it in his eyes early this morning that he was eager to get the gold medal and go at it and kill it and that's exactly what he did so I have full respect for him," said Ben Tudhope, who took gold in the first banked slalom race and finished with a bronze in the second.
"Keith was one of my mentors coming into the sport," the Australian rider added. "He's really taken me under his wing and now he's one of my biggest competitors. He's such a good rider and I get to compete against him. Being next to him, I'm so happy for him today."
Tudhope set the second fastest time after Gabel in the first run, but was unable to overtake him in try two because he crashed in the second to last turn. With this bronze in banked slalom, however, the 19-year-old has taken a medal from every event in La Molina, including two golds.
Gabel's teammate Zach Miller tallied back-to-back silvers in the two races to mark his best ever result at a World Cup.
The brunt of Bruno
Chris Vos was on track to win six out of six banked slalom races in the men's SB-LL1 class at this season's World Cup after a top first run on the last day of competition in La Molina.
But Croatia's Bruno Bosnjak had other ideas.
"It's enough for him," Bosnjak said jokingly of the Dutch rider's undefeated streak in the discipline after he beat Vos by a mere 0.09 seconds in the second run.
"I knew that I was kind of safe with my time from the first run for getting a medal and I knew that I don't have anything to lose so I just risked a little bit more because I felt that I could go about two seconds faster, for sure, since I did a lot of speed checks in the first run," Bosnjak said.
Vos was among the first to congratulate Bosnjak on his victory at the finish line. Austria's Reinhold Schett took the bronze.
A beautiful mind
For Anne Garttener, just finishing the race was an accomplishment. Getting bronze medals in the two banked slalom races in the women's SB-LL2 was an additional bonus.
A month ago she crashed and got a concussion at the World Cup in Canada's Big White. The Dutch rider was unsure if she would be able to compete in La Molina, but at the end of the week she leaves the World Cup with three bronze medals.
"It was real bad so I'm really glad I can be here," Garttener said.
Her teammate Lisa Bunschoten finished the World Cup in La Molina with a perfect record, winning all four races, while Spain's Astrid Fina Paredes got four straight silvers.
Get up and go for gold
Like Garttener, Brenna Huckaby was returning to the slopes from a rough crash, albeit a more recent one. The USA rider crashed into the netting in the first race of the women's SB-LL1 class and was checked for signs of a concussion.
While that fumbled run was good enough for a silver in the first race, on the final day of competition, the Paralympic champion was determined to get the gold. She succeeded in this quest, getting her first win in La Molina by beating chief rival Cecile Hernandez of France.
"It's hard to get back in and ride after you crashed," Huckaby said. "I definitely felt like I was a little more conservative because of it, but I'm really proud of myself for getting through it."
Maximum effort
France's Maxime Montaggioni completed his comeback to the World Cup circuit with back-to- back victories in the banked slalom, to follow up on the double gold in his season's border cross debut in Big White.
The French rider trailed Australia's Simon Patmore after the first run, but shaved more than a second off his time on the second try to take the gold.
"Today was not so easy because after the first run, I was not first but I like this kind of situation - to be second, but not so far," Montaggioni said. "I decided to fight against the time and it was a success."
Patmore took silver, while Austria's Patrick Mayrhofer finished third with his wife, toddler son, mother and brother following the race from the sidelines.