Fifth place no more for golden Bruno Bosnjak
Banked slalom specialist grabs career's first gold in snowboard cross
06 Mar 2019
Imagen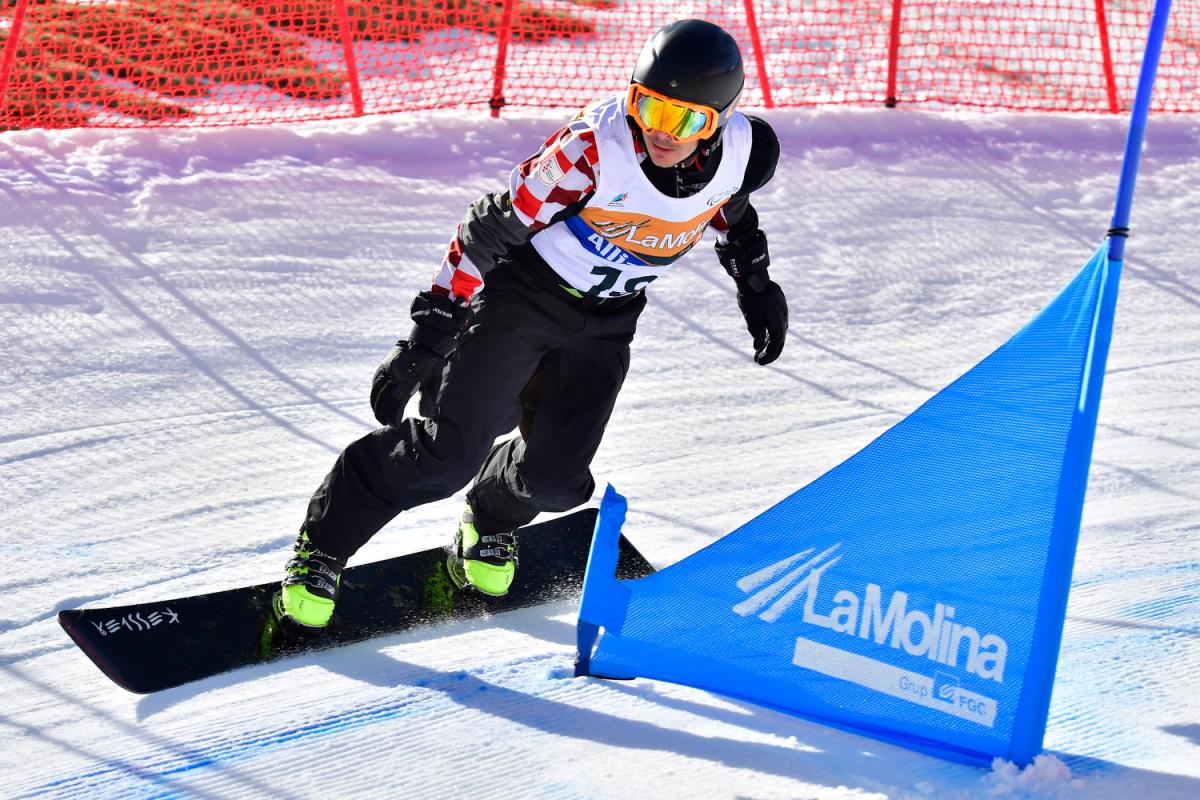 ⒸLuc Percival
By Lena Smirnova | For World Para Snowboard
"I was really looking forward to this podium and I was training hard for border cross since last year, also for the Paralympics, and I'm super happy that I finally did it. Not only the podium, but it's even a gold, so super happy and super proud"
Croatia's Bruno Bosnjak has not missed a single banked slalom podium during the World Cup this season. Snowboard cross, on the other hand, was a different matter.
Bosnjak could not push his way above fifth place, but when he finally did at the World Cup in La Molina, Spain, the result exceeded all his expectations.
"It's my first podium and first gold. My best place was fifth until now, every time fifth," a jubilant Bosnjak said after winning the men's SB-LL1 snowboard cross race on Tuesday (5 March).
"I was really looking forward to this podium and I was training hard for border cross since last year, also for the Paralympics, and I'm super happy that I finally did it. Not only the podium, but it's even a gold, so super happy and super proud."
Austria's Rene Eckhart and Reinhold Schett finished second and third, respectively.
In a surprising turn of events, the winner of the first snowboard cross race in La Molina and double world champion in the discipline, Chris Vos, crashed in the quarterfinal. It was exactly that level of risk that Bosnjak wanted to avoid in his own race.
"I invested into safety in some places and lost some speed," Bosnjak said of what made the difference in his breakthrough race.
"I had struggled in the third bank. I always got a hit on my tail and it turned me and I almost fell. Even in training I fell and yesterday also I fell in the same place in the first heat, so I decided to be slower but to be safer through this part because I knew I could catch up on the lower part."
Men's SB-UL - Safe and sound
The risk-free race tactic also worked perfectly for Maxime Montaggioni. The French rider tore his right knee ligament during a training session at the PyeongChang 2018 Paralympic Games and only returned to the World Cup circuit a month ago.
His comeback has been a massive success. After winning two cross races in Big White, Canada, Montaggioni took silver in the first race in La Molina and followed that up with a gold in the second race over Austria's Patrick Mayrhofer.
Montaggioni credits his medal flourish to his new, post-injury approach to the sport.
"I worked a lot to come back because my injury in PyeongChang was very crazy - my ligament was totally broken - so I had to work a lot in my rehab," Montaggioni said.
"When I started in Canada, I didn't expect any results, but they came, so that gave me a lot of confidence. I wanted to prove now that it wasn't just a lucky race so I continued to work and finally, I got revenge on Simon because it was very close yesterday and I'm very happy to come back."
Montaggioni's key rival, Paralympic champion Simon Patmore, defeated him in the big final in the first race, but fell out in the quarterfinal stage on the second race.
Meanwhile, Italy's Jacopo Luchini took bronze after narrowly missing the podium – and his medal streak – the previous day. Luchini has won medals in all snowboard cross races this season with the exception of the first race in La Molina.
"Yesterday I made some mistakes on the course and I think it was not my race," Luchini said. "I prefer something more technical, especially at the start."
Men's SB-LL2 – second gold for Massie
Canada's Alex Massie and Australia's Ben Tudhope switched places in the second race with the Canadian coming out on top to earn his career's second World Cup victory.
"Throughout this season we've gotten to know each other and it's great racing him because we can really depend on each other in what we do," said silver medallist Tudhope. "I feel so happy to race him in the final because we really go for each other and it's always a fair and good race."
The Australian defeated Great Britain's Owen Pick in the semifinal, with Pick going on to win his second consecutive bronze in La Molina.
Women's SB-LL2 - Friendly rivalry
There were plenty of hugs and laughter at the finish line of the women's SB-LL2 race as Lisa Bunschoten won her second straight final against Spain's Astrid Fina Paredes.
"Lisa and I are rivals on the course, but outside we are companions and friends," Fina Paredes said after congratulating and embracing her Dutch competitor. "This is what I like about this sport, that while we are rivals, we are also all friends and we help each other. That's very beautiful."
Bunschoten's teammate Renske Van Beek grabbed the bronze after losing out to fellow Dutch rider Anne Garttener the previous day.
"Yesterday I had a little bit of a rough start and I wasn't sure if I could make it. This race today means that I can do it," Van Beek said.
"My teammates are my best buds to shred with. We are riding a lot of heats and training with each other. It was so good to ride with them. Today I rode with Lisa and she was so fast and I can learn so much from her, and yesterday I raced against Anna and she did so good, but today I did better."
The snowboarders next compete in two banked slalom races, set to begin on Thursday (7 March) in La Molina. Live results will be available on the World Para Snowboard website.