Cecile Hernandez defy doctors in La Molina
French snowboarder mutes injury pain to race and win in World Cup
05 Mar 2019
Imagen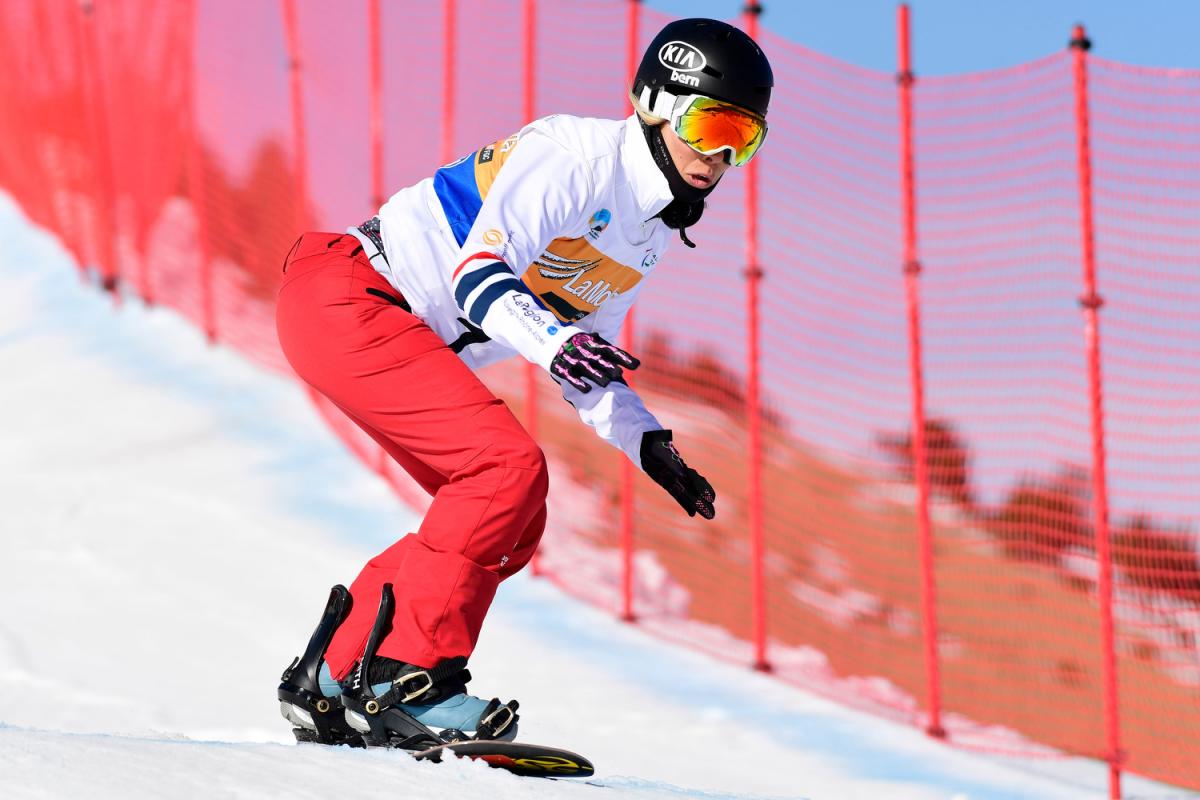 ⒸLuc Percival
By Lena Smirnova | For World Para Snowboard
"It's home and I just wanted to try. My body is always in pain with my disability, but now it's different. It's not the pain because of my disability, it's pain because of the crash, but I'm OK. I'm always happy and have a big smile when I'm on my snowboard"
Dislocating a hip and a knee 11 days prior to a World Cup would be a good reason for an athlete to pass on the competition, but not for Cecile Hernandez.
The French snowboarder, who lives just on the other side of the border from Spain's La Molina, saw the competition slope from her house and could not resist the chance to race even though doctors advised her to stop training altogether for 45 days after her crash.
Fighting through the pain, the 44-year-old not only made it down the snowboard cross source, but also surprised herself with a golden result in the women's SB-LL1 on Monday (4 March) at the La Molina 2019 World Cup.
"I consulted with my coach and we weren't sure that I will compete in La Molina, but I travel all around the world to compete and I won't compete here?" Hernandez said.
"It's home and I just wanted to try. My body is always in pain with my disability, but now it's different. It's not the pain because of my disability, it's pain because of the crash, but I'm OK. I'm always happy and have a big smile when I'm on my snowboard."
Hernandez, who is diagnosed with multiple sclerosis, beat Paralympic and world champion Brenna Huckaby on her way to gold. It was the third World Cup medal for Huckaby who also finished first and second at an earlier World Cup in Big White, Canada.
"Overall, I'm not super impressed with my riding," Huckaby said. "I went down, I fell, and I know that I can be better, but I'm happy to be out here, happy to be riding and the sun is out so it makes me feel better."
For Hernandez, just finishing the race was already an accomplishment. She only went back on the snow the day before the race during official training, and had to tape up her knee to lessen the pain ahead of the race.
Although Hernandez does not train in La Molina, she said she still has an advantage on the slope because the snow is similar to the snow at her home resort and her family will come to cheer for her at the next races of the La Molina World Cup, which runs until Friday (8).
"It's always an advantage," Hernandez said of competing in La Molina. "I'm 30 minutes away by car. I'm not jet lagged. I'm sure that Brenna is jet-lagged. I'm not jet-lagged and I'm happy to be here. Spanish is my second language so it's like I was from here."
Women's SB-LL2 - Turning La Molina orange
The home advantage was even more palatable for Astrid Fina Paredes, a resident of Barcelona, which is a two-hour drive from La Molina. The Spanish snowboarder channeled this home feeling into a silver medal result – her fourth medal at the World Cup this season.
Dutch snowboarders Lisa Bunschoten and Anne Garttener took gold and bronze, respectively.
It was the fifth snowboard cross medal, and fourth victory, at this season's World Cup for Bunschoten. She previously won two races in Pyha, Finland and one in Big White, Canada.
"I'm really happy to win here because it's close to the World Championships so it's good to see where you stand now," Bunschoten said.
For Garttener, it was the first snowboard cross medal of the season. The 20-year-old recently suffered a concussion and made a comeback to the slopes in La Molina.
Men's SB-LL1 - Yes-way for Moen
Unstoppable in banked slalom this season, the Netherlands' Vos fell just short in snowboard cross with two silvers and one bronze. He made amends for that in La Molina, taking the gold and making the victory even sweeter by beating Austria's Reinhold Schett, who had upstaged him at previous World Cup stops in Pyha and Big White.
A surprising breakthrough in the quarterfinals put Norway's Kristian Moen on course to his first World Cup medal of the season. The Norwegian teenager beat a much more experienced Bruno Bosnjak on his way to the semifinal before finishing in third place.
"I fell in my time trials. I qualified last, so I had to go through Bruno who qualified second, and I was just very worried that I would go down again so I just tried to stay on my feet," Moen said of winning against the Paralympic banked slalom medallist from Croatia.
Men's SB-UL - Champion stride
Paralympic champion Simon Patmore broke Maxime Montaggioni's winning streak from Big White as he claimed his second cross victory of the season.
The silver in La Molina marks the third medal of the season for France's Montaggioni, who returned to competition in February after taking a year off due to injury, and gives him much-needed points on the quest for a second consecutive overall globe.
Patmore's semifinal rival Patrick Meyrhofer of Austria went on to win the bronze.
Men's SB-LL-2 - No Finnish as Tudhope wins
While Patmore soared to the top, it was a fall to the bottom for another Paralympic champion Matti Suur-Hamari. The Finnish rider crashed on the last turn during his semifinal against Canada's Alex Massie and needed medical attention for his shoulder.
With Pyha's double winner out of the competition, the door was open for Australia's Ben Tudhope who took his first World Cup cross win of the season, beating Massie in the final race. Owen Pick went unchallenged in the small final to take the bronze.
The World Cup in La Molina continues with the second snowboard cross races on Tuesday (5). Live results will be available on the World Para Snowboard website.