Lisa Bunschoten loving La Molina
Dutch dominate on day three of snowboard World Cup
08 Mar 2019
Imagen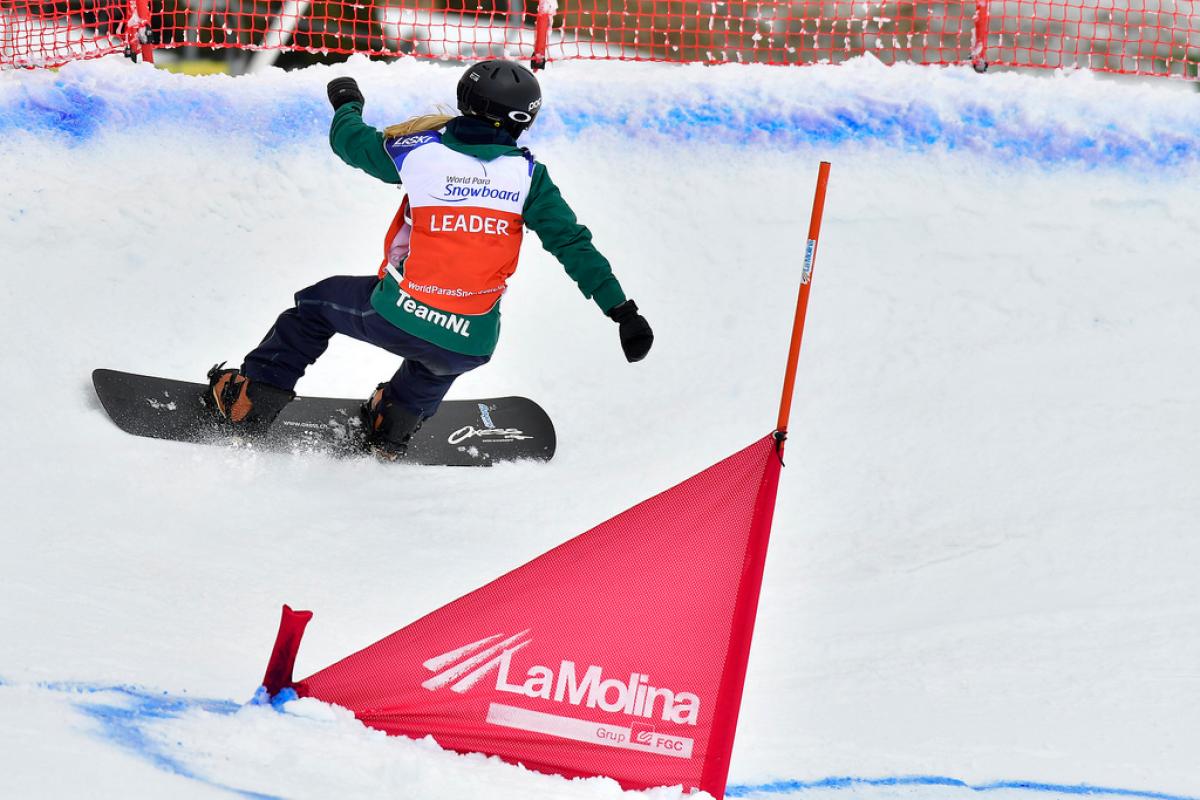 ⒸLuc Percival
By Lena Smirnova | For World Para Snowboard
Sailing like a red blur through the fog on the World Para Snowboard World Cup banked slalom course in La Molina, there was simply no chance Lisa Bunschoten was going to give up the leader bib to any of her rivals.
"It feels good," the Dutch star said of her winning outfit. "I'm trying to hold it."
Bunschoten took her third straight victory at the World Cup in La Molina, Spain thanks to two top runs in the women's SB-LL2 banked slalom. Spain's Astrid Fina Paredes finished second while Bunschoten's teammate Anne Garttener was third.
"It's actually a good one. It's close to [the] World Champs so it's good to know that you're the leader right now," Bunschoten said. "It gives some good motivation for [the] World Champs."
It is the fourth victory for Bunschoten in banked slalom this World Cup season to add to her five victories in snowboard cross. Despite her dominant performance, Bunschoten said she could have been even better.
"It was a little bit sketchy actually," the Dutch rider said. "I had to get used to the course a little bit. It's not an easy course with a lot of rhythm changes but it's fun. It's a little bit like surfing."
Her perfectionist attitude is a big part of what makes Bunschoten so successful, according to her boyfriend and fellow snowboard champion Chris Vos.
"I have a lot of respect for her. I'm 180 degrees different because I'm really chill and sometimes with snowboarding I don't care because otherwise I get nervous and with Lisa, everything needs to be perfect, perfect, perfect," Vos said. "I need to get an agenda like her, not come up with things out of my head!"
Not one to be upstaged by his winning girlfriend, Vos soared to a victory of his own in the men's SB-LL1 category. This latest win extended his golden streak to five out of five races in this season's World Cup banked slalom.
"I'm really proud of us together, that we are travelling the globe and that we both win," Vos said.
Vos led both runs, beating out Croatia's Bruno Bosnjak who got the silver, and Austria's Rene Eckhart who took the bronze.
Masterful Maxime
France's Maxime Montaggioni has continued his stunning comeback from injury in the men's SB-UL, adding banked slalom gold to his double snowboard-cross win in February.
"It was my first so I didn't know what was my value on banked slalom, but this banked slalom is really incredible so I get some adrenaline," he said. "I say, 'OK, go slowly at first and when you feel it, you can go faster'.
"In my first run, I was not satisfied but it was the best time so I was relaxed and in the second run, I improved my time so I'm very happy to be first today."
Although happy with his results, Montaggioni remains cautious about his key rivals, including silver medallist Jacopo Luchini and bronze medallist Simon Patmore of Australia.
"There is another race and I see they all want to beat me," Montaggioni said.
Up and down for down under
It was a rollercoaster of emotions for Australia's Ben Tudhope, who got the winning first run, but crashed early into his second try in the men's SB-LL2.
"I really wanted to give it my all in the second run, but unfortunately in the second turn I did have a crash so I was really annoyed going down and had a terrible thought at the bottom that I was not going to get the gold medal," Tudhope said. "To come down and see my name on the top, it's just so amazing and it really means a lot to me."
The USA's Zach Miller, who won the second run, finished 0.56 seconds behind Tudhope to earn his best result in banked slalom. He has only reached second place at the World Cup once, but in border cross.
Miller's teammate Keith Gabel grabbed the bronze thanks to his faster second run.
Sisters in arms
An early crash for Brenna Huckaby gave Cecile Hernandez an open road to her third World Cup victory in the women's banked slalom SB-LL1 this season.
"I saw Brenna crash in the B-net so my coach said, 'Go! You just have to cross the line in the first run and in the second run you go faster if you can, so it's cool. Finally the job is done," the French rider said.
Huckaby was forced to abandon the race to get stitches in her mouth after crashing into the net in her first run. As she rested by the finish line, Hernandez stayed with Huckaby until the US athlete was transported down the slope.
"I stayed with Brenna because I felt her pain," Hernandez said. "We are competitors, but she's also a girl and I needed to help her."
The World Cup in La Molina, Spain wraps up with a second banked slalom race on Friday (8 March). Live results will be available on the World Para Snowboard website.