Pyha 2019: Chris Vos on a roll
Dutch rider ready to make it six in a row at Worlds
14 Mar 2019
Imagen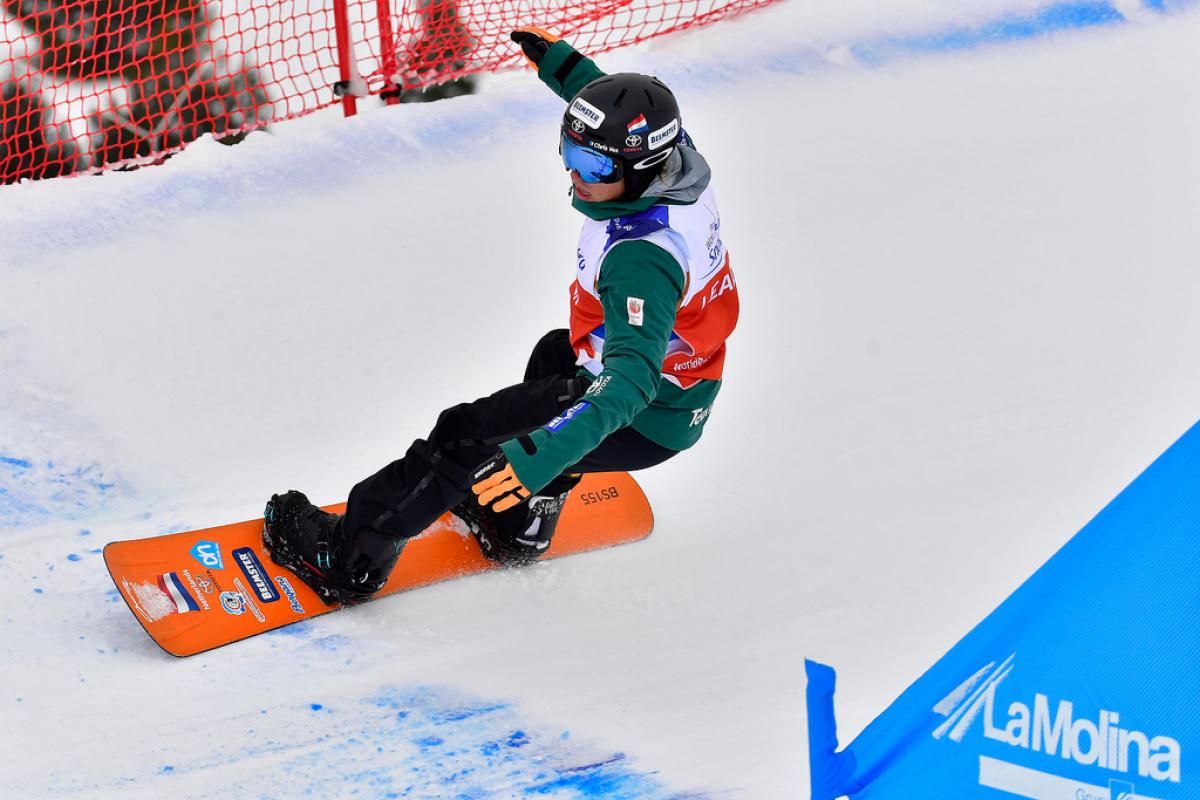 ⒸLuc Percival
By Lena Smirnova | For World Para Snowboard
"If I'm gonna think that everybody this season is a competitor or I'm the one to beat, I'll get nervous so I try to get it out of my head and just snowboard freely. That's mostly when I'm at my best."
As hard as it is to defend a world title, it is even harder to defend two. Now extend that winning streak to three Championships in a row - that is the challenge that Chris Vos is facing as he heads to the 2019 World Para Snowboard Championships.
The Dutch rider won gold in the men's SB-LL1 snowboard cross and banked slalom at the 2015 and 2017 editions and will be trying to repeat that perfect sweep in Pyha, Finland, when the resort hosts the 2019 Worlds from 26-31 March.
Being the man to beat does not faze the 21-year-old athlete.
"It did, but not anymore," Vos said. "If I'm gonna think that everybody this season is a competitor or I'm the one to beat, I'll get nervous so I try to get it out of my head and just snowboard freely. That's mostly when I'm at my best."
All-round fun
Riding for fun has been one of Vos' main priorities since putting in a four-year slog in gyms and on the slopes to prepare for the PyeongChang 2018 Paralympic Winter Games.
Vos trained 10 times a week, every day, for four years to build up muscle power. The effort helped him to win a silver in snowboard-cross in PyeongChang, but after returning to the Netherlands he was determined to rediscover the fun side of the sport.
"Now we do the same, 10 times a week, only less gym and way more crossover sports like mountain bike and skateboarding, surfing," Vos said. "I call it playing outside and for me that works way better because I don't really like the gym."
His favourite sports to do beside snowboarding are mountain biking, surfing and skating. While these crossover sports don't align perfectly with the skills Vos needs to compete, they help to keep him motivated and make him better at strategising races.
"A big thing is mental. Mentally I can be free and I can get my inspiration out of other sports," Vos said. "For example, mountain biking, it's not the same movement, but you're on a single track and you have big turns. You have rollers and jumps and you're chasing each other. That's really what border-cross and banked slalom are, only it's not on a snowboard.
Although his attitude towards snowboarding is now more relaxed, Vos has not eased off in terms of his competitiveness.
"Every race I want to win," Vos said. "When I'm racing, it's racing. Whether it's the World Champs or just a nice competition with the team, I need to win. That's something that's in me. Every race is full on."
That mentality even extends to the races Vos has with his girlfriend and fellow Paralympic medallist in snowboard Lisa Bunschoten.
"I don't let her win. And she won't let me win too, so it always ends up in a clash," he said.
Setting stones for the future
Having been mentored through the early stages in the sport by Dutch legend Bibian Mentel-Spee, Vos now aspires to make a similar contribution to other athletes' lives.
"The big thing I want to accomplish is inspire other people to get out of their seats and do things they love," Vos said. "I really want to show people that everything is possible."
The athlete established the Chris Vos Foundation half a year ago to help people with impairments obtain the specialised equipment they need to participate in sports, whether that is snowboarding or something else.
"I want to inspire people to do not only what I do, but help them to accomplish that," Vos said. "A lot of times in the Netherlands you need to buy your own sporting leg or wheelchair and then there's no money for other equipment for your sport, so I really want to help people with [the money] I can get out of the foundation and make them realise their dream."
As the foundation is still in its early stages, however, Vos' focus for now remains on defending his world titles. He expects the task will not be an easy one.
"A big thing that has changed in the last two years is that the level of competition between the riders has grown so much. I think the top five guys really have a chance to be a world champion," Vos said.
"Of course I want to win, and I'm going to do everything about it, but my other main goal is to stay happy and do the things I really love and always keep following my heart," he added. "Sometimes that's hard but what I really want to accomplish is that I always listen to myself."