Ben Tudhope offers golden tribute to teammate
Aussie wins four medals at La Molina in honour of Matthew Robinson
10 Mar 2019
Imagen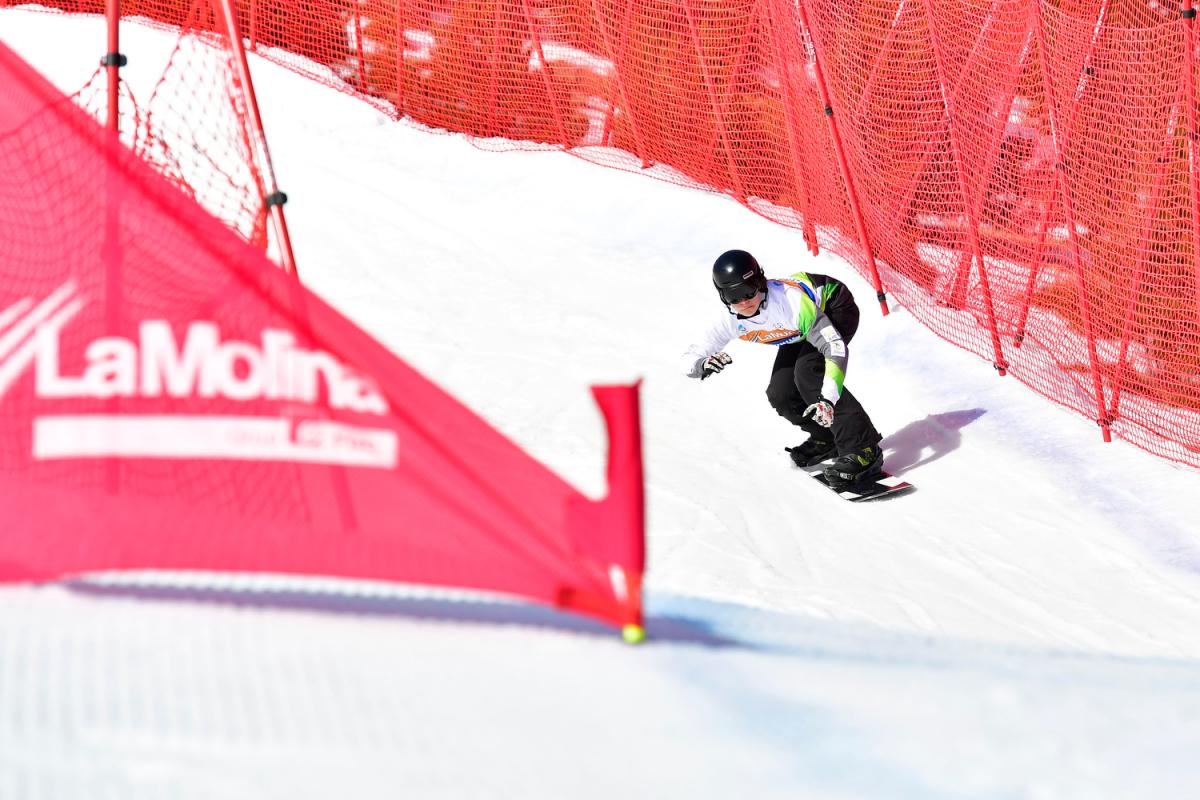 ⒸLuc Percival
By Lena Smirnova | For World Para Snowboard
"Every time I do come back here, it does bring back really solid and hard memories for me that I really have to fight. I ride in his legacy now and he would want me to do this and do the best that I can."
The sun was beaming down on the La Molina slope on what should have been a thrilling race day. But when Ben Tudhope returned to his hotel room after the border cross competition, the Australian athlete came face to face with a cold absence instead of the usual post-race celebrations.
His roommate, mentor and role model Matthew Robinson had crashed on the course earlier that day and was moved to a hospital in Barcelona. Nine days later as he was transported to Melbourne, Robinson passed away, aged 28.
That race day - 12 February 2014 - is still fresh in Tudhope's memory. Now 19 years old and one of the top riders in the SB-LL2 class, every time Tudhope wins a medal in La Molina, he dedicates it to the man who helped him take his first steps in the sport.
"It means so much," Tudhope said of winning four medals at the latest World Cup in La Molina, including two golds. "Every time I do come back here, it does bring back really solid and hard memories for me that I really have to fight.
"I ride in his legacy now and he would want me to do this and do the best that I can. I know he would be so proud so to get a medal at every event now, it's just amazing and I dedicate all my medals here to his name and his legacy."
Road to the stars
At the time of his passing, Robinson was one of the top riders in the SB-UL class. He secured the overall World Cup title a day before his accident in La Molina.
In addition to his sporting achievements, Robinson actively promoted snowboarding and served as a team leader for Australia's Para snowboard team. It was then that novice Tudhope, only 10 years old, joined the team.
"We were teammates when I first joined the Australian Paralympic team. He was a team leader so everything that he did, we followed," Tudhope said. "He's definitely taught me a lot in my snowboarding."
Robinson took the rookie snowboarder under his wing, and they would go riding together as Tudhope worked on his technique and got the feel of the sport.
"He was my best friend. He introduced me to Para snowboarding," Tudhope said. "I met him when I was 10 years old so it was at that crucial age of my development and I definitely learned a lot off him. He was that role model who really took me to the top level of the sport."
Ride for Matty
Fast forward five years and Tudhope finds himself in a similar status as his late mentor. Moving up in the ranks, the Australian rider is one of the favourites heading into the 2019 World Para Snowboarding Championships to be held on 26-31 March in Pyha, Finland.
Ahead of the bi-annual competition, Tudhope has tallied three medals in border cross at the World Cup and five medals in banked slalom. He won medals in each of the four races at the World Cup in La Molina in March - gold and silver in snowboard cross, and gold and bronze in banked slalom.
Tudhope credits this medal streak in La Molina to Robinson who is the key motivator for him on a course where his mentor's life came to an untimely end.
"It means so much. It's a special moment, especially winning my first ever border cross gold medal in his name," Tudhope said. "That's the event he fell in and passed away in. To ride in his name and to honour him as much as I can is truly special to me.
"I love him terribly. I love him and I love everything about him so it's great to live in his name. Every day I do ride for Matty."