Romania's Valeanu hits both the slopes and books
The aspiring doctor hopes to build off the bronze medal she won at the 2015 IPC Alpine Skiing World Championships.
21 Aug 2015
Imagen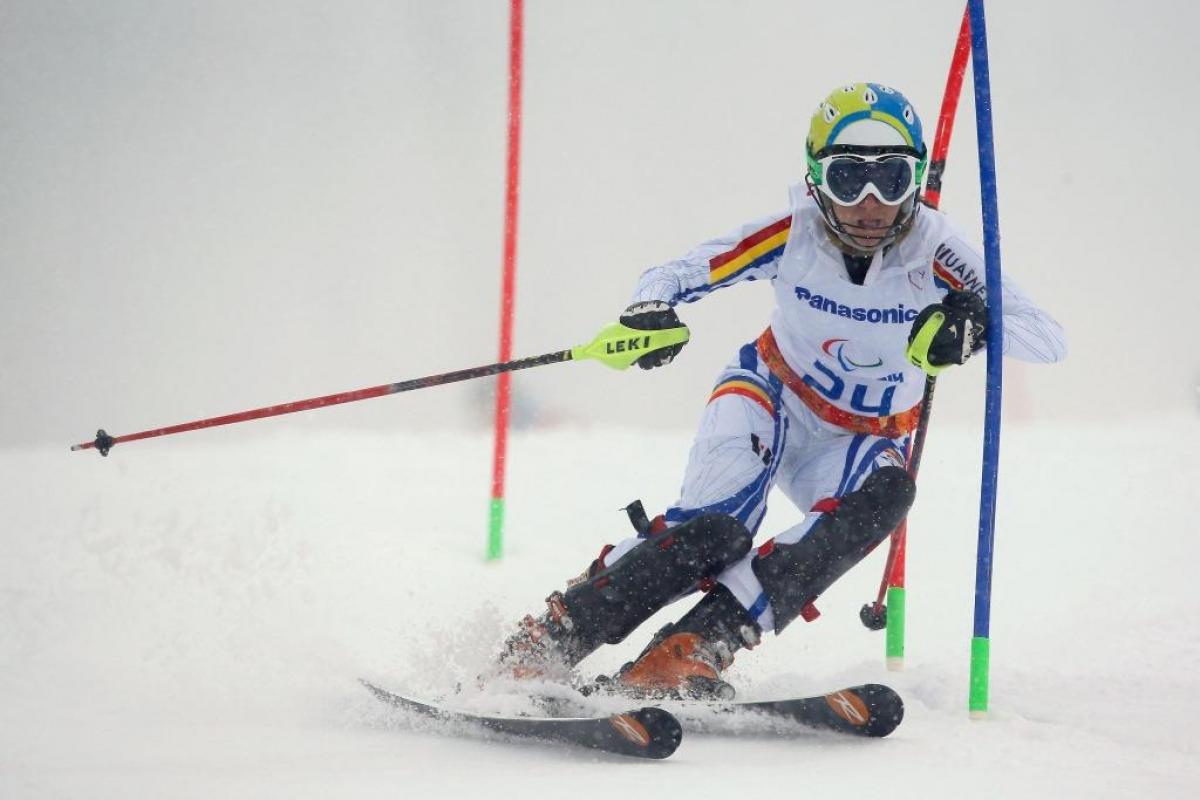 ⒸGetty Images
By Edith Carmichael | For the IPC
After winning her first alpine skiing medal in March, Laura Valeanu shifted her focus to medicine school. The Romanian won bronze in the women's slalom standing at the 2015 IPC Alpine Skiing World Championships in Panorama, Canada. With the 2015-16 season kicking off on Monday (24 August) with the Southern Hemisphere Cup, Valeanu's schedule will get busier.
But the 24-year-old prefers it that way.
"I like my life to be busy, extra busy with the two things I adore; skiing and medicine," said Valeanu, who said she wants to become a doctor. "Obviously I have no free time anymore but what exactly is 'free time?'
"I'm sure each individual has their own definition, but all these definitions should have something in common: to be in a state of mind that recovers and relaxes you, gives you energy and makes you happy," she said.
Valeanu competed in her first ski competition at age four, and in 2004, she was competing at the national championships in her home country. But in September 2006, Valeanu's life took an unexpected turn when she was hit by a car while riding her motorcycle. She subsequently had to have her right leg amputated below the knee. Whilst she was recovering in the hospital, her friends showed her footage of the 2006 Winter Paralympics in Torino, Italy. It was the first time she saw people with impairments skiing.
Four months after her accident, she returned to the slopes. Eventually, Vancouver 2010 became a goal.
"It felt strange but I was happy being back on the slope and tried hard to do everything perfect, although I knew it was going to be a long, long way," she said.
In 2009, Valeanu entered medical school in Munich, Germany. She also set sights on making her Paralympic debut the following year, and she did, becoming the first skier to represent Romania at the Winter Paralympics.
"Vancouver changed my life completely," Valeanu said. "It gave me so much power and made me confident but it was also so difficult."
She finished 14th out of 23 in the giant slalom, but realised the experience was more about getting used to her new prosthesis.
"I had never had such a long ski (184cm), even before my accident," Valeanu said. "I ended up with terrible open wounds on my stump."
For a moment after Vancouver 2010, Valeanu wanted to give up competitive skiing to focus on her studies. However, in 2012, she began training with the German Paralympic Team. After competing in the World Championships in Spain, Valeanu was headed for Sochi 2014, making her the only Romanian athlete to qualify. She earned a fifth and seventh place at those Winter Paralympics, in the slalom and giant slalom, respectively.
Reaching the World podium in March was a new feeling.
"I cannot describe my feelings, it was a crazy mixture of emotions I've never had before," Valeanu said.
After starting to compete in speed events at the beginning of the season, Valeanu is making this her priority improve in speed events after being ranked fifth in the super G at the World Championships. She also hopes to qualify for all disciplines for the PyeongChang 2018 Winter Paralympics.
Just as much as she is hitting the slopes, Valeanu also continues to hit the books, as she is on target to graduate later this year.
"These two hobbies of mine help me have a balanced life and get structure in it," Valeanu said. "Being a doctor gives you the opportunity to be responsible for other human beings… You have the power to decide, act and save people's lives.
"I don't know if I will have the necessary time and financial support to continue with my skiing. I just know there will be a lot of changes in my life, so I'll have to adapt. I guess and I hope it won't be a big issue because if a Paralympian cannot adapt to new situation, then who else?"