Roundy, Shea lead strong performance for USA in Aspen
Dutch riders Bibian Mentel-Spee, Chris Vos and Austria's Patrick Mayrhofer also take the first snowboard-cross wins of the season in the USA.
06 Feb 2016
Imagen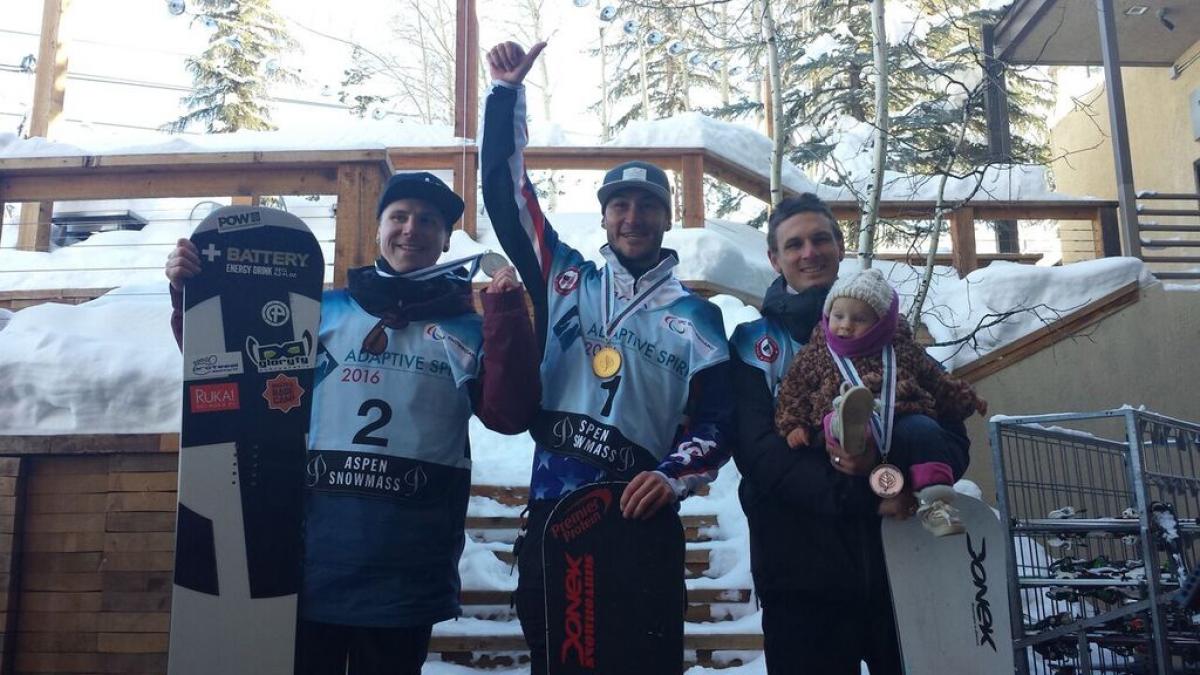 ⒸUS Paralympics
By IPC and US Paralympics
"That's probably one of the most difficult wins I've had in my career,"
The USA's Paralympic silver medallist Mike Shea and World Championships bronze medallist Nicole Roundy put in a strong showing on Friday (5 February) with snowboard-cross wins at their home IPC Snowboard World Cup in Aspen.
Shea stole the show in the men's SB-LL2, winning against Finland's world champion Matti Suur-Hamari.
He praised his competition for pushing him to a challenging victory.
"That's probably one of the most difficult wins I've had in my career," Shea said. "I think that's mostly because everyone is working so hard that you have to be on point every single run or you're not going to make it in. I squeezed it in and I'm really happy and thankful."
The USA's Evan Strong completed the podium in third.
The Netherlands' Paralympic and world champion Bibian Mentel-Spee proved once again why she is the best in the world in the women's SB-LL2, following up with another win after her victory in the NorAm Cup on Thursday (4 February).
"I felt really nice during time trials, like my board was gliding really well and I was feeling very comfortable," Mentel-Spee said. "Luckily with the NorAm yesterday, we got a lot of practice in so I'm really getting the hang of this course. I had a pretty good qualifying time so I really satisfied with that."
The USA's Heidi Jo Duce finished second behind Mentel-Spee, whilst Dutch compatriot Lisa Bunschoten also doubled up on her podium appearances in Aspen with third.
Roundy battled her teammate Megan Harmon in the women's SB-LL1, but led the duration of the race to cross the finish line first on the technically challenging course.
Roundy will hope to repeat her success in Saturday's (6 February) second snowboard-cross race and at the next World Cup in Big White, Canada.
"I was really happy about the way I raced today, so on a personal level that was great," Roundy said. "It'll help me go in confidently to Canada."
Seventeen-year-old Dutch world champion Chris Vos continued an unbeaten run in the men's SB-LL1. He claimed the win against second-placed US rider Mike Schultz, despite not feeling 100 per cent confident during the final face-off.
"It was a great day here. It was nice and sunny and the slopes were good," Vos said. "I feel really fit, I trained a lot and I just had fun. The qualification went very well. The finals were a little bit sketchy but I took the gold and it feels great to win in Aspen."
Austria's Reinhold Schett added to his World Cup points in third.
Schett's teammate Patrick Mayrhofer dominated the men's SB-UL, winning in the final against Italy's Manuel Pozzerle. The USA's Vlad Kovalenko claimed third on his World Cup debut.
Full results are available at IPC Snowboard's website.
Racing concludes in Aspen with a second snowboard-cross World Cup on Saturday.
Updates and pictures will be available @IPCSnowboard and Facebook.com/IPCSnowboard.