Russia Claims Gold at Wheelchair Curling Worlds
Korea falls in finals, as China defeats Slovakia for bronze
27 Feb 2012
Imagen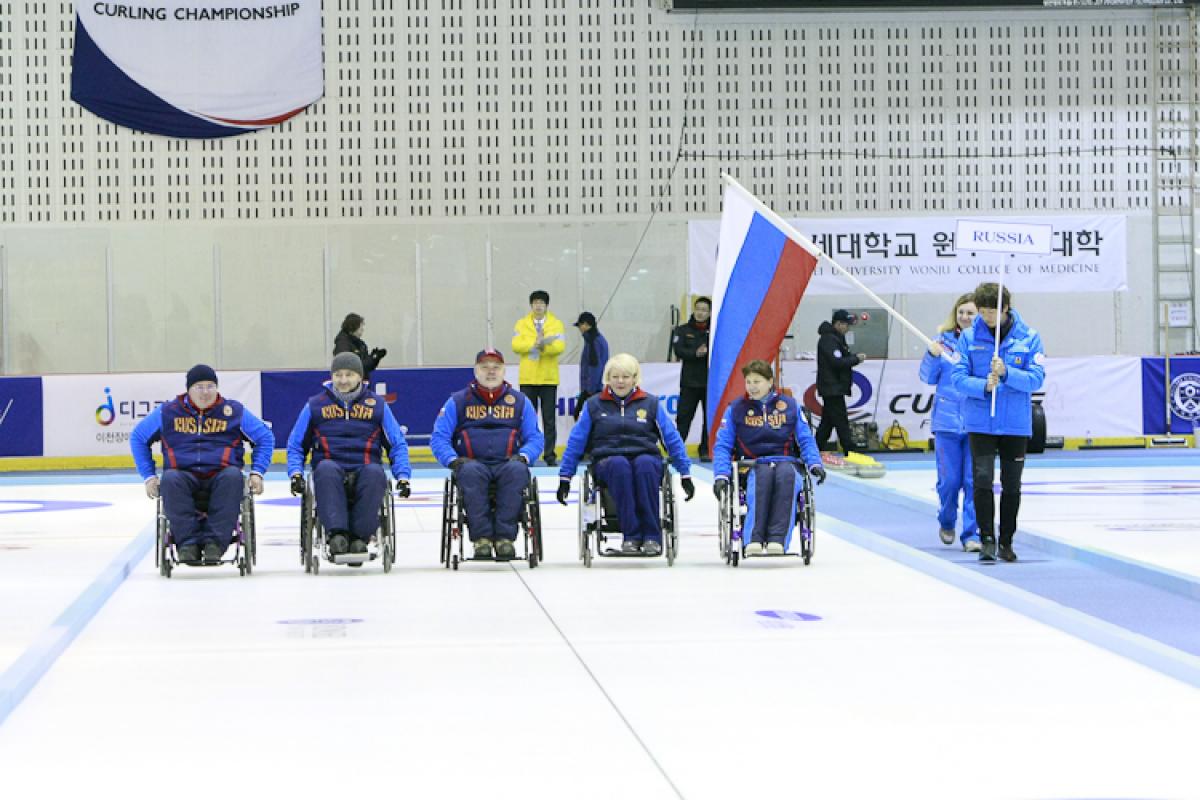 ⒸKOSAD/Young Bok Kim
By IPC
Russia won the gold medal at the World Curling Wheelchair Championships in Chuncheon, Korea on Saturday (25 February), defeating hosts Korea 9-1 in the final.
It was the first time Russia has ever medalled at the World Championships, and the team is now gaining momentum heading into the Sochi 2014 Paralympic Winter Games.
The Koreans took the silver medal and China took the bronze medal, winning its game against Slovakia, 7-4.
In front of a home crowd at the Uiam Ice Rink, the Koreans (skip Hak Sung Kim, third Seoung Won Jung, second Mi-Suk Kang and lead Byeong Il Noh) took their only point of the game in the first end. From then on, the Russians, (skip Andrey Smirnov, third Marat Romanov, second Aleksandr Shevchenko and lead Svetlana Pakhomova) took advantage of missed shots by their opponents to win the game.
Smirnov has been a part of Team Russia since 2004, and the 38-year-old's highest-place finish prior to the event was fourth at last year's World Championships in Prague, Czech Republic.
"We feel very good, excellent actually, to have this win, we can't wait to get back to Moscow and the celebrations that we will have there" Smirnov said. "The Koreans gave us a hard game. It was not as simple as the score looks. But we are very happy to win the gold medal."
Kim said the Koreans were nervous throughout the match and just could not loosen up.
He added: "We need to try and read the ice a little better, that was critical in this tournament," Kim said. "Second of all, our players need to learn how to enjoy themselves more. If you concentrate too much on winning, then your body tightens up so we need to learn how to relax. As a skip, I want to try and make an environment where the players can relax a little more."
The bronze-medal game was between China (skip Haitao Wang, third Wei Liu, second Guangqin Xu and lead Qiang Zhang) and Slovakia (skip Radoslav Duris, third Branislav Jakubec, second Dusan Pitonak and lead Monika Kunkelova). The outcome of the game was virtually decided in the fifth end when the Chinese stole three points and took a 7-2 lead.
The Slovakians played on until the eighth end, picking up a further two points in the seventh. With the score at 7-4, Slovakia needed four points for a win or three points to tie. With a chance for the tie, Slovakian skip Radoslav Duris tried to bury his first shot behind two Chinese guards but ended up out in the open. Chinese Skip Haitao Wang then helped sealed his team's 7-4 win.
"First of all, qualification for next year's event was our main objective," said Slovakia's coach Frantisek Pitonak of its first World Championship appearance. "Our biggest dream was to stay in the World Championships, which meant finishing in eighth place or above. But then, our focus changed when we were playing better and better."
Korea, Russia, China, Slovakia, USA, Sweden, Canada and Scotland all secured places at the 2013 World Wheelchair Curling Championships, which will take place in Sochi, Russia from 16-23 February.
Norway and Italy have been relegated to the World Wheelchair Curling Qualification event, which will be staged at the Kisakallio Sports Institute in Lohja, Finland from 27 October - 3 November 2012. The top two teams at this event will gain entry to the 2013 World Championship in Sochi.
World Wheelchair Curling Championships - Final Standings:
1. Russia 9-3 GOLD
2. Korea 8-3 SILVER
3. China 9-3 BRONZE
4. Slovakia 7-5
5. USA 6-4
6. Sweden 3-6*
7. Canada 3-6*
8. Scotland 3-6*
9. Norway 2-7
10. Italy 1-8
* Teams ranked according to their win-loss record against each other at the event.
Related Images