Russia take two super-G golds
Alexey Bugaev and Ivan Frantsev take world titles, as France's Marie Bochet and Anna Schaffelhuber also seal wins at para-alpine Worlds.
05 Mar 2015
Imagen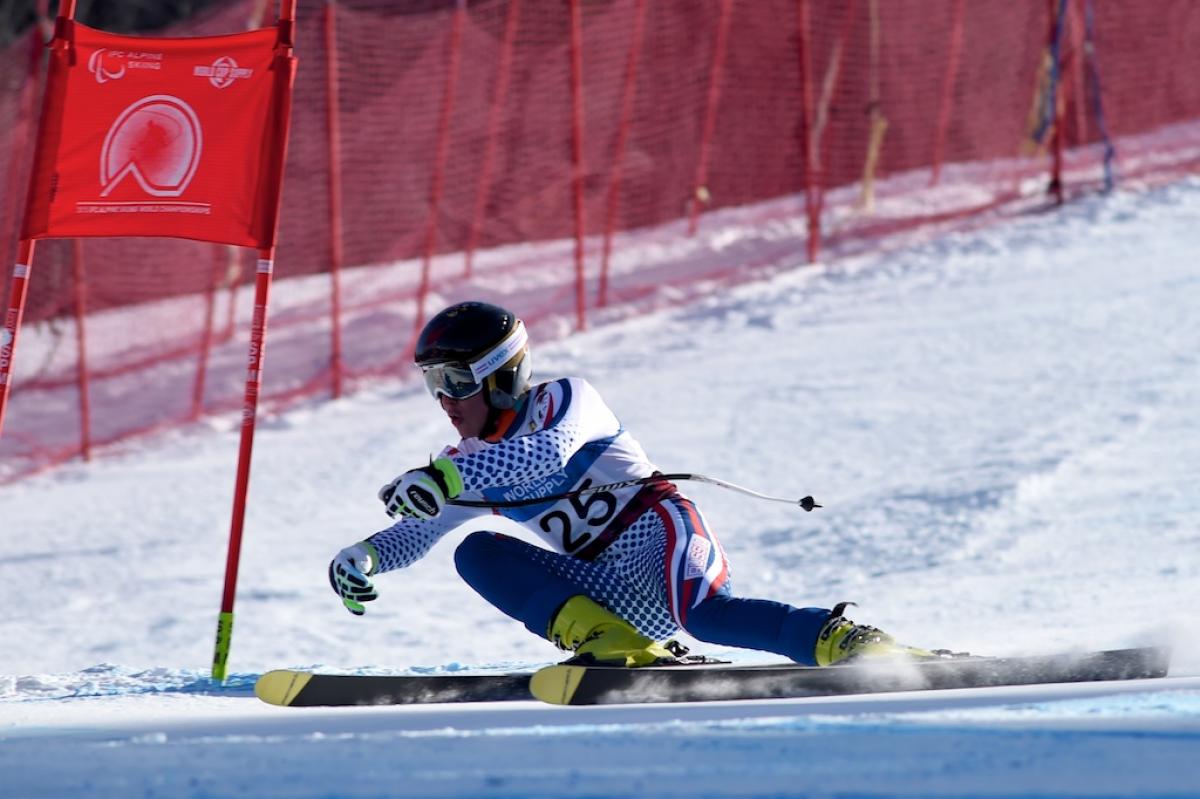 ⒸAlpine Peak Photography
By IPC
"My coaches have told me, fast skiing doesn't look pretty and I guess there's some truth to that."
Alexey Bugaev and Ivan Frantsev took double gold for Russia in super-G at the 2015 IPC Alpine Skiing World Championships in Panorama, Canada, on Thursday (5 March), whilst New Zealand's Corey Peters continued to rip up the form book.
Frantsev (1:23.63) collected his first speed world title in the men's visually impaired with guide German Agranovskii on a technically challenging course which was icy in places.
The 23-year-old has finished on the podium at various IPC Alpine Skiing World Cups this season, and finally reached the top step to follow on from his 2013 slalom world title.
Canada's Marcoux brothers, Mac (1:24.04) and guide BJ, stepped onto the podium for the second consecutive day, handing the gathered spectators a much anticipated silver medal, whilst Slovakia's Miroslav Haraus (1:24.81) was third with guide Maros Hudik.
"I think it went well, it was a pretty fun course," Mac said. "I'm super happy, we skied as hard as we could."
Slovakia's Paralympic champion Jakub Krako, guided by Martin Motyka, and Spain's defending world champion Jon Santacana with guide Miguel Galindo, failed to medal.
Australia's Melissa Perrine (1:33.52) took her second world title in the women's visually impaired with guide Andrew Bor, to follow on from her downhill gold on Wednesday (5 March). The USA's Danelle Umstead (1:37.55) and husband guide Rob were second, whilst Russia's Aleksandra Frantceva (1:40.55), the 2013 world champion, sealed bronze with guide Semen Pliaskin.
There was also a second gold in as many days for Russia's Bugaev (1:19.88), a remarkable achievement considering his 11th place finish in 2013.
Austria's pre-race favourite Markus Salcher initially laid down the quickest run, but downhill champion Bugaev immediately went three seconds faster to take the lead.
Salcher's teammate Matthias Lanzinger (1:21.55) then took the silver medal before the final racer in the event, Switzerland's Thomas Pfyl (1:21.91), took bronze, leaving the Paralympic champion without a medal.
France's world and Paralympic champion Marie Bochet (1:24.77) continued her perfect run of form in the women's standing, collecting her eighth career world title, and her seventh in a row.
"It's amazing. It's very nice, I take so much pleasure," Bochet said. "It was very fun for me. It's my goal for all season, to define my objective and ski and take pleasure."
Germany's Andrea Rothfuss (1:28.83) was second, leading Russian Mariia Papulova (1:33.60) onto the podium for the second day in a row.
Peters (1:20.41) was impressive in the men's sitting, despite not feeling that way himself, to take his second gold. France's Frederic Francois (1:21.20) and the USA's Andrew Earl Kurka (1:21.32) completed the podium in second and third respectively.
The Japanese duo of Paralympic champion Akira Kano and 2013 world champion Taiki Morii were fifth and seventh respectively.
"To be honest, I wasn't entirely happy with that run," Peters said. "I made a couple of big mistakes and I was really surprised to get to the bottom and be in the lead. There was up the top, coming into basketball and then there was another one at coaches knoll, I got some air and landed in the fluffy stuff.
"My coaches have told me, fast skiing doesn't look pretty and I guess there's some truth to that.
"I'll take the win and I'm so stoked to have won two in a row."
German Paralympic champion Anna Schaffelhuber (1:27.65) took her first gold of the Championships after Austria's world champion Claudia Loesch went off-line in the women's sitting. Schaffelhuber was the only skier to finish the course.
"I think today was much better than yesterday. My run seemed quite ok, all in all it was a good one today," Schaffelhuber said.
Races continue on Saturday (7 March) with super-combined, beginning at 10.30am (MST).
Panorama 2015, featuring over 100 athletes from 23 countries, runs until 10 March and will be streamed live at www.Panorama2015.com alongside live results. Viewers in the US can watch via US Paralympics website and in Canada at CBC. ca/Sports.
Official results are available at IPC Alpine Skiing's website.
Images from each day will be available at the IPC's Flickr page. Media wishing to receive high resolution images should contact Lucy.Dominy@paralympic.org.
Broadcast interviews will be available from a selection of winning athletes on each day. For access please contact jose.dominguez@paralympic.org.
Live updates and behind the scenes will be available at IPC Alpine Skiing's Facebook page and Twitter account and @Paralympics Instagram.