Ryzhkova opens season strong in Kazakhstan Open
The Russian world champion puts on a show in her first IPC Wheelchair Dance Sport competition of the 2016 season.
12 Apr 2016
Imagen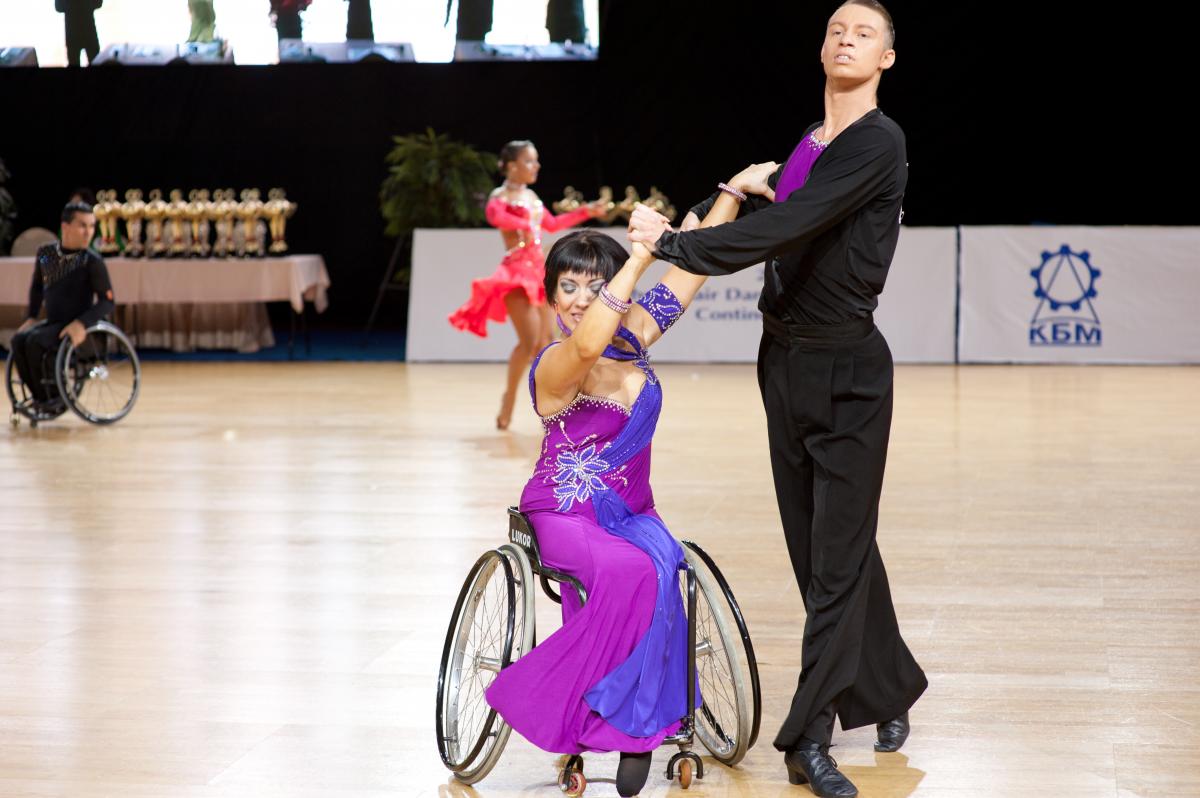 ⒸIPC
By IPC
Russian world champion Galina Ryzhkova picked up where she left off, opening the 2016 IPC Wheelchair Dance Sport season with gold medals in the single and freestyle events.
The No. 1 ranked women's class 2 dancer won both events at the Kazakhstan Open, held 9-10 April in Astana, where sport's first competition of the year was held.
Those were the same events she won gold in the 2015 World Championships last November in Rome, Italy, reinforcing why she is still the one to beat. But she had close competition in the freestyle, impressing the judges just enough in the technical skills and difficulty level to bump Austria's Sanja Vukasinovic to silver. Kazakhstan's Aigul Balmagambetova rounded out the podium.
Russia's Aleksandra Berdnik, Worlds bronze medallist in the women's single, took second to her compatriot Ryzhkova in that event, followed by Vukasinovic.
Ryzhkova also added to her gold medal count by taking the combi freestyle with dance partner Viacheslav Osipov. Thanks again to their technical skills, the duo bettered compatriots Svetlana Kukushkina and Maksim Sedakov, who took the silver. Kulshum Atalykova and Dastan Raushanbekov followed up in third.
There was redemption, however, in the combi latin for Kukushkina and Sedakov. The duo were the judges' favourites in the samba, jive and rumba to push reigning world champions Ryzhkova and Osipov into second. Host nation's Nargiza Akhmetova and Serzh Avanessov came in third, but the duo managed to spoil the Russian dominance by putting on a show in the combi standard.
Akhmetova and Avanessov stole the judges' eyes in the slow waltz, tango, Viennese waltz and foxtrot to win gold in front of their home audience. Fellow compatriots Aidana Beglenova and Ardak Otorbayev gave Kazakhstan a 1-2 finish, followed by Russia's Natalia Zhila and Aleksandr Skobelev.
The Russian couple of Aleksandra Berdnik and Sergey Antonov were triumphant in both the duo standard and duo latin, where in Rome they took World Championship gold and silver, respectively. Austria's Brigitte Kroell and Werner Kaiser followed up both competitions in second.
Third place in the duo latin went to Chinese Taipei dancers Tang-Chin Hung and Hsin-Yu Lin, and in the duo standard to Kazakhstan's Karlygash Tynabekova and Otorbayev.
Russia's reigning world champion Maksim Sedakov took the men's single event, followed by compatriot Antonov. Austria's Robert Pleininger completed the podium.
Sedakov also topped the men's freestyle, while the host nation saw Yermek Kalymbatov and Arman Kenzhebay take second-third, respectively.
All competitions combined class 1 and 2 dancers. Complete results from the Kazakhstan Open are available at the IPC Wheelchair Dance Sport website.
The next competition will be the Suomi Open beginning 30 April in Lohja, Finland.