Snowboard Europa Cup winners decided
Austrian, Dutch, US and French riders are amongst the overall title winners at the IPC Snowboard Europa Cup in Formigueres, France, on Friday (11 March).
11 Mar 2016
Imagen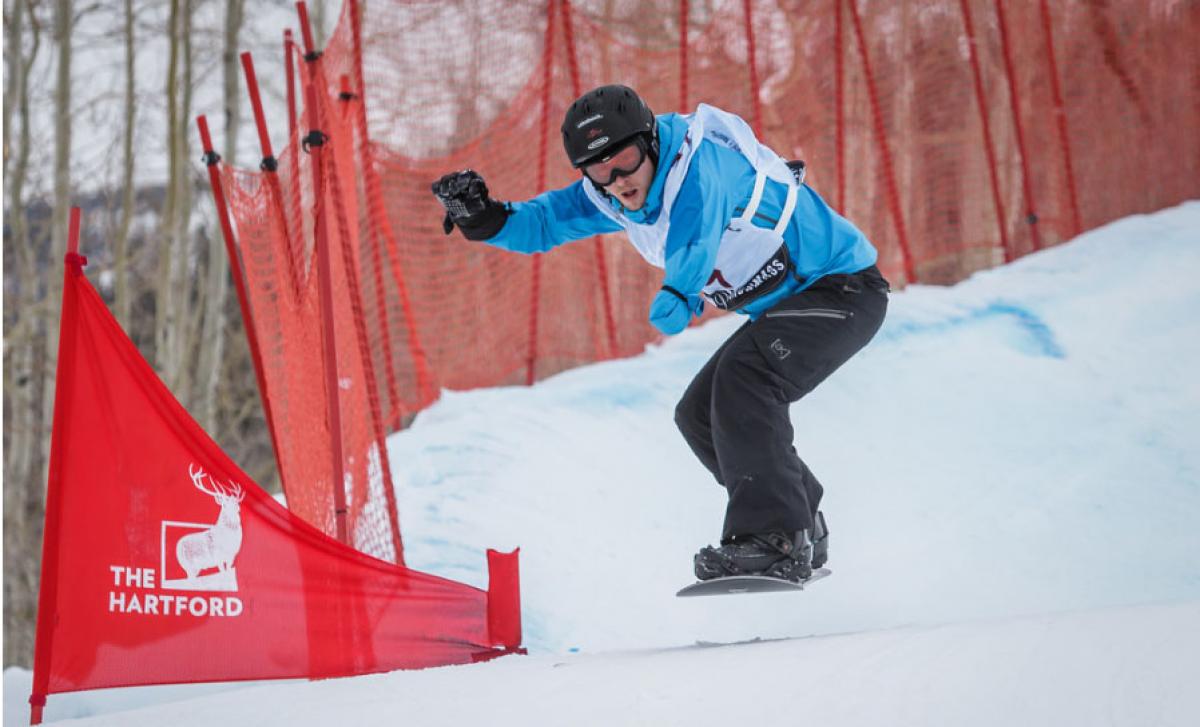 ⒸJoe Kusumoto
By IPC
Austria, the Netherlands, the USA and France can count overall winners of the IPC Snowboard Europa Cup amongst their ranks as banked slalom concluded this season's edition in Formigueres, France, on Friday (11 March).
Austrian world champion Patrick Mayrhofer concluded his continental Cup season in style with a win in the men's SB-UL.
In a thrilling conclusion, Mayrhofer (1:05.39) beat the USA's Michael Minor (1:05.55) by just 0.16 seconds to also take the overall globe for the classification.
Australia's Simon Patmore (1:07.91) was third, showing his increasing potential to get onto the podium against the best in the world.
Dutchwoman Renske van Beeke (1:21.25) claimed the overall women's SB-UL crown with victory over Argentina's Celeste Pedrosa Bersano (2:00.93).
The USA's Michael Shea (1:02.48) stepped onto the top step of the podium in the men's SB-LL2, finishing his season with two Europa Cup wins and the overall title.
Finland's Matti Suur-Hamari (1:03.81) was second in the race, followed by US rider Keith Gabel (1:04.67) in third.
The Netherlands' Bibian Mentel-Spee (1:06.49) was the victor in the women's SB-LL2.
However Mentel-Spee will be happy to see her compatriot and protégé Lisa Bunschoten (1:11.53) claim enough points with second to take the overall Europa Cup.
Australia's Joany Badenhorst (1:13.46) completed the podium on the day.
Austria's Reinhold Schett (1:05.96) led Dutch world champion Chris Vos (1:06.75) in the men's SB-LL1, but narrowly missed the overall title by just 22 points.
Schett finished on 1,526 compared to Vos' 1,548, but has firmly stamped his name on the field ahead of the World Cup on Saturday (12 March) and the Finals in Trentino, Italy, from 17-18 March.
Norway's Kristian Moen (1:15.81) was third in the race.
In the women's SB-LL1, the USA's Nicole Roundy (1:17.64) was first, followed by Canada's Michelle Salt (1:18.53) in second.
France's Cecile Hernandez-Cervellon had to pull-out of the competition earlier in the week due to injury, but had already done enough to etch her name on the overall Europa Cup globe.
The USA took the Nations Cup ahead of the Netherlands and Austria in second and third respectively.
Full Europa Cup rankings and race results are available at IPC Snowboard's website.
An IPC Snowboard World Cup will take place on Saturday in Les Angles, France, ahead of the last World Cup races of the season in Trentino next week.