Sochi 2014: 14 athletes to like on Facebook
Facebook is a the platform of choice, especially for European alpine skiers. Here's a list of the 14 profiles you should be following for the Sochi 2014 Paralympics.
24 Feb 2014
Imagen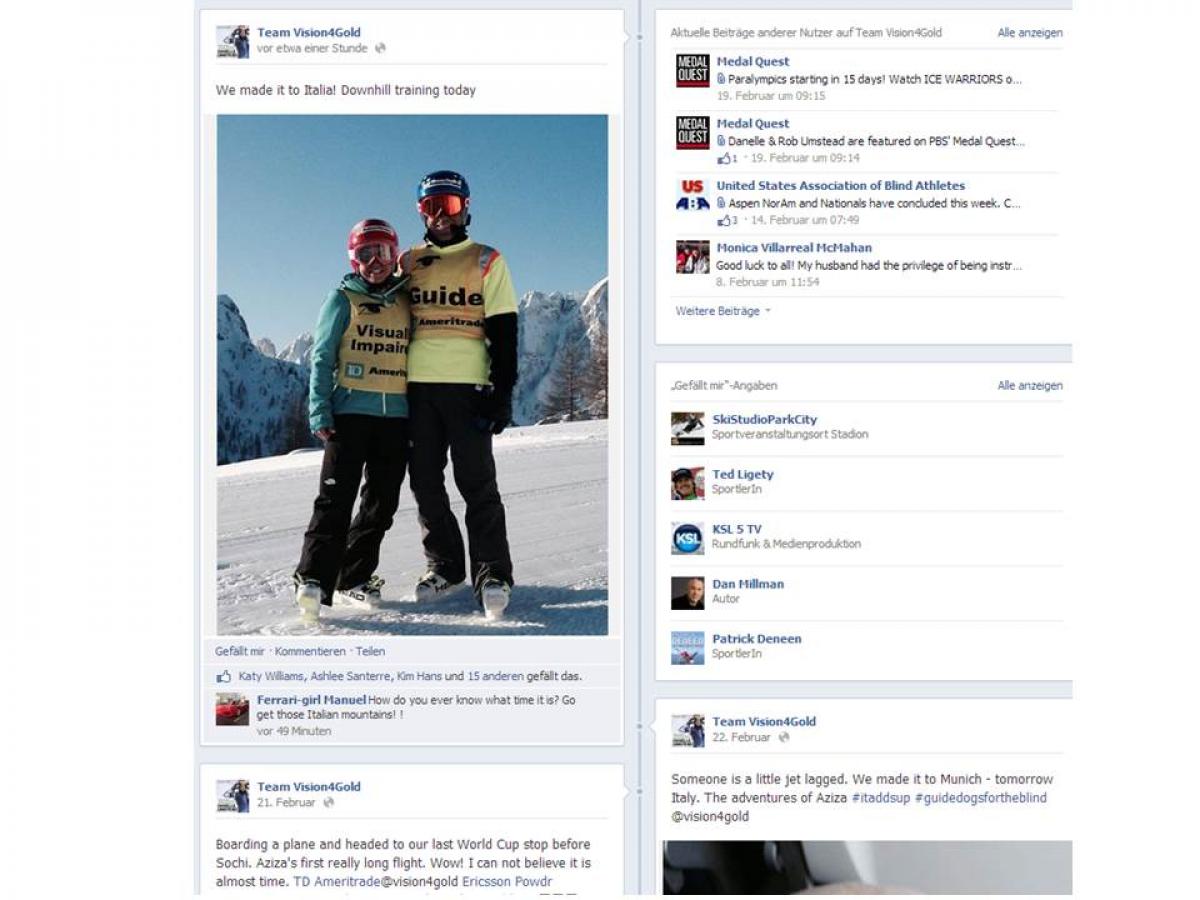 By IPC
If you're a Paralympic junkie and Facebook is your social platform of choice, then subscribe to this interest list. It contains a list of all the profiles related to the Sochi 2014 Paralympic Winter Games. Next, take a look at these suggestions for the top people to 'like' on Facebook.
Alana Nichols was the first American woman to win gold medals at both the Summer and Winter Paralympics. You might be stuck on her Facebook page for hours to see all her photos from competitions, training sessions, teammates, friends and beautiful places.
The Austrian alpine skier posts in German but you do not have to understand a word when looking at all his spectacular action photos. Lanzinger, who won the able-bodied World Cup before a skiing accident led to his leg amputation, is a firm favourite for the podium
3. Amy Purdy
Without doubt, Amy Purdy is going to be one of the stars of the Sochi 2014 Paralympic Winter Games. The US snowboarder incredibly warm-hearted and insightful, and you will want to follow her every move on the road to Sochi.
It is a lot of fun following this Spanish skier's page. With lots of photos and videos, it is an incredibly visual page. He and his guide Miguel Galindo-Garces are firm favourites for the podium in Sochi, despite Santacana-Maiztegui suffering an injury earlier in the season. Check him out on Instagram too @Jonsantacana
The only way to find Anna Schaffelhuber online is on her Facebook fan page. Schaffelhuber gives you a real behind-the-scenes feel to her life on the road, with pictures at the airport and from her hotel room. She posts mainly in German, but her photos speak for themselves.
For German speaking fans Austria's sit skier Claudia Loesch is a top Paralympian to follow. At the age of 25 she is already a Paralympic Winter Games veteran, having won a pair of gold medals in Vancouver (super G and slalom) and two bronze medals in Torino.
The Austrian skier posts in German and English. You can't help but like him. He's down to earth, and you will really enjoy sharing his victories with him. Watch out for him in the speed events in Sochi.
The German standing skier is a regular poster on the only social platform she uses. She tells us about her races, where she's travelling to and updates us with pictures. Watch her rivalry with France's Marie Bochet unfold in Sochi.
9. Jakub Krako
For Slovakian fans Jakub Krako is the athlete to like on Facebook. At the Vancouver 2010 Paralympic Winter Games he collected three gold medals but he didn't medal in the 2012-13 season. Maybe some support on Facebook will help him to climb the podium again in Sochi.
10. Allison Jones
USA's Allison Jones competes in alpine skiing and para-cycling and has been to six Paralympic Games. Jones will make her seventh appearance at the Sochi 2014 Paralympic Winter Games. On her Facebook page Jones keeps you up to date about her results in winter and summer.
Get to know Australia's first female winter Paralympic medallist Jessica Gallagher. The visually impaired skier is one of Australia's top medal hopefuls in Sochi.
Alpine skier Danelle Umstead is guided by her husband; together they form the Vision4Gold team. Get to know them and Danelle's guide dog Aziza on their Facebook page.
13. Michael Bruegger
The Swiss skier is a real character. He'll make you laugh, and his energy is infectious. He only posts in German, but if you don't understand, you'll still enjoy his pictures.
14. Yohann Taberlet
If you like Michael Bruegger's sense of humour, you may also like Yohann Taberlet's. The French sit-skier is known for "who let the dogs out" chants on the podium. Posting in French, he shares his goals, disappointments and successes with his fans. Check him out on Instagram too @Yotab.