Sochi 2014: 14 athletes to follow on Twitter
With the Sochi 2014 Paralympic Winter Games fast approaching, here's a list of the top 14 athletes to follow on Twitter.
19 Feb 2014
Imagen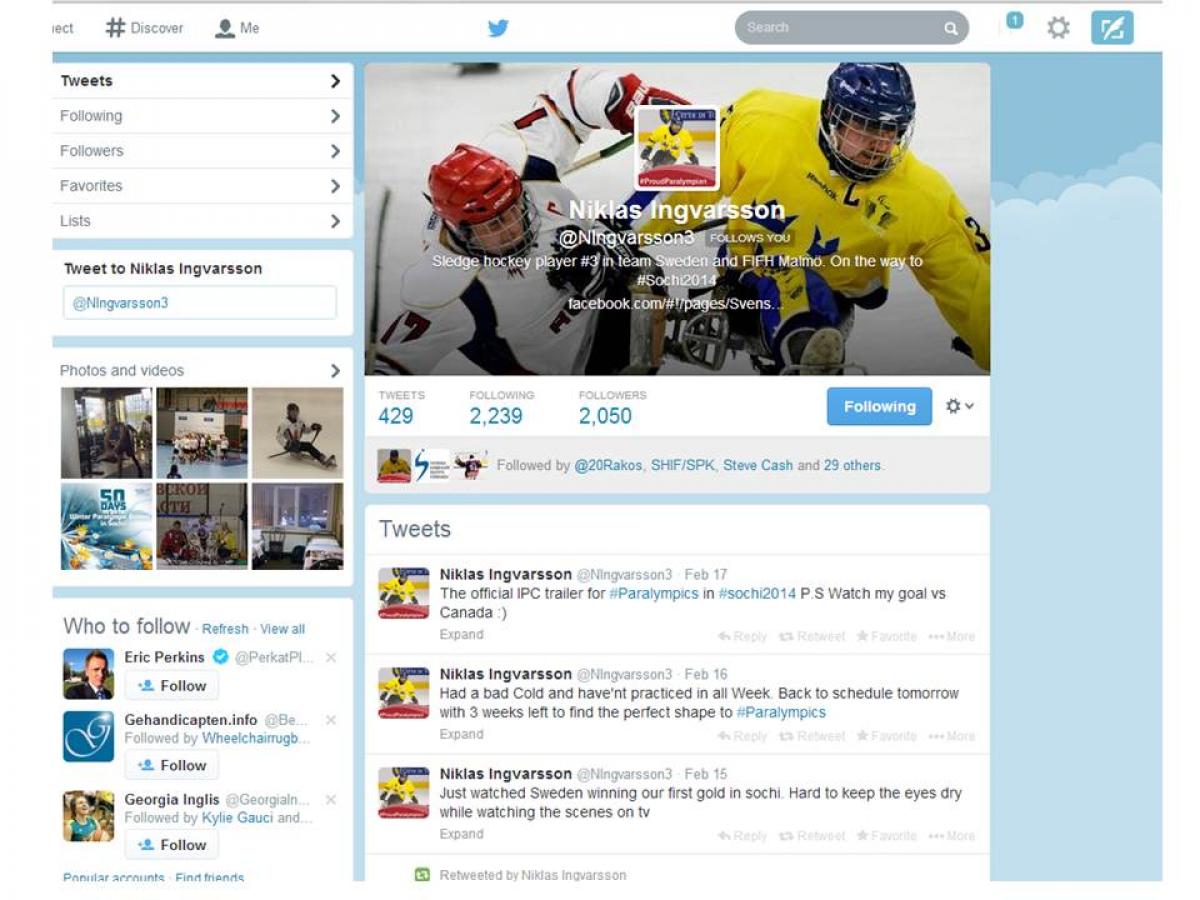 By IPC
To make following your favourite athletes easier, here's a list of the top athletes to follow there.
Twitter is a platform that is used a lot by alpine skiers and ice sledge hockey players, particularly those from English-speaking nations. To make following your favourite athletes easier, here's a list of the top athletes to follow there.
1. Tatyana McFadden @TatyanaMcFadden
Best known for her marathon victories, USA's Tatyana McFadden is now delving into the world of cross-country skiing. She loves to post daily updates for her fans about her competitions and training sessions. She also gives an insight into her life when she is not chasing medals. Another US Nordic skier to follow is Oksana Masters @Oksana_Masters, probably better known as a rower on the bronze medal winning mixed double sculls rowing team at London 2012.
As a proud member of the Canadian ice sledge hockey team Greg Westlake tweets about his team on their #roadtoSochi.
3. Dmitry Lisov @Lisov08
For ice sledge hockey player Dmitry Lisov the expectations are high, as one of the top snipers in a home Games.
At the Vancouver 2010 Paralympic Winter Games, USA's Steve Cash set a record that no ice sledge hockey goalie has ever done before. In five games he stopped all the 33 shots he faced to capture the gold medal with his team.
5. Brian McKeever @brianmckeever and guide Erik Carleton @xcerik
Canada's Brian McKeever is a cross-country skier guided by Erik Carleton. McKeever has won seven Paralympic gold medals in his career and is still hungry for more in Sochi.
6. Kelly Gallagher @Kellygallagher and guide Charlotte Evans @CharEvans1
The British duo of Kelly Gallagher and her guide Charlotte Evans are one of their country's best medal hopefuls. Together they form a great team and seem to have fun off the slopes as well.
7. Margarita Gorbounova @MGorbounova and guide Andrea Bundon @ultreia1x
Canada's Margarita Gorbounova, guided by Andrea Bundon, has a sports mad family. Her mother won a gold medal in Nordic skiing for Russia at the Paralympic Winter Games in 1992 and her father has won several medals as a middle distance runner in the European Championships. Her guide Andrea Bundon is also an avid blogger.
Canadian Nordic skier Mark Arendz made his Paralympic debut in Vancouver and is ready to make the Paralympic podium for the first time in Sochi.
9. Jessica Gallagher @JessGallagher86
Jessica Gallagher was the first Australian woman to win a winter Paralympic medal. She competes in a number of alpine skiing events and hopes to expand her medal collection in Sochi. A dual sport athlete, she also competed in javelin and long jump at the London 2012 Paralympic Games.
10. Bibian Mentel @BibianMentel
Netherland's Bibian Mentel is the favourite to win the snowboard cross gold medal. Mentel tweets about her road to Sochi and her Mentelity Foundation that supports children with a physical impairment to participate in sport.
11. Brad Bowden @Bow27
After a very disappointing fourth place at the Vancouver 2010 Paralympic Winter Games, Canadian Brad Bowden and his team are eager to bring a medal home.
12. Niklas Ingvarsson @NIngvarsson3
Sweden's Niklas Ingvarsson, one of the world's top defencemen in ice sledge hockey, will try to raise his team to a higher level as Sweden has not medalled on the Paralympic stage for 12 years.
13. Josh Pauls @spudsusa9
According to American ice sledge hockey player Josh Pauls – nicknamed Spudsy – he does not just play hockey: he lives for it. At the age of 17 in Vancouver, he was the youngest member of the team to win gold.
14. Mark Ideson @MarkIdeson, Sonja Gaudet @SonjaGrocks, Dennis Thiessen @thiessen_dennis
The Canadian wheelchair curling team will try to defend their Paralympic gold medal in Sochi. Their road to the Paralympics has been successful so far, capturing gold at the 2013 World Wheelchair Curling Championships, also held in Sochi.