Top 17 tips for athletes to get to grips with Twitter
Hundreds of para-athletes are already on Twitter. With a potential audience of 200 million, it is the perfect tool to publish information, engage with fans and market yourself.
18 Oct 2013
Imagen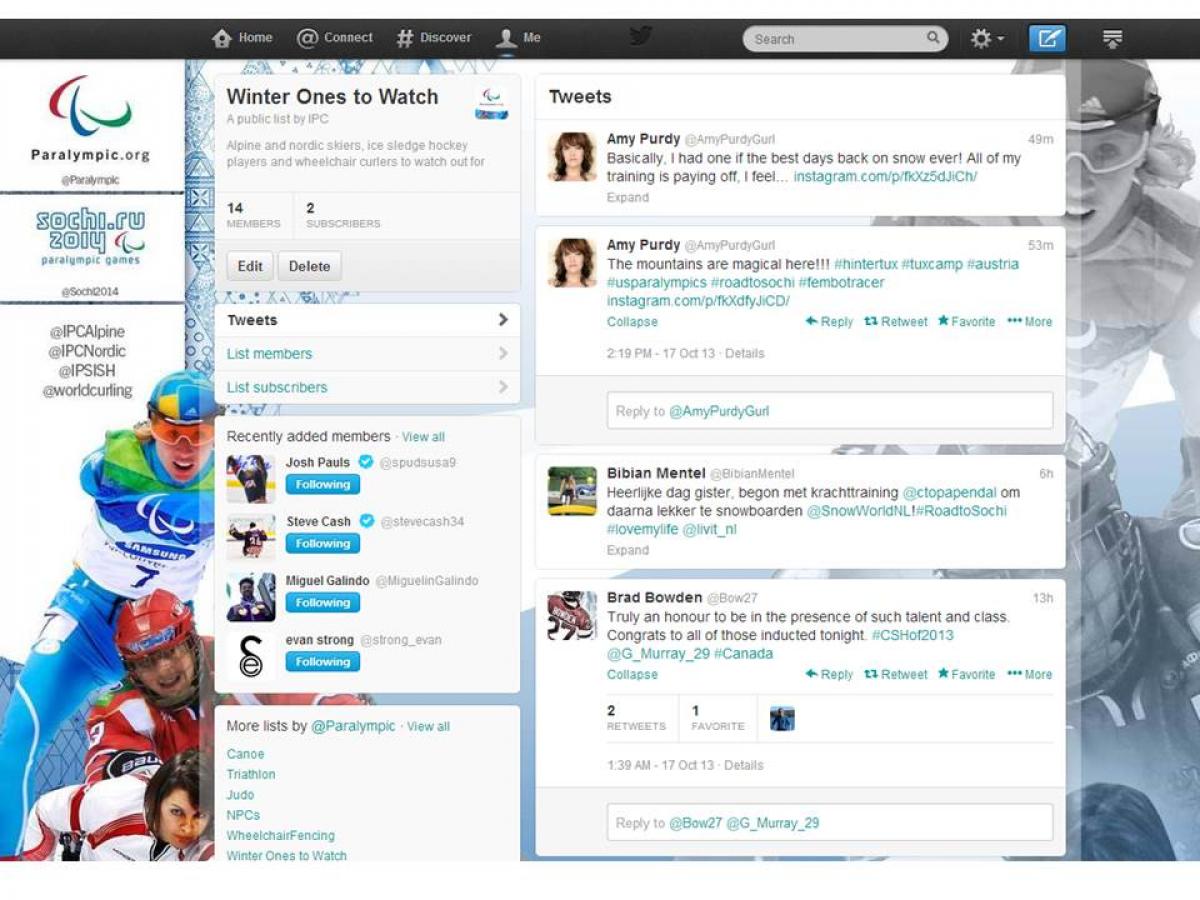 ⒸIPC
By IPC
With more than 200 million active users, twitter has great potential to spread your message.
If you are not already on Twitter you might be wondering what all the fuss is about. In a nutshell, Twitter is like blogging in 140 characters or less. Like other social networks, you form your own community of followers and people you are following. Here are some reasons why you might like to join.
Why?
1. Twitter is often the social network of choice during sport events. It has been described as the world's biggest sofa, bringing pundits, athletes and fans together. Get involved with the conversation about Paralympic sport.
2. The most marketable athletes in the world all market themselves. Twitter is a great platform to shape your personal brand. Check out this list of SportsPro's most marketable athletes on Twitter for some ideas.
3. Athletes are the greatest ambassadors for the Paralympic Movement. Through their stories, they have the power inspire and excite the world and spread a message of inclusion. Twitter could be your platform to do that.
4. Twitter allows you to connect with what you are interested in most and allows people who are interested in you to connect with you. With more than 200 million active users, it has great potential to spread your message.
How?
Setting up the account:
5. Go to www.Twitter.com or download the Twitter app on your phone and choose a good Twitter handle. This is like an email address for Twitter. People will most likely search for you by your name, so include that and possibly some other identifier, if your name has already been taken. For example you could use your name plus title, sport, classification, jersey number, or country. Some examples are @AndreBrasilS10, @SteveCash34, @ChrisBondAUS, @DameSarahStorey
6. Take a good picture as your profile picture. Close-up headshots or photos that show you in action in your sport are best. In settings you can also add a background image or header image. These images should tell your followers more about you, what you do and what you are like.
7. Write a description about yourself using important keywords that your potential followers might search for. As an athlete you should include your sport, country and whether you are a Paralympian, Paralympic hopeful or para-athlete. Include your medal count or greatest achievements. Link to your website and Facebook page. Include #Sochi2014, #Rio2016 and #Paralympics where relevant.
Growing your followers
8. Follow people who are relevant to you, like other athletes from your sport or country, people you admire, your national governing body, National Paralympic Committee or International Federation. Tweet at them so that they are aware that you have just joined Twitter and ask them to help you to get more followers.
9. Advertise your Twitter account on your website, Facebook page, email signature and printed material.
Learn the lingo
10. When you post on Twitter, it is a tweet. When you repost someone else's tweet, it is a retweet or RT.
There are several different types of tweets:
Public tweets go out to all your followers and can be seen by everyone if you have not set your account to private.
Direct messages (DMs) can only be seen by the person to whom you are sending the message.
@Replies are tweets that begin with a Twitter handle. These can be used to engage with people on a more personal level, but be aware that if your tweet begins with a Twitter handle, only your followers who also follow that Twitter handle will be able to see the tweet in their feed, unless they have altered the settings. If you want all your followers to see the tweet, you can use a "." before the Twitter handle.
11. Hashtags are words preceded by "#". They organise conversations according to different topics. You can click on a hashtag to see other tweets about that topic. Trending topics are based on which hashtags or keywords are being used the most. Where possible try to include 1-2 hashtags in a Tweet as these generate more engagement.
What?
12. Be yourself – Write your tweets in the first person and be authentic. People want to follow real people, so share your personality, sense of humour and ideas. Don't be afraid to let your personality shine through. Be entertaining, passionate or write about your knowledge or expertise on a certain topic.
13. Involve others – have conversations on Twitter with your teammates or people you respect from your sport and use hashtags to join relevant debates.
14. Engage fans - Twitter is a social space, so engage with your followers. If they ask you a question, try to ensure you reply. Retweet or favourite fan tweets that you like or follow them back where appropriate.
15. Break news - make your Twitter account the first place your fans can find out what you will be doing next.
16. Exclusive access – Post behind-the-scenes content, give unique insights and exclusive information.
17. Rich media - Share images and videos. They are more likely to be retweeted or favourited than text-based tweets.
Are there any rules?
18. Common sense should prevail. The International Paralympic Committee actively encourages athletes to post to social media, but there are some ground rules. Check out the IPC's Social Media Guidelines for more information.
If you have any questions about social media, you can ask IPC Digital Media Manager @NatDannenberg on Twitter.