Sochi 2014 Closing Ceremony flag bearers
Here is a list of who will be carrying the flags for the countries marching at the Sochi 2014 Paralympic Winter Games Closing Ceremony.
16 Mar 2014
Imagen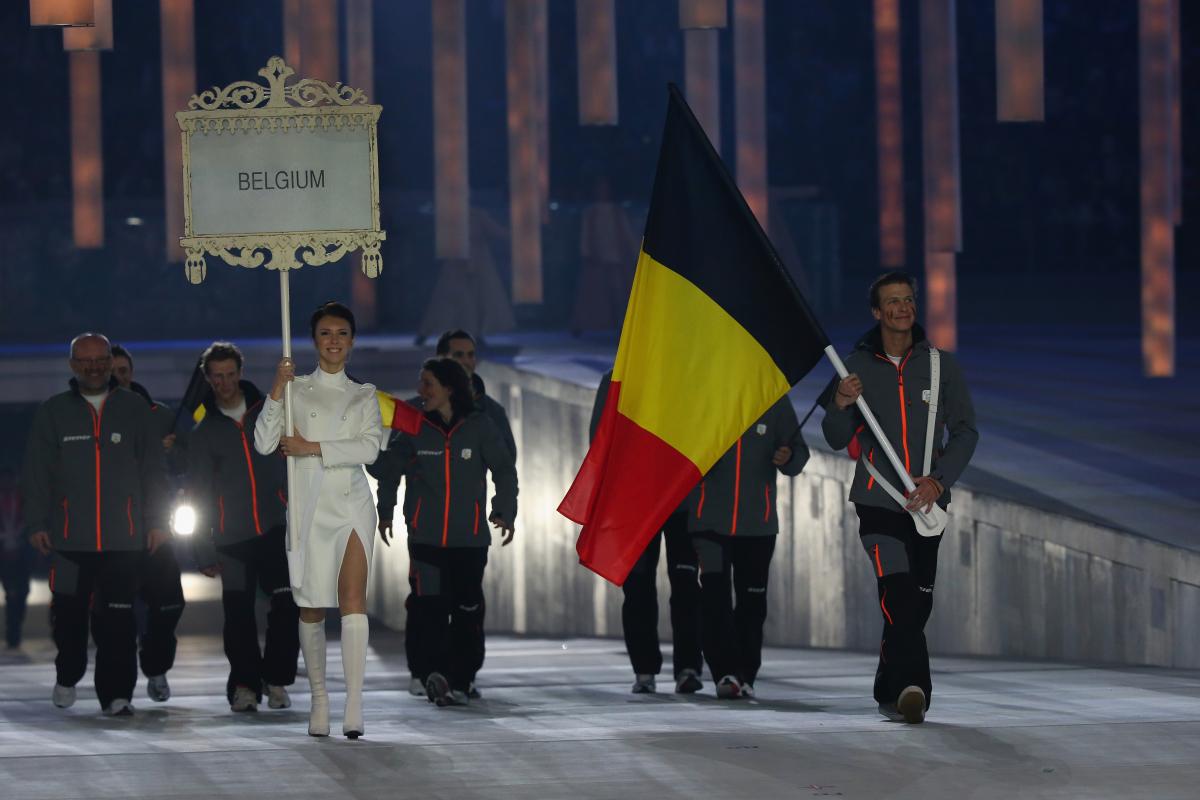 ⒸGetty Images
By IPC
The Sochi 2014 Games have drawn more media attention and spectators than any Winter Paralympics before.
The Sochi 2014 Paralympic Winter Games – which have been record-breaking in terms of athletic performances and media coverage – will come to an end on Sunday evening (16 March) with the Closing Ceremony at Fisht Stadium.
Below is a list of flag bearers for all participating countries, listed in the order they will enter Fisht Stadium.
Australia: Ben Tudhope (snowboard)
Austria: Makrus Salcher (alpine skiing)
Andorra: Xavier Fernandez (alpine skiing)
Argentina: Pablo Javier Robledo (Nordic skiing)
Armenia: Mher Avanesyan (alpine skiing)
Belarus: Vasili Shaptsiaboi (Nordic skiing)
Belgium: Denis Colle (snowboard)
Bulgaria Svetoslav Georgiev (Nordic skiing)
Bosnia and Herzegovina: Ilma Kazazic (alpine skiing)
Brazil: Fernando Rocha (Nordic skiing)
Great Britain: Jade Etherington (alpine skiing)
Germany: Wilhelm Brem (alpine skiing)
Greece: Efthymios Kalaras (alpine skiing)
Denmark: Line Damgaard (alpine skiing)
Iran: (leaving before Ceremony)
Iceland: Johann Thor Holmgrimsson (alpine skiing)
Spain: Gabriel Juan Gorce Yepes (alpine skiing)
Italy: Andrea Valenti (alpine skiing)
Kazakhstan: Yerlan Omaraov (Nordic skiing)
Canada: Josh Dueck (alpine skiing)
China: Haitao Wang (wheelchair curling)
Mexico: Arly Velasquez (alpine skiing)
Mongolia: Ganbold Batmunhk (Nordic skiing)
Netherlands: Anna Jochemsen (alpine skiing)
New Zealand: Corey Peters (alpine skiing)
Norway: Nils-Erik Ulset (Nordic skiing)
Poland: Wojciech Taraba (snowboard)
South Korea: Seung-Hwan Jung (ice sledge hockey)
Romania: Laura Valenau (alpine skiing)
Serbia: Jugoslav Milosevic (alpine skiing)
Slovakia: Henrieta Farkasova (alpine skiing)
Slovenia: Gal Jakic (alpine skiing)
USA: Steve Cash (ice sledge hockey)
Turkey: Hilmi Esat Bayindirli (alpine skiing)
Uzbekistan: Ramil Gayazov (alpine skiing)
Ukraine: Lyudmyla Pavlenko (Nordic skiing)
Finland: Matti Suur-Hamari (snowboard)
France: Marie Bochet (alpine skiing)
Croatia: Dino Sokolovic (alpine skiing)
Czech Republic: Michal Vapenka (ice sledge hockey)
Chile: Santiago Vega (alpine skiing)
Switzerland: Michael Bruegger (alpine skiing)
Sweden: Helene Ripa (Nordic skiing)
Japan: Akira Kano (alpine skiing)
Russia: Mikhalina Lysova (Nordic skiing)