South Korea trains national technical officials
Officials also visited the Jeongseon and Youngpyong Alpine Centres for the second official visit to venues for the PyeongChang 2018 Paralympic Winter Games.
24 Nov 2015
Imagen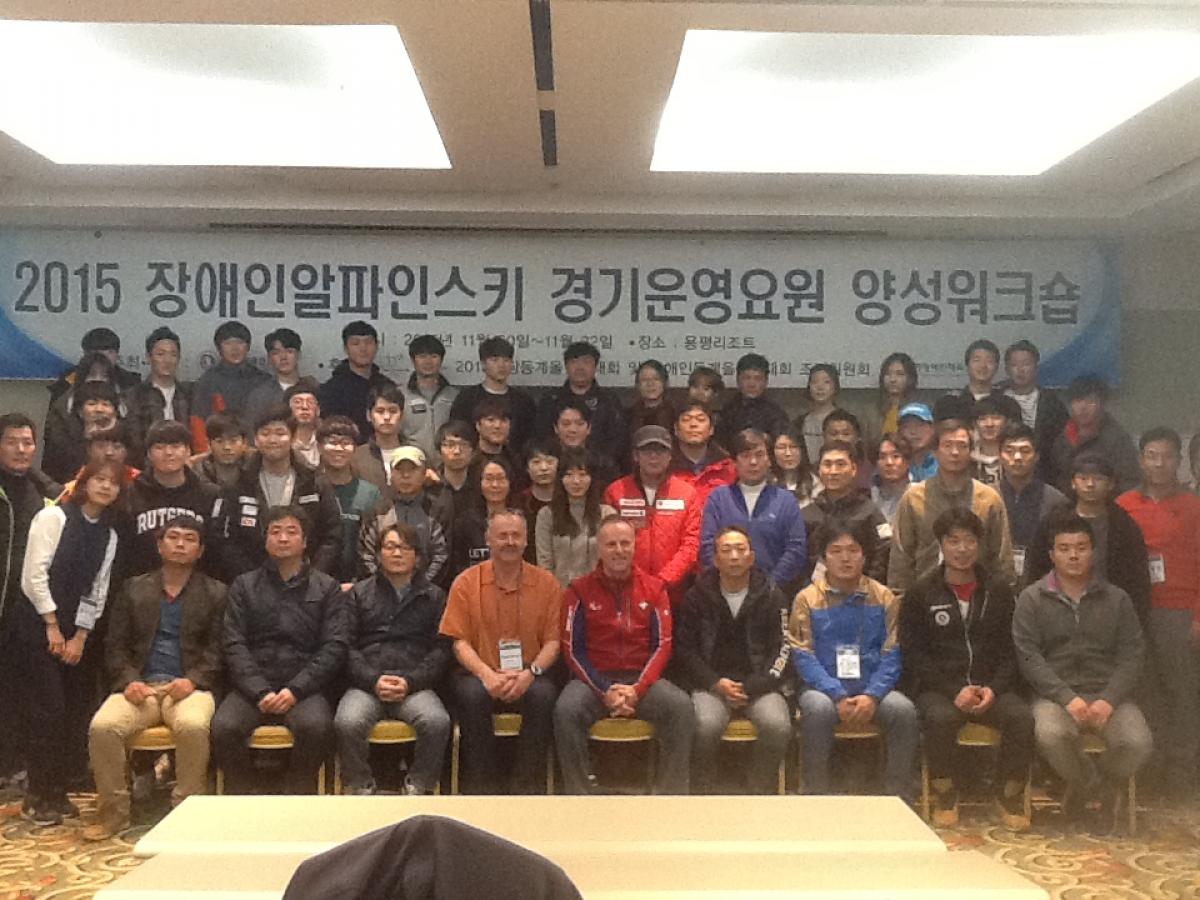 ⒸKASA
By IPC
The South Korean Alpine Skiing Association (KASA), supported by the Organising Committee of the PyeongChang 2018 Paralympic Winter Games, began training more than 50 National Technical Officials (NTOs) in para-alpine skiing on 20-22 November.
The course was led by Brad Serwa, the Technical Delegate for alpine skiing at PyeongChang 2018, alongside Markus Walser, the Chairperson of the Sport Technical Committee (STC).
The training was held at the Youngpyong Alpine Centre, where skiers will compete in technical events in just over two years' time.
During the three days, participants took part in sessions on the theory of officiating at para-alpine skiing competitions through the IPC Alpine Skiing rules and regulations.
The next sessions will take place on 8-10 January and will be practical, on-snow sessions. It is anticipated that 240 NTOs will take part in the training sessions.
Around 40 snowboard NTOs will be trained in theory and on-snow between 7-10 January by the STC's Head of Competition Davide Cerato and Martijn Oostdijk, the 2015-16 Race Director.
The training followed the second official visit by representatives from IPC Alpine Skiing and Snowboard to the Jeongseon and Youngpyong Alpine Centres, which will be the speed and technical venues respectively for the 2018 Winter Paralympics.
Snowboard will also be contested at the Youngpyong Alpine Centre.
During the October visit progress with venue construction and safety procedures were assessed, as well as a variety of other topics such as homologation, Test Events and infrastructure.
The organisation and readiness for an IPC Snowboard Asia Cup and IPC Alpine Skiing Asia Cup due to take place at Youngpyong between 6-10 March was also discussed.
Dimitrije Lazarovski, Head of IPC Snow Sports, attended the visit alongside Walser:
"The organisers [KASA] of both the alpine skiing and snowboard Asia Cups have made good progress in their preparations for hosting these important first competitions, as well as in the longer term for PyeongChang 2018.
"Supported by the Games organisers, these will act as pre-Test Events for the Paralympic Winter Games, so it will be a great opportunity for athletes and teams to get a feel for the venues during competition."