Bunschoten honours Mentel-Spee with World Cup win
US riders also secure triple wins at the first World Cup in Landgraaf, the Netherlands, on Thursday (19 November).
20 Nov 2015
Imagen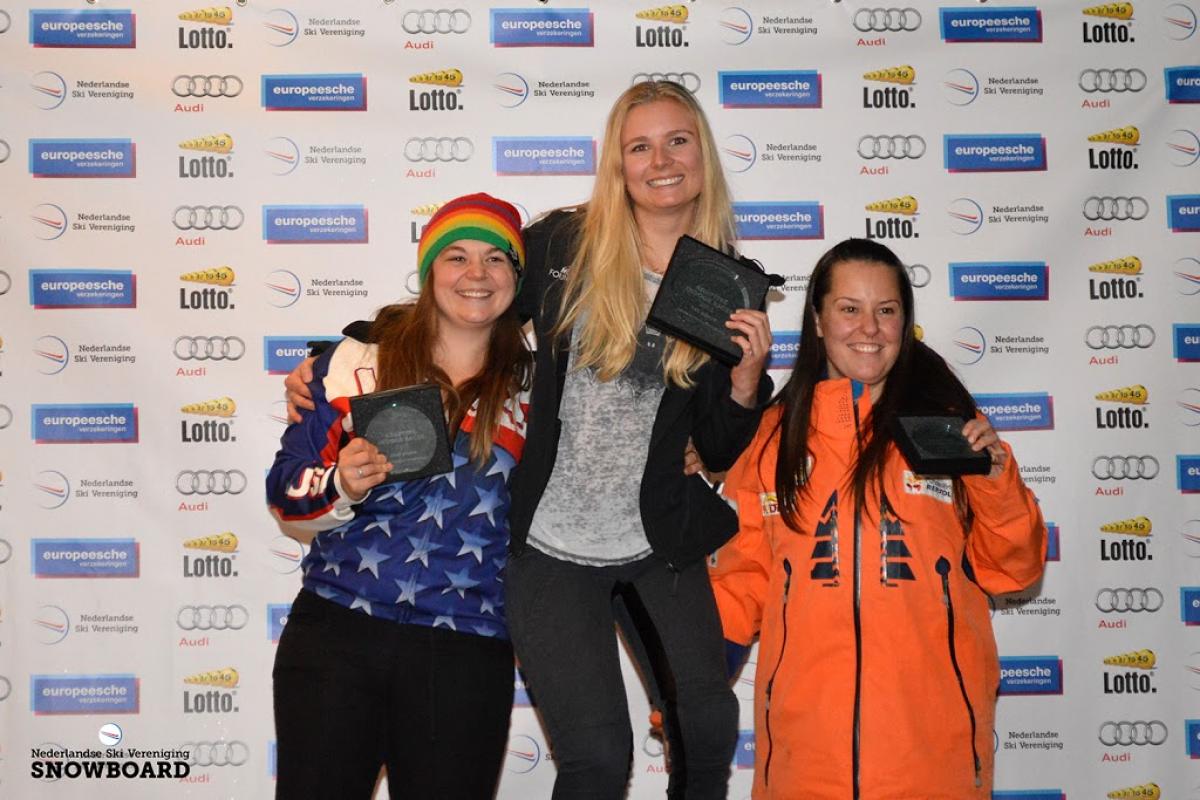 ⒸNederlandse Ski Vereniging
By IPC
"I'm very happy with my first World Cup win and I'm happy to have kept the gold for the Netherlands."
Dutch rider Lisa Bunschoten secured her maiden World Cup win on home snow at the IPC Snowboard World Cup on Thursday (19 November), dedicating the win in Landgraaf, the Netherlands, to absent mentor Bibian Mentel-Spee.
Bunschoten (39.84) collected her second victory of the week in the women's banked slalom SB-LL2. On Wednesday, she won the Europa Cup crown.
"I'm very happy with my first World Cup win and I'm happy to have kept the gold for the Netherlands," Bunschoten said. "Of course it is sad and strange that Bibian Mentel is not here. She is still recovering from surgery.
"But she told me to go out and win the gold here. It's great it worked out. I've been training very hard this winter and this is a great start of a new season."
Paralympic and world champion Mentel-Spee, normally a firm fixture on the circuit and a leader within the Dutch team, is currently undergoing treatment for cancer.
The USA's Heidi Jo Duce (46.00) collected her second consecutive podium ahead of another Dutch athlete, Enya van Egmond (1:11.78).
In the men's SB-LL2, the USA's Mike Shea (29.92) improved on his second place finish from the Europa Cup on Wednesday, and expressed his delight at the growing standard of competition on the circuit:
"[Wednesday] I wasn't so happy when I took the silver. Now I am," Shea, who was the only athlete to put in a sub-30 second run, said. "The race went really good and I very much like the course. I think the builders did a very good job. It's nice to start the season this way and also because there are so many competitors.
"Every year when the winter begins there are more. I remember in 2009 there were only about 10 of us. Here in Landgraaf there are around 65 now. The sport is still growing and that is great to see."
Shea's teammate Keith Gabel (32.10) and Finland's Matti Suur-Hamari (32.14), a 2015 Worlds Championships bronze medallist, completed the top three.
US riders continued to find their rhythm in Landgraaf, taking a further two wins in banked slalom.
Headlining their efforts was Brenna Huckaby (38.28) in the women's SB-LL1, who triumphed over French world champion Cecile Hernandez-Cervellon (40.96). Huckaby's compatriot Nicole Roundy (1:10.47) was third.
In the men's SB-LL1, teenage supremo Chris Vos joined his teammate Bunschoten in a continuing winning streak.
Vos, 17, led the field in 36.03 seconds ahead of Austria's Reinhold Schett (36.38) and the USA's Mike Schultz (37.93).
International debutant Michael Minor (31.38) led the field for the US in the men's SB-UL, beating Austrian world champion Patrick Mayrhofer (32.42) in only his second high-level competition.
Minor had already finished behind the Austrian on the podium in the Europa Cup the previous day (18 November), but this time was able to take the win.
Great Britain's Ben Moore (32.81) was third.
On the women's side, Renske van Beeke (1:26.71) represented hosts the Netherlands on the podium.
The IPC Snowboard World Cup concludes on Friday (20 November) with another round of banked slalom featuring 70 riders from 17 countries.
Results are available at IPC Snowboard's website and live updates can be found at @IPCSnowboard and facebook.com/IPCSnowboard.
An IPC Alpine Skiing Europa Cup also continues on Friday, with more than 60 skiers from 14 countries.
Results are available at IPC Alpine's Skiing's website alongside live coverage on Twitter and Facebook.