Imagen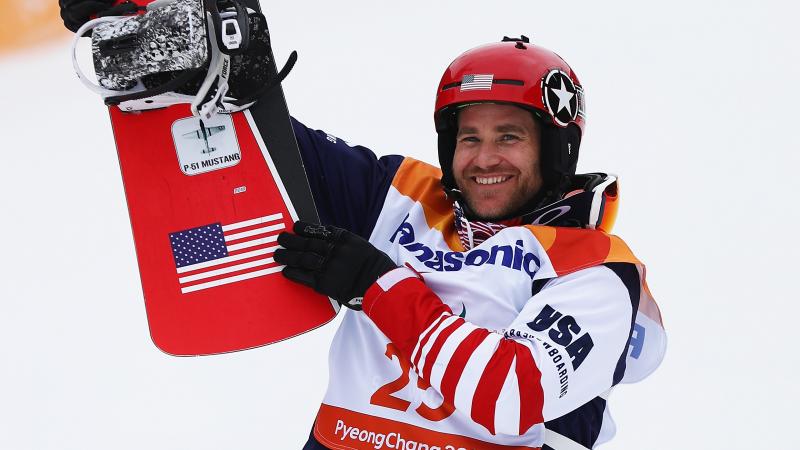 Mike Schultz showed it is never too late to join the party. Against talented athletes in their prime or even half his age, the 37-year-old became a two-time Paralympic medallist in his debut at PyeongChang 2018.
Schultz's gold medal in the snowboard-cross SB-LL1 and silver in the banked slalom were the climax of his progress over the past two seasons.
Also known as "Monster Mike," the US rider became a serious contender for Paralympic gold following the 2017 World Championships in Big White, Canada. He challenged Netherlands' flying Dutchman Chris Vos in the banked slalom, coming up short of the gold. He also fell short of the snowboard-cross podium. But Schultz was only warming up.
He completed a successful World Cup 2017-18 season in which he took the overall crystal globe, and it set him up for success at PyeongChang 2018.
Now the only prize missing from his collection is a world title, which he can add in Pyha, Finland.
Schultz had his left leg amputated following a professional snocross race accident in 2008. He engineered his own prosthetic knee and got back into sports, winning a silver in motocross adaptive at the X Games. Schultz saw the need for advancements in prosthetics, leading him to find BioDapt, Inc. in July 2010. His products have been instrumental in the development of prosthetics for action sports athletes and wounded soldiers, and he has been working on an improvement to the Versa Foot, which was named one of the Top 10 Inventions of 2013 by Popular Science magazine.
Biography
Impairment information
Type of Impairment
Limb deficiency
Origin of Impairment
Acquired
Further personal information
Family
Wife Sara, daughter Lauren [2013]
Residence
Saint Cloud, MN, USA
Occupation
Athlete, Business Owner, Motivational Speaker
Sport specific information
When and where did you begin this sport?
He began snowboarding in 2010 in Minnesota, United States of America.
Why this sport?
He initially tried the sport to test his prosthetic knee outside of motor sports. "I started riding to help develop my prosthetic equipment for my company BioDapt. Being able to go to the top of the mountain and just carve your way down and be dead tired by the time you get to the bottom is pretty amazing."
Name of coach
Alex Tuttle [national], USA; Mike Jennings [national]
Training Regime
He trains for about two hours each day. "That's an average. That's both mental preparation and physical preparation."
International debut
Competing for
United States
General interest
Nicknames
Monster Mike ["I earned this when racing snocross back in 2004 because of my aggressive riding style."] (nbcolympics.com, 02 Mar 2022)
Hobbies
Motocross, mountain biking, horseback riding. (Athlete, 03 Mar 2022)
Memorable sporting achievement
Winning a gold medal in snowboard cross at the 2018 Paralympic Winter Games in Pyeongchang. (Athlete, 03 Mar 2022)
Most influential person in career
US Para snowboarder Keith Gabel. "He's been on the US team through my time with the team. He's fun to travel the world with and has helped me become a better rider." (Athlete, 03 Mar 2022)
Hero / Idol
US snocross rider Tucker Hibbert, US motocross rider Ryan Dungey, US freestyle skier David Wise. (Athlete, 03 Mar 2022)
Injuries
In 2017 he suffered a concussion after crashing while competing at an event in the Republic of Korea. (gq.com, 07 Mar 2022)

In 2016 he crashed while riding his dirt bike. He broke six ribs, tore cartilage in his thumb, and sustained a concussion. The injuries meant he was unable to compete in snowboarding at the 2017 Winter X Games in Aspen, CO, United States of America. (gq.com, 07 Mar 2022)

He shattered his right heel during his adaptive boardercross semifinal at the 2015 Winter X Games in Aspen, CO, United States of America. He underwent surgery and was unable to participate in high intensity activity for six months. (paralympic.org, 19 Oct 2015; denverpost.com, 23 Jan 2015)
Superstitions / Rituals / Beliefs
"I squat up and down five times, slam my rear foot two or three times, and slap my head." (Athlete, 03 Mar 2022)
Sporting philosophy / motto
"I've got two passions in life. One is being a competitive athlete and the other is the creative side of me - designing and fabricating things with my hands." (OIS, 03 Mar 2022)
Awards and honours
He was named Best Male Athlete with a Disability at the 2018 Excellence in Sports Performance Yearly [ESPY] Awards. (teamusa.org, 27 Dec 2018)

He was flag bearer for the United States of America at the opening ceremony of the 2018 Paralympic Winter Games in Pyeongchang. (nbcolympics.com, 07 Mar 2018)

In 2010 he was inducted into the Athletes with Disabilities Network [ADN] Hall of Fame in the United States of America. He also received the organisation's Roger McCarville Male Athlete of the Year award. (oandp.com, 01 Nov 2010)
Other sports
Before his accident he was a professional snocross racer. He has won gold medals in adaptive motocross at the X Games, and in adaptive snocross and adaptive snow bikecross at the Winter X Games. (tricountynews.mn, 20 Feb 2019; ridefox.com, 01 Jan 2014)
Milestones
He became the first male Para snowboarder representing the United States of America to win three medals at the Paralympic Winter Games by claiming silver in snowboard cross at the 2022 Paralympic Winter Games in Beijing. He also won gold in snowboard cross and silver in banked slalom at the 2018 Games in Pyeongchang. (SportsDeskOnline, 22 Sep 2022)
Impairment
In December 2008 he was competing in a snocross race when his snowmobile drifted sideways as he jumped over a mogul and landed on his left leg. He suffered a severe compound fracture to his knee, and after multiple operations the limb was amputated above the knee. (denverpost.com, 23 Jan 2015; monstermikeschultz.com, 01 Jan 2014; ridefox.com, 01 Jan 2014)
Other information
GIVING HIS COMPETITORS AN EDGE
In 2010 he founded BioDapt, a company that produces high-impact sports prosthetics including the Moto Knee, which he has used himself, and the Versa Foot. His prostheses have been used by his competitors, including at the 2022 Paralympic Winter Games in Beijing. "When I realised there were not many options out there for sport prosthetics, I was like, 'You know what, I'm the perfect guy to solve this problem'. Now, we've got a few hundred athletes and veterans using our product, as well as the majority of the US Paralympic snowboarding team. I've got the athlete hat and the businessman hat. It's tricky, a fine line. My wife Sara and I were calculating the number of athletes [at the 2022 Paralympic Winter Games in Beijing] using our equipment. It's athletes in 11 countries. Me helping them with their performance equipment isn't, I always feel, the best thing, but I assure you I am so much more about the bigger picture - using what I've learned to improve our sport overall." (OIS, 03 Mar 2022; teamusa.org, 03 Dec 2021; Facebook page, 01 Feb 2022; Facebook profile, 11 Dec 2020; medgadget.com, 23 Jan 2020; LinkedIn profile, 01 Jan 2019; si.com, 30 Oct 2017)

CONSIDERING RETIREMENT
He considered retiring following the 2018/19 season, but decided to continue after he won a gold medal at the 2019 World Championships in Pyha, Finland. "It was a few months after the [2018 Paralympic Winter] Games that I was like, 'I don't have a world championship under my belt yet, so maybe I'll stick around another season so I can do that'. Then I got a world championship in bank slalom, and I was like, 'Well, I'm already a year in, it's only three years to the [2022 Paralympic Winter] Games. I'm still getting better every time I'm on the snow. I'm improving and I'm learning things, so heck yeah, let's just keep going." (OIS, 02 Mar 2022)

BOOK
He authored a book published in January 2022 called 'Driven to Ride: The True Story of an Elite Athlete Who Rebuilt His Leg, His Life, and His Career'. (amazon.com, 18 Jan 2022; foyles.co.uk, 01 Dec 2021)

OTHER ACTIVITIES
He has served as a member of the borders commission of the United States Olympic & Paralympic Committee [USOPC]. (teamusa.org, 18 Aug 2020)
Results
2017 IPC Snowboard World Championships Big White, CAN (Big White, Canada)

| Event | Medal | Unit | Date | Rank |
| --- | --- | --- | --- | --- |
| Men's Snowboard Cross SB-LL1 | | Race 1 | 2017-02-04 | 4 |
| Men's Banked Slalom SB-LL1 | | Race 1 | 2017-02-07 | 2 |
Pyha 2019 World Para Snowboard Championships (Pyha, Finland)

| Event | Medal | Unit | Date | Rank |
| --- | --- | --- | --- | --- |
| Men's Banked Slalom SB-LL1 | | Race 1 | 2019-03-27 | 1 |
| Men's Snowboard Cross SB-LL1 | | Race 1 | 2019-03-30 | 3 |
Lillehammer 2021 World Para Snow Sports Championships (Lillehammer, Norway)

| Event | Medal | Unit | Date | Rank |
| --- | --- | --- | --- | --- |
| Men's Banked Slalom SB-LL1 | | Race 2 | 2022-01-14 | 2 |
| Men's Snowboard Cross SB-LL1 | | Race 2 | 2022-01-21 | 2 |