Imagen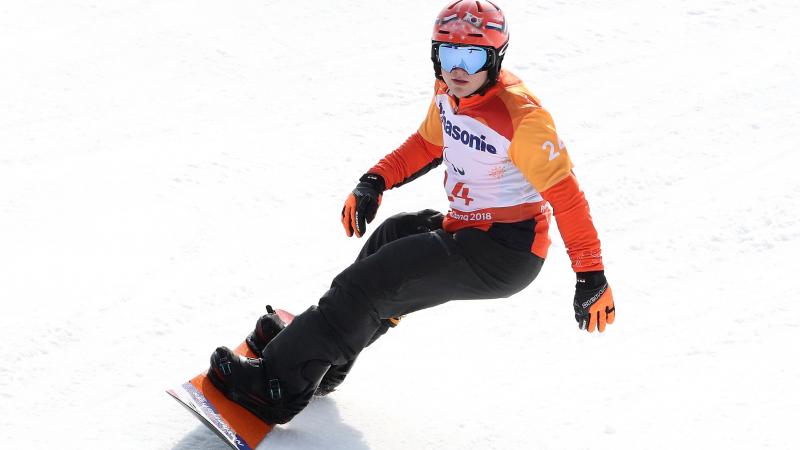 Chris Vos
Snowboard | Alpine Skiing
Chris Vos is only 21 but already has an outstanding snowboard resume. He owns four World Championship gold medals, numerous World Cup crystal globe titles, and a Paralympic Winter Games medal from PyeongChang 2018.
It helped that the youngster began the sport early, being a protégé of legendary Paralympic and world champion Bibian Mentel-Spee.
He was only 16 years old when he competed at Sochi 2014, where snowboard debuted in the Paralympics. His 13th place finish in snowboard-cross was just a hint of his potential in future Games.
Vos stunned the sport at the 2015 World Championships, storming to double gold in banked slalom and snowboard-cross in the men's SB-LL1 at just the age of 17.
That season, he also finished atop the World Cup rankings for his classification after four podium finishes. And he repeated the two World Cup wins the following season.
Vos' talent continued to shine even brighter after retaining his titles at the 2017 Worlds in Big White, Canada; he also won the men's SB-LL1 snowboard-cross crystal globe in 2016-17. But, in the banked slalom, he was overcome by the USA's Mark Mann, the very man who spoiled Vos' golden hopes at PyeongChang 2018. The Dutchman felt even more disappointment when he fell short of the PyeongChang banked slalom podium.
But with youth on his side, Vos expressed his determination to make up for his PyeongChang results, especially with Beijing 2022 to look forward to.
Results
2015 IPCAS Para Snowboard World Championships La Molina (La Molina, Spain)

| Event | Medal | Unit | Date | Rank |
| --- | --- | --- | --- | --- |
| Men's Snowboard Cross SB-LL1 | | Race 1 | 2015-02-24 | 1 |
| Men's Banked Slalom SB-LL1 | | Race 1 | 2015-02-28 | 1 |
2017 IPC Snowboard World Championships Big White, CAN (Big White, Canada)

| Event | Medal | Unit | Date | Rank |
| --- | --- | --- | --- | --- |
| Men's Snowboard Cross SB-LL1 | | Race 1 | 2017-02-04 | 1 |
| Men's Banked Slalom SB-LL1 | | Race 1 | 2017-02-07 | 1 |
Pyha 2019 World Para Snowboard Championships (Pyha, Finland)

| Event | Medal | Unit | Date | Rank |
| --- | --- | --- | --- | --- |
| Men's Banked Slalom SB-LL1 | | Race 1 | 2019-03-27 | 3 |
| Men's Snowboard Cross SB-LL1 | | Race 1 | 2019-03-30 | 2 |
Lillehammer 2021 World Para Snow Sports Championships (Lillehammer, Norway)

| Event | Medal | Unit | Date | Rank |
| --- | --- | --- | --- | --- |
| Men's Banked Slalom SB-LL1 | | Race 2 | 2022-01-14 | 5 |
| Men's Snowboard Cross SB-LL1 | | Race 2 | 2022-01-21 | 4 |