Imagen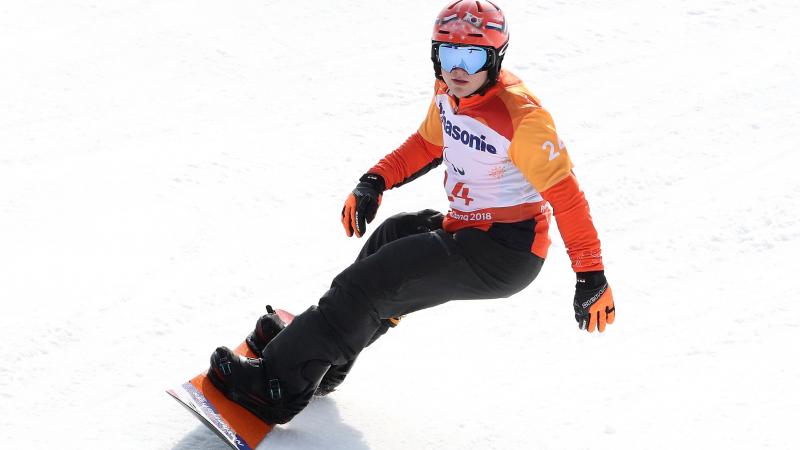 Chris Vos
Snowboard | Alpine Skiing
Chris Vos is only 21 but already has an outstanding snowboard resume. He owns four World Championship gold medals, numerous World Cup crystal globe titles, and a Paralympic Winter Games medal from PyeongChang 2018.
It helped that the youngster began the sport early, being a protégé of legendary Paralympic and world champion Bibian Mentel-Spee.
He was only 16 years old when he competed at Sochi 2014, where snowboard debuted in the Paralympics. His 13th place finish in snowboard-cross was just a hint of his potential in future Games.
Vos stunned the sport at the 2015 World Championships, storming to double gold in banked slalom and snowboard-cross in the men's SB-LL1 at just the age of 17.
That season, he also finished atop the World Cup rankings for his classification after four podium finishes. And he repeated the two World Cup wins the following season.
Vos' talent continued to shine even brighter after retaining his titles at the 2017 Worlds in Big White, Canada; he also won the men's SB-LL1 snowboard-cross crystal globe in 2016-17. But, in the banked slalom, he was overcome by the USA's Mark Mann, the very man who spoiled Vos' golden hopes at PyeongChang 2018. The Dutchman felt even more disappointment when he fell short of the PyeongChang banked slalom podium.
But with youth on his side, Vos expressed his determination to make up for his PyeongChang results, especially with Beijing 2022 to look forward to.
Biography
Impairment information
Origin of Impairment
Acquired
Further personal information
Family
Partner Lisa Bunschoten
Residence
Zuidoostbeemster, NED
Languages
Dutch, English, German
Sport specific information
When and where did you begin this sport?
He began snowboarding at age seven in Austria. He received a prosthesis at age 13, which allowed him to bend his leg fully while snowboarding.
Why this sport?
He was inspired by watching Dutch snowboarder Nicolien Sauerbreij win gold at the 2010 Olympic Winter Games in Vancouver. His parents contacted the local association, and they later got in touch with Dutch Para snowboarder Bibian Mentel, who introduced him to the sport and mentored him ahead of the 2014 Paralympic Winter Games.
Name of coach
Pepijn van Schijndel [snowboard, national], NED
Training Regime
He includes mountain biking, skateboarding and surfing in his training schedule. "I call it playing outside and for me that works way better because I don't really like the gym."
International debut
Competing for
Netherlands
General interest
Nicknames
Adaptive Chris (Athlete, 04 Mar 2022)
Hobbies
Flying private aircraft, skateboarding, surfing. (Athlete, 04 Mar 2022)
Memorable sporting achievement
Winning silver in snowboard cross at the 2018 Paralympic Winter Games in Pyeongchang. (Athlete, 04 Mar 2022)
Most influential person in career
Dutch Para snowboarder [and his partner] Lisa Bunschoten. (Athlete, 04 Mar 2022)
Hero / Idol
Dutch Para snowboarder [and his partner] Lisa Bunschoten. (Athlete, 04 Mar 2022)
Sporting philosophy / motto
"Share and inspire." (Athlete, 04 Mar 2022)
Awards and honours
He and fellow Para snowboarder Lisa Bunschoten were named flag bearers for the Netherlands for the opening ceremony of the 2022 Paralympic Winter Games in Beijing. (teamnl.org, 03 Feb 2022)

In 2020 he was presented with the Beemster Sport Medal by the mayor of Middenbeemster, Netherlands. (aarlemse-stadsglossy.nl, 25 Mar 2020)
Famous relatives
His brother Lorenzo has represented the Netherlands in snowboard cross. His partner Lisa Bunschoten has represented the Netherlands in Para snowboard, winning silver in snowboard cross and bronze in banked slalom at the 2018 Paralympic Winter Games in Pyeongchang. (Athlete, 04 Mar 2022; SportsDeskOnline, 04 Mar 2022; Burton Europe YouTube channel, 04 Nov 2021; adaptivechris.com, 27 Nov 2013)
Ambitions
To win a gold medal at the 2022 Paralympic Winter Games in Beijing. (Athlete, 04 Mar 2022)
Impairment
In 2003, at age five, he sustained injuries to his right leg and pelvis in an accident involving a digging machine, which resulted in his right leg becoming paralysed. "I broke my hips in four places and it destroyed a lot of the nerves and veins in my leg. Two years after my accident, we went skiing. I couldn't ski, but my father thought I could stand on a snowboard. He had tied a rope around my waist and off we went. I was in pain, had cramps all over. But I had to and I wanted to be able to do what others could. Doctors said I would never walk again, but now [speaking in 2021] I'm a professional snowboarder. Snowboarding really changed my life." (Burton Europe YouTube channel, 04 Nov 2021; toyota.nl, 22 Apr 2021; Athlete, 22 May 2013)
Other information
ORTHOSIS
He wears an orthosis on his right leg and is classified as an SB-LL1 snowboarder. He began using a new specially designed orthosis for snowboarding in 2019. "It's like a knee brace, but it's from my groin to my foot. I have different orthoses, one for walking and the other for snowboarding. The snowboarding one is a nice piece of technology, with twice as much carbon and titanium as usual and a real suspension spring from a motorcycle. Last summer [speaking in October 2019] I visited one of my biggest rivals in the United States of America. That guy builds his own orthoses and he wanted to help me with a new suspension. I said, 'Of course!' With that new spring I can go deeper with my knees and therefore snowboard better." (Burton Europe YouTube channel, 04 Nov 2021; snowplanners.com, 08 Dec 2019; Instagram profile, 21 Oct 2019; toyota.nl, 02 Oct 2019)

FOUNDATION
In November 2018 he set up the Chris Vos Foundation. The organisation aims to help children and young adults with an impairment get involved in sport and exercise. "After all I have achieved, I find it very nice to inspire and get other people involved. The integration of people with an impairment in this area deserves full attention. A lot of times in the Netherlands you need to buy your own sporting leg or wheelchair and then there's no money for other equipment for your sport, so I really want to help people with [the money] I can get out of the foundation and make them realise their dream." (paralympic.org, 14 Mar 2019; adaptivechris.com, 11 Nov 2018)

PILOT
In July 2020 he earned a private pilot licence after completing a two-year training course. "This is a childhood dream come true for me. As a child I was already behind the flight simulator all day, and since then it has just worked out. I always thought that given my physical condition it was not for me, but my mum took the initiative and gifted me some flying lessons. And so the ball started rolling. I learned the theory through self-study and I took practical lessons between snowboarding competitions and training sessions. I am now proudly Captain Chris." (Athlete, 04 Mar 2022; Burton Europe YouTube channel, 04 Nov 2021; Facebook page, 06 Oct 2021; Instagram profile, 28 Sep 2020; adaptivechris.com, 26 Jul 2020)

AUTHOR
In 2018 he released a book called 'Xtreme'. "It is my story from a five-year-old to now. The first three months after my accident is written by my mother straight out of her diary and how I became me, with the struggles we had to get a normal life. It is about how every step literally was victory for us. The book describes how I got into snowboarding, the people who are important to me, all the ups and downs. The victories and the losses. The book says it all." (paralympic.org, 24 Jul 2018)
Results
2015 IPCAS Para Snowboard World Championships La Molina (La Molina, Spain)

| Event | Medal | Unit | Date | Rank |
| --- | --- | --- | --- | --- |
| Men's Snowboard Cross SB-LL1 | | Race 1 | 2015-02-24 | 1 |
| Men's Banked Slalom SB-LL1 | | Race 1 | 2015-02-28 | 1 |
2017 IPC Snowboard World Championships Big White, CAN (Big White, Canada)

| Event | Medal | Unit | Date | Rank |
| --- | --- | --- | --- | --- |
| Men's Snowboard Cross SB-LL1 | | Race 1 | 2017-02-04 | 1 |
| Men's Banked Slalom SB-LL1 | | Race 1 | 2017-02-07 | 1 |
Pyha 2019 World Para Snowboard Championships (Pyha, Finland)

| Event | Medal | Unit | Date | Rank |
| --- | --- | --- | --- | --- |
| Men's Banked Slalom SB-LL1 | | Race 1 | 2019-03-27 | 3 |
| Men's Snowboard Cross SB-LL1 | | Race 1 | 2019-03-30 | 2 |