Team USA Wins Ice Sledge Hockey Gold
20 Mar 2010
Imagen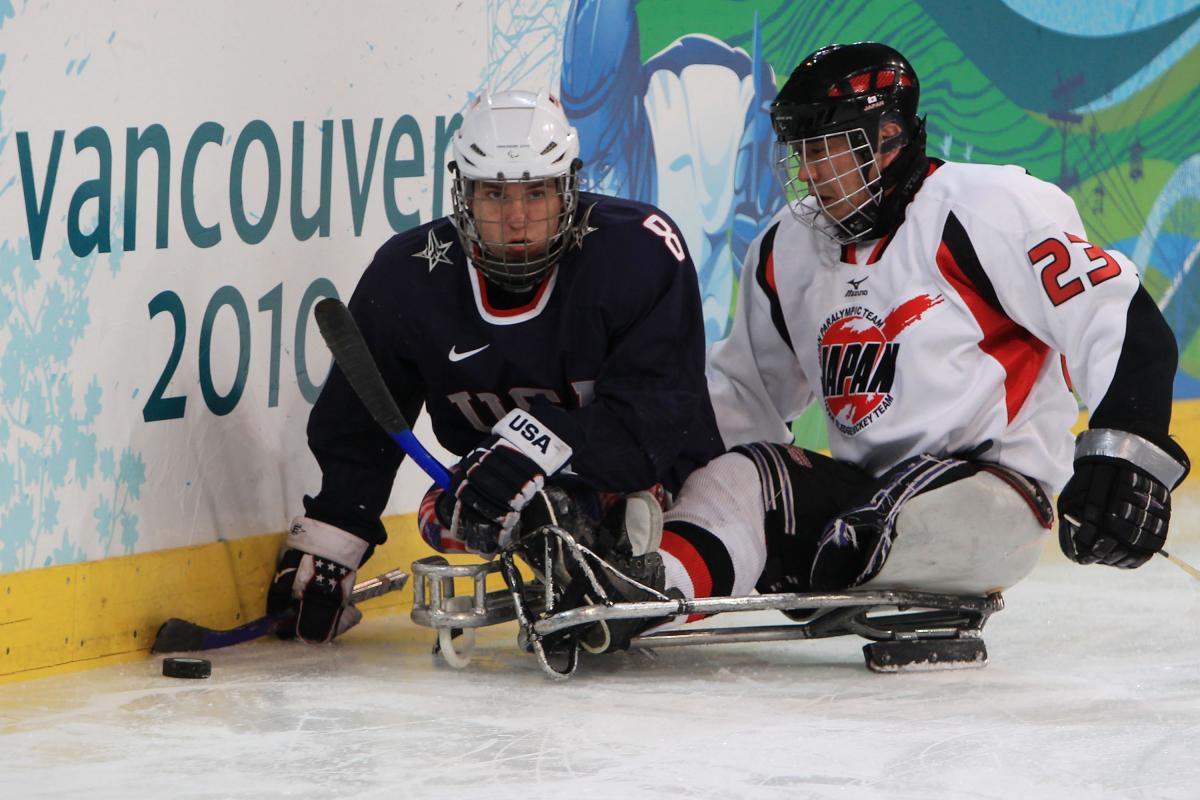 ⒸGetty Images
By IPC
Athletes from USA took the prized gold medal today against Japan, winning 2:0 in a tightly contested game at the UBC Thunderbird Arena. The team secured their gold medal with forward Taylor Lipsett having scored on a tip through Japanese goaltender Mitsuru Nagase. Team USA only allowed five shots on goal throughout the game, with them having been mostly on the offensive.
Lipsett has been an offensive scoring machine, having scored five goals and tallied two assists throughout the Ice Sledge Hockey tournament.
"It is unbelievable. I think that it was the hard work, our guys moved around the country - all the sacrifices that the families as made and now it is all paid off," Lipsett said.
He added that a major reason for their victory was their defense, with goalkeeper Steve Cash leading the way.
"I knew that we had to counterattack the Japanese speed but our defense did a great job of shutting them down, and they got behind our defense a couple times, but Cash was there to shut the door," Lipsett said.
The wins from Team USA at the Vancouver 2010 Paralympic Games have been in a convincing fashion, having scored a total of 14 goals and not allowing for a single goal. Furthermore, they have won all seven meetings versus the Japanese, outscoring them 29-2.
This victory is special to USA Head Coach Ray Maluta since they become the first country to win two Paralympic Gold Medals.
"The game is just not about defense but our offense, as our success in this tournament can come from our depth running three lines rather than two lines here," Coach Maluta said.
He added that Cash was a big reason why they won gold today - "having the number one goaltender in the world backing us up is great".
Japan's Satoru Sudo had a great chance to tie the game with under three minutes left in the third period with his hard shot on net, but his shot was stopped by Cash.
Takayuki Endo, Japan's captain, said that the team was still filled with happy emotions, winning the silver medal.
"I think that we tried to play hard and as one solid unit, but the USA was just a little better than us today," Endo said.
He continued, saying that he was very happy that there has been so much media coverage of the Vancouver 2010 Paralympic Winter Games, with at least print 20 journalists from Japan covering the game.
"I think that it was a turning point as it showed Ice Sledge Hockey can really inspire a nation," he said.