Terezinha Guilhermina and Leomon Moreno voted Athletes of the Year in Brazil
The 2014 best female and male athletes were selected by the Brazilian public through an online vote.
16 Dec 2014
Imagen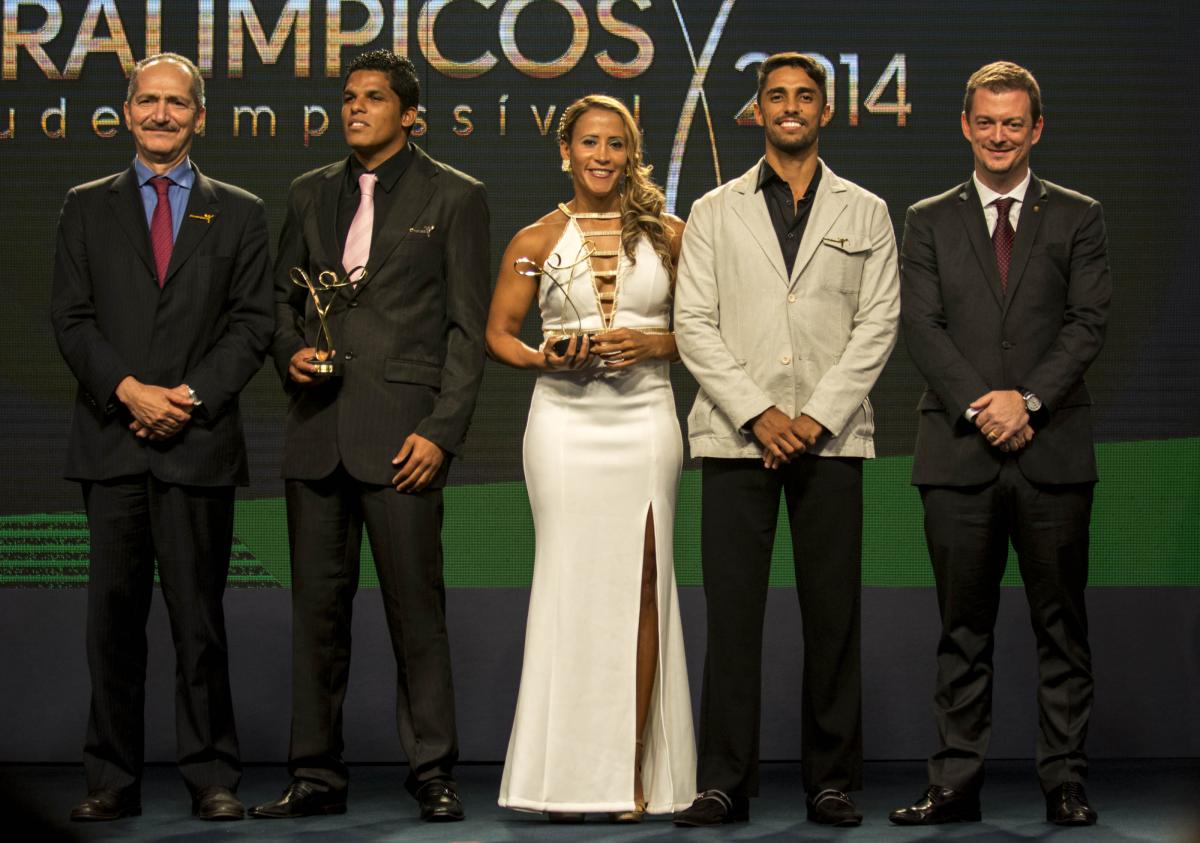 ⒸDaniel Zappe/CPB/MPIX
Goalball world champion Leomon Moreno and visually impaired sprinter Terezinha Guilhermina were voted para-athletes of the year by the public in Brazil last Thursday (11 December) at the 2014 Premio Paralimpicos awards gala.
Moreno was voted best male athlete and added his name to the list of previous winners which includes six-time Paralympic swimming champion Daniel Dias and double-leg amputee sprinter and Paralympic and world champion Alan Fonteneles Oliveira.
"It was also a victory for goalball as more people will get to know about the sport and support us in the Rio 2016 Paralympics. I and the team worked hard for the World Championships and we were awarded for that," said Moreno.
The 21-year-old scored 51 goals in 10 games to help Brazil win July's Goalball World Championships for the first time in their history beating hosts Finland in the final in Espoo. The other two contenders to the Athlete of the Year award in Brazil were Daniel Dias, who had previously won the prize in 2011 and 2013, and Ricardo Alves, topscorer and player of the tournament in the 2014 IBSA Football 5-a-side World Championships played in November in Japan.
Double Paralympic champion at the London 2012 Paralympic Games Guilhermina received the award for best female athlete for the third time in four years. The 36-year-old faced Bruna Alexandre, team and individual bronze medallist in the 2014 ITTF Para-Table Tennis World Championships in Beijing, China, and Marcia Menezes, bronze medallist at the 2014 IPC Powerlifting World Championships in Dubai, UAE.
"I never get tired of winning and I want to be here next year again. Even though there were no major competitions in athletics this year I still finished the season unbeaten," said sprinter who runs with her guide Guilherme Santana by her side.
Terezinha Guilhermina is also the star of a new campaign launched by the Brazilian Paralympic Committee (CPB) named "Mude o Impossível" ("Change the Impossible", in Portuguese). Ten athletes were chosen to feature on a series of pictures with messages related to their achievements. "Impossible is to run 400m in less than 1 minute without seeing the track", says the image with the Brazilian sprinter.
Multi-Paralympic medallist Adria Rocha Santos received the Aldo Miccolis award for her outstanding career achievements. Leomon Moreno and 21 other athletes were also awarded the prize of best athlete of the year in their respective sports.
Archery: Andrey Muniz de Castro
Athletics: Claudiney Batista dos Santos
Boccia: Maciel Sousa Santos
Paracanoe: Luis Carlos Cardoso da Silva
Cycling: Soelito Gohr
Equestrian: Sergio Froes Ribeiro de Oliva
Football 5-a-side: Ricardo Alves
Football 7-a-side: Jan Francisco Brito da Costa
Goalball: Leomon Moreno
Judo: Willians Silva de Araujo
Paratriathlon: Jorge Camargo Fonseca
Powerlifting: Marcia Menezes
Rowing: Josiane Dias de Lima
Sailing: Mario Czascke
Shooting: Debora da Silva Rodrigues Campos
Swimming: Daniel Dias
Table Tennis: Bruna Alexandre
Voleyball: Renato de Oliveira Leite
Wheelchair basketball: Leandro de Miranda
Wheelchair fencing: Jovane Guissone
Wheelchair rugby:Alexandre Keiji Taniguchi
Wheelchair tennis: Daniel Alves Rodrigues
-ends-