Three questions for Marie Bochet
The 11-time world champion and quadruple Paralympic champion reveals all about her season so far.
26 Jan 2016
Imagen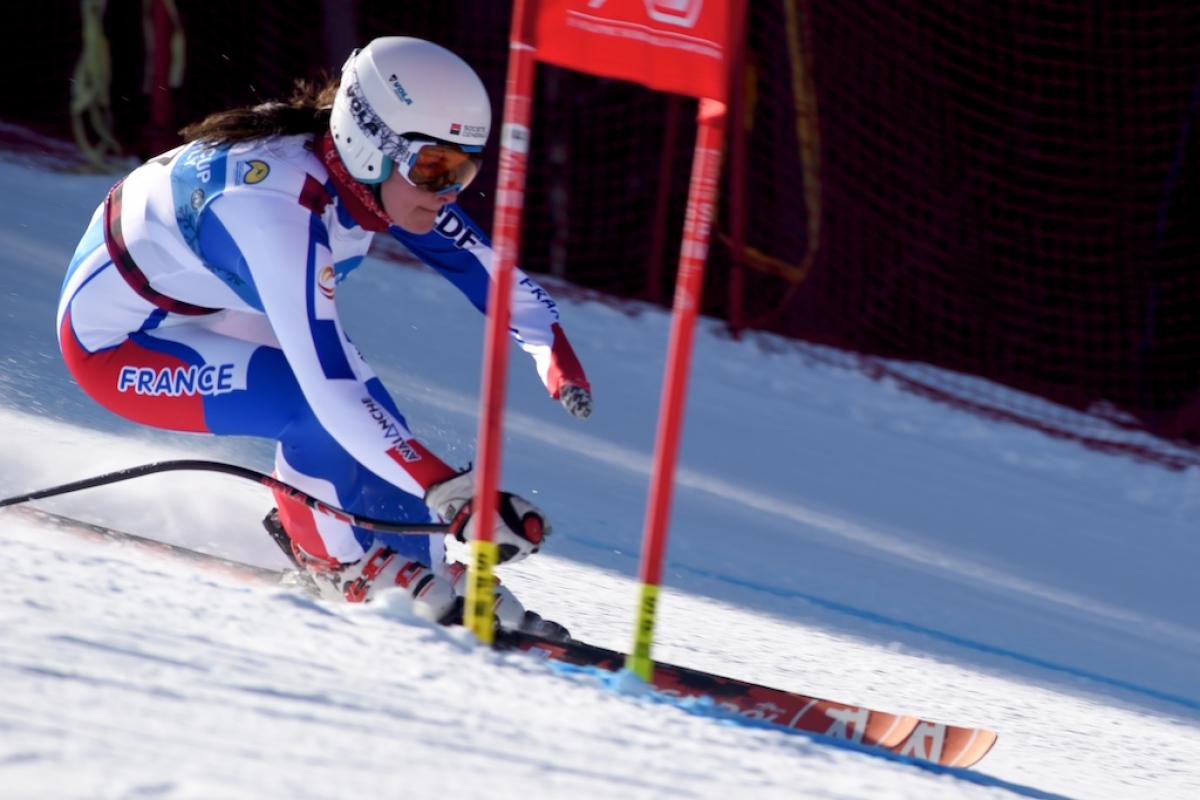 ⒸAlpine Peak Photography
By Ski Handisport
France's Marie Bochet cemented her place as one of the greatest skiers in history in St. Moritz, Switzerland recently, winning her 50th and 51st World Cup races.
Ahead of the first speed races of the season at the Lognan Stade at home in Tignes, France, 11-time world champion Bochet answered three questions about her season, skiing and the development of para-alpine skiing.
Ski Handisport: You have kicked off the IPC Alpine Skiing World Cup season in tremendous form, with six victories from six events. How do you keep yourself motivated in a year without World Championships or Paralympic Games?
Marie Bochet: It's quite a strange year. It has been a long time since we've experienced a
winter without a 'big' event. I'm enjoying not having to work towards a particular deadline, and being able to focus instead on the more regular timetable of events on the World Cup Tour. Also, we reduced the number of training days this autumn. It feels good to have some breathing space!
SH: The Tignes World Cup is the only French event on the world tour. Is this a particularly special event for you?
MB: An event on home ground always has a particular feeling to it. In terms of personal objectives, I'm not as concerned with winning any more. I just want to enjoy myself and put into practice the technical aspects of skiing that I achieve in training. The team will arrive in Tignes without having done any high speed training. It's therefore going to come down to me setting a clearly defined focus on my goals, and engaging my "go get 'em" attitude! I love the feeling of downhill racing and of super-G. Of mastering all the angles of the course...
SH: You appear to be at the top of your game in your category. What is your view on the evolution of the general standard within para-alpine skiing?
MB: In France, para-sport has become a lot more structured, and the improvement in the general standard is a direct reflection of this. It was a real necessity too, because in other countries the athletes won't wait around for us. The standard is progressing year on year-we don't have time to be resting on our laurels!
Today I am one of the leaders in my category. It's therefore up to me to keep trying to break new ground with my skiing, thus pulling other skiers up to the next level with me. It's a fantastic place to be, we are gradually progressing towards a higher level, and it feels really good.
Around 60 skiers from 14 countries are currently in Tignes for two days of downhill training (25-26 January), before racing gets underway on Wednesday and Thursday (27 and 28 January). Super-G will follow on Friday (29 January).