Ukraine and Russia sweep the board at Continents Cup
Six of seven events at the 2013 IPC Wheelchair Dance Sport Continents Cup in Moscow, Russia are won by Ukraine and the host nation.
12 Sep 2013
Imagen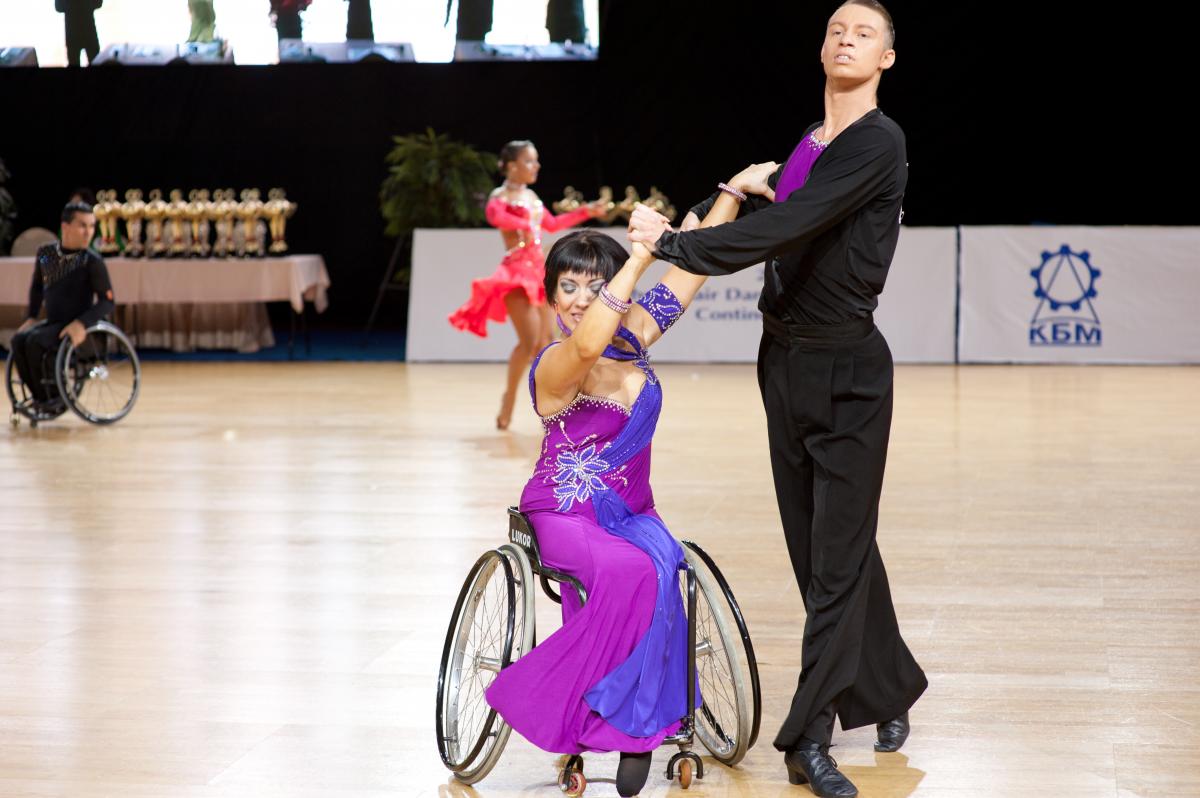 ⒸIPC
By IPC
10 couples dominated the dance floor over two days of competition at the 2013 IPC Wheelchair Dance Sport Continents Cup recently, with Russia and Ukraine each winning three events.
Athletes gathered in Moscow for the fifth anniversary of the event under International Paralympic Committee management, with athletes aiming to show off their prowess ahead of the 2013 World Championships which will take place in Tokyo, Japan in December.
The Russians blocked out the top two spots in the combi standard class 2 event with current world number one couple Vitalii Mozorov and partner Gulnaz Akbasheva picking up first place, just ahead of team mates Alexander Lyapin and Irina Gordeeva. The Koreans finished in third thanks to duo Tatiana Skvortsova and Stanislav Sheshukov.
In class 1, the Slovakian combo of Peter Vidasic and Helena Kasicka danced their way to the top spot, followed by Kanstantsin Sheida and Iryna Mazharava of Belarus and fellow Slovakians Maros Olejar and Maria Gazdikova.
However it was again the Ukrainians who dominated in the duo standard class 1 with Vladimir Kernichny and Snejana Kernichnaya ranking first overall, followed by Russians Aleksei Fotin and Ruzanna Kazariann in second and Valeriy Mironyk and Anna Mironyk, also from Ukraine.
In the combi Latin class 1 the Ukrainians again lead the field with Mykhaylo Annekov and Illona Slugovyna. Belerusians Ihar Kuliashou and Hanna Siratsiuk and Peter Vidasic and Helena Kasicka of Slovakia completed the top three.
The Russians hit back in the duo Latin class 2 with world number one pair Sergey Antonov and Alexandra Berdnik taking first place ahead of current world number two Ukrainians Ivan and Nadiia Sivak. Poland picked up their second podium of the competition with Pawel Karpinski and Joanna Reda.
In the duo standard class 2 the Sivak's claimed top spot ahead of the two Russian pairs of Dmitry Torgunakov and Irina Gordeeva and Nikolai Kuzin and Snezhana Shepeleva, holding on to their position as world number one.
Russia completed their trio of firsts in the combi Latin class 2 with Viacheslav Oispov and Galina Ryzhkova who also retain their number one status. They were followed by Maksim Sedakov and Svetlana Kukushkina, also from Russia.
Polish couple Pawel Karpinski and Nadine Kinczel rounded off their excellent results at the competition with third place.
The 2013 IPC Wheelchair Dance Sport World Championships will take place in Tokyo, Japan from 7-8 December. It is expected to be the biggest world championships to date, featuring over 200 athletes from 26 countries.