Ukraine signs off with best ever performance in Para Biathlon
Finish with eight gold, nine silver and five bronze
11 Mar 2022
Imagen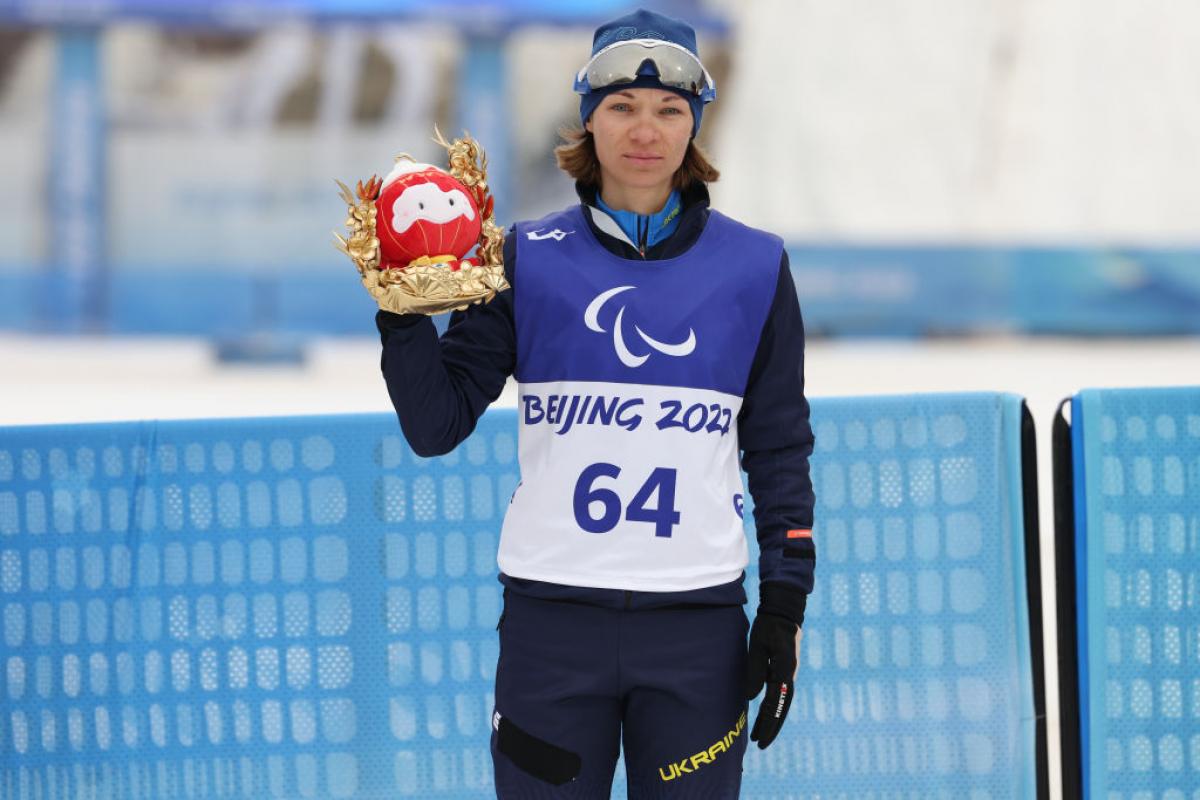 ⒸFred Lee/Getty Images
By ND Prashant | For the IPC
Ukraine were on a roll on the final day of the Para Biathlon competition at the Beijing 2022 Paralympic Winter Games clinching three out of six gold up for grabs at the Zhangjiakou National Biathlon Centre.
Ukraine, thus, finished at the top of the table in Biathlon with 22 medals - eight gold, nine silver and five bronze. This was also their best ever performance in the history of Paralympic Winter Games. At Peongchang 2018, they had finished with four gold, five silver and five bronze.  
The gold rush started for Ukraine with Liudmyla Liashenko completing her collection of all three medals by clinching the Women's Individual Standing title with a time of 47:22.0.
Liashenko had earlier won a silver and bronze in the Women's Sprint Standing and Women's Middle Distance Standing.  This was also Liashenko's first individual title at the Games, at Peongchang she won gold in the Mixed 4x2.5km Relay Cross-Country event.
"It was a really long wait for me to get this gold medal. I've been to a lot of trainings and won a lot of gold medals in World Cups and World Championships over the past seasons. I was sure that my gold was waiting for me at these Paralympic Games and I am really happy and proud to be a Paralympic champion," said a jubilant Liashenko attributing her success to her coach Dmytro Artyomin.
SHYSHKOVA COMPLETES GOLD DOUBLE
Later, Oksana Shyshkova also finished her engagements in Biathlon with a gold in the Women's Individual Vision Impaired category. Shyshkova, thus completed her grand double as she had won gold in the Women's Sprint Vision Impaired along with a silver in the Women's Middle Distance Vision Impaired.
Shyshkova clocked 50:19.6 to keep both Germans Linn Kazmaier and Leonie Maria Walter at bay. This was Kazmaier's second silver of the Games while Walter finished with a gold, silver and bronze.
"Every time we go to the start we understand that we (want to) protect the honour of our country. That is maybe what is motivating us to focus and do all the best that we can during the race. Maybe that is the secret," said Shyshkova following her triumph.
GOLD FOR OLEKSANDR KAZIK
The day also belonged to Ukraine's Oleksandr Kazik, who teaming up with guide Serhii Kucheriavyi, claimed the Men's Individual Vision Impaired title brushing aside the challenge from countrymate Vitalii Lukianenko. The bronze was bagged by Shuang Yu of China.
"It is a really desired medal for us. We were preparing and training hard for a long time with my guide (Serhii Kucheriavyi). It was a tough race and difficult weather conditions today with the hard snow. 
"The skis also didn't work well as planned, but we tried to support each other. Me, together with my guide. We did a great job to come here and compete and represent our country and we couldn't lose this race. Perhaps because of this support we got this result," said an emotional Kazik.
BENJAMIN DAVIET BAGS HIS SECOND GOLD
Frenchman Benjamin Daviet added a second gold to his tally by clinching gold in the Men's Individual Standing with a time of 37:58.9 on the final day of the Biathlon event.
Daviet had earlier won gold in the Cross-Country Men's Sprint Free Technique Standing.
The silver was bagged by Mark Arendz of Canada, who with this result has completed his collection of all the three medals. Arendz had won gold in Men's Middle Distance Standing and a bronze in Men's Sprint Standing. Coming home in third place was Grygorii Vovchynskyi of Ukraine.
"It's the perfect race today, on the skis and in the shooting. I am very satisfied to hit 20 of 20 (shots). It was an easy race today. I am very proud and happy because I've put so much work on this over the past four years," said an overjoyed Daviet adding, "The beginning of the Games was really difficult for me. Today there's a new Benjamin and I'm very happy and proud. Now I want to maybe have other gold medals, in the cross-country.
"I feel very relaxed now. I am flying like a bird. I feel very confident and it is very easy for me now."