Gold for Daviet, McKeever, Wilkie and Edlinger
'I don't want to sound too confident, but I was fairly sure I had a good chance of winning a medal today and it was just a matter of deciding the colour'
09 Mar 2022
Imagen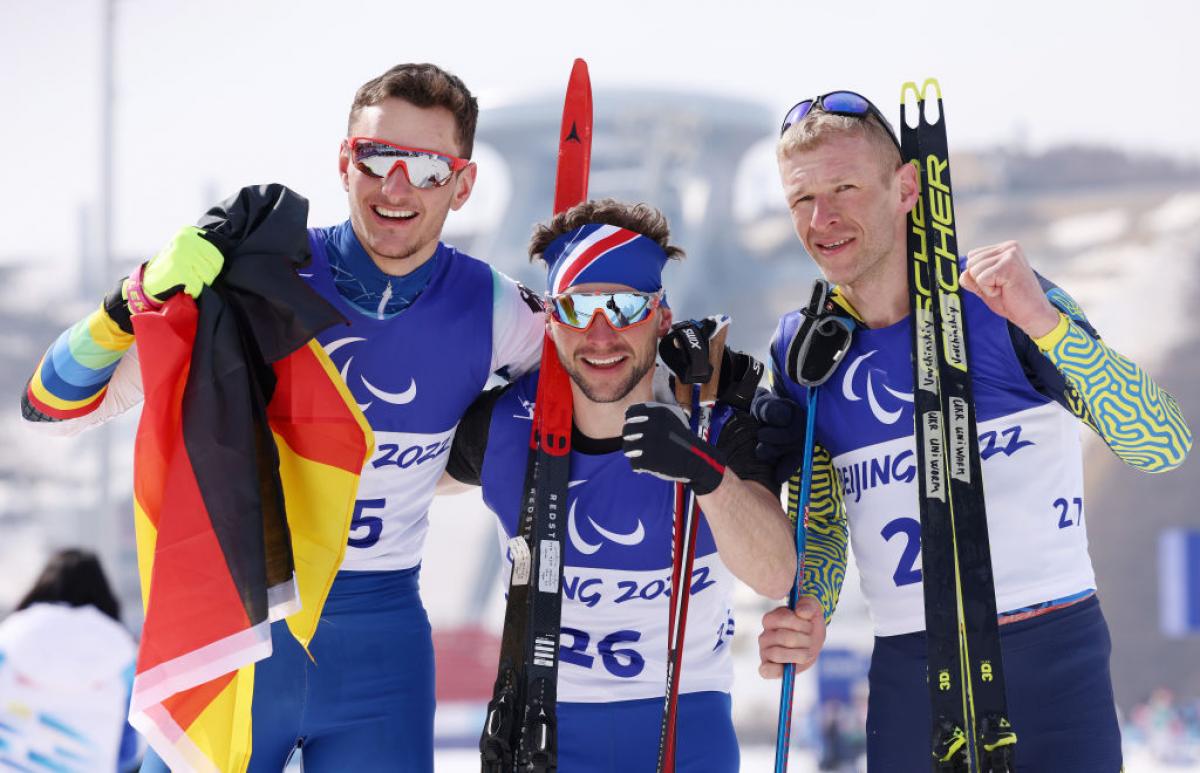 ⒸLintao Zhang/Getty Images
By ND Prashant | For the IPC
Benjamin Daviet of France, Canadians Brian McKeever, Natalie Wilkie and Carina Edlinger of Austria clinched a gold a piece to stem the Ukrainian and Chinese dominance in the Cross-Country events at the Beijing 2022 Winter Games at the Zhangjiakou National Biathlon Centre.
Daviet, with a time of 3:07.5, brushed aside a strong challenge from Germany's Marco Maier for gold in the Men's Sprint Free Technique Standing. Ukraine's Grygonii Vovchynskyi settled for the bronze 3:09.3.    
"It's just amazing to win gold today because it was really difficult for me in the two previous races, so I'm really relieved about this gold medal.
"I wanted to give my best. I forgot the essentials during the two biathlon races, so I was so hungry. I wanted to fight, and I did everything today in this race and in this knockout to take the win," said a beaming Daviet.
TWO GOLDS IN TWO FOR McKEEVER
Canadian legend McKeever is clearly on a roll here in Beijing. The 42-year-old bagged the second gold at the Winter Paralympic Games by winning the  Men's Visually Impaired Sprint Cross-country event in a keenly contested final.
The 42-year-old Canmore, Alta., native finished the race with a time of 3:19.5 seconds to edge past American Jake Adicoff by 0.8 seconds. The third place was bagged by Zebastian Modin, of Sweden with a time of 3:37.8.
"This is the race that is hardest for us to win. My least favourite race. I said yesterday that I think I would rather race a 220km in Sweden next month than do another sprint, but here we are. It was fun.
"Russ Kennedy (guide) skied that race to perfection and the skis were amazing. That was a big key, just to make sure we had some competitive boards," revealed McKeever, adding, "We knew we had to get to the front before the last finishing straight so we could pick the line we wanted. There's definitely one faster lane there than the rest because of the shadows.
"I'm not able to start very fast at my age, so I really have to build into it. We talked about that and tried to build through the whole race."
WILKIE BAGS SECOND GOLD
In Women's Standing Sprint, 21-year-old Wilkie and World Champion Vilde Nilsen were evenly poised with 100 metres to go. Wilke only managed to pull ahead of the Norwegian in the final metres to claim her second gold medal. Wilkie had earlier claimed gold in the Women's Long Distance Classical Technique Standing.
"I don't want to sound too confident, but I was fairly sure I had a good chance of winning a medal today and it was just a matter of deciding the colour.
"I was actually super surprised. Norway (silver medallist Nilsen) had a massive lead on me heading into the finish area, but I ended up catching her up on the downhill, and I was faster in the finish chute which ended up earning me a gold medal," said Wilkie adding that, she gave it everything in the final metres.
"I just thought to myself, 'This is going to take you like five seconds to get to the finish chute, just hammer it, you're not going to regret it'. I'm not regretting this at all.
"It's special because I didn't think I would win the gold today at all. I know I'm a good sprinter, but I didn't think I was good enough to have the fastest time of the day, so it was a complete shock when I out-skied Vilde in the finish chute.
"It's hard having so much time in between heats. You're always wondering, 'What's going to happen next? Will I still be able to ski fast?'"
EDLINGER UPS HER GAME FOR GOLD
Austria's four-time World Champion Edlinger guided by Lorenz Josef Lampl clinched gold in the Women's Sprint Free Vision Impaired final with a time of  3:49.6 seconds.
Ukraine's Oksana Shyshkova won silver in 3:56.4 with Germany's Linn Kazmaier holding off compatriot Leonie Maria Walter to secure bronze in 4:05.2.
"I still can't believe that. Four years ago, I had similar problems that I've had now, with my legs, and I collapsed multiple times here and right before the journey here.
"It was a difficult situation because a few days ago I was completely paralysed below the neck, lying on the wax cabin floor. That was one of the lowest points I've had in my sport life.
"With two times not finishing that was more than frustrating because I knew what I can do. But today, winning gold like this, is freaking amazing," said an overjoyed Edlinger.