Sweden take the lead in Wheelchair Curling
With two wins Sweden lead the standings at the end of day four
With two days of round-robin play left, China, Slovakia, Latvia and Canada are the current main contenders
08 Mar 2022
Imagen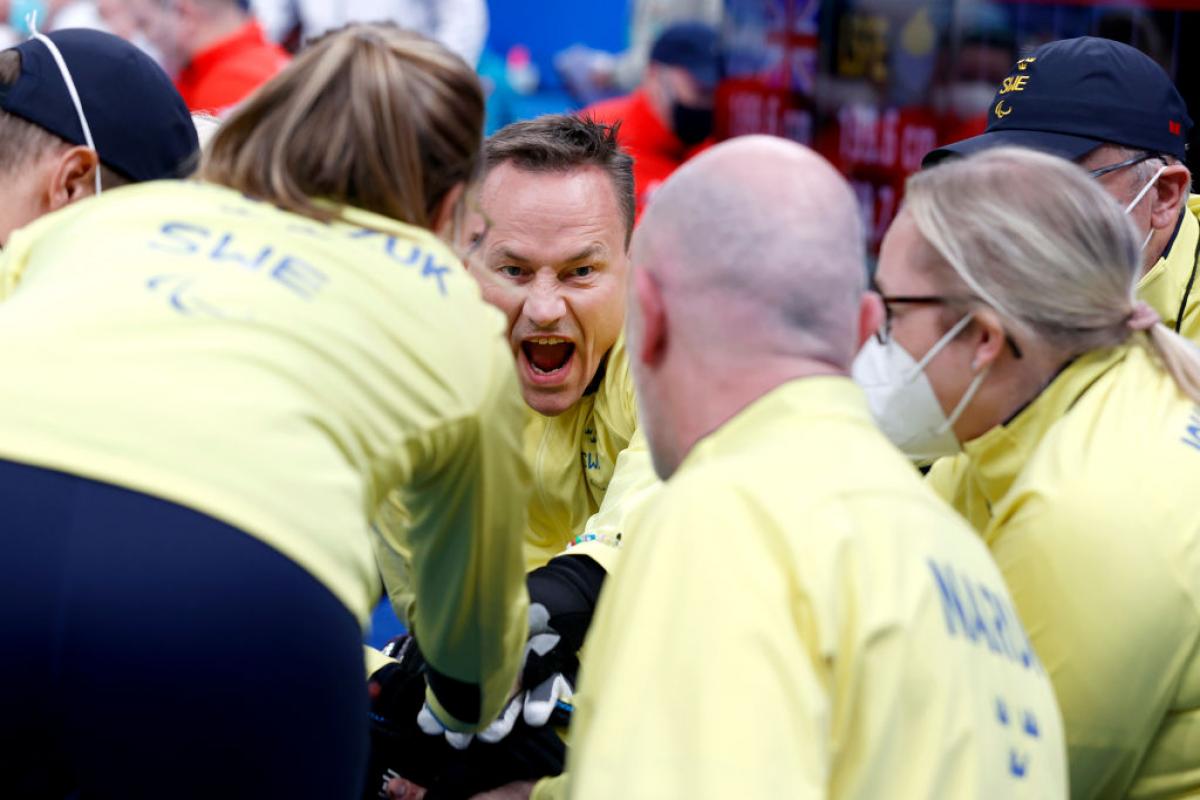 ⒸGetty Images
By By World Curling and the IPC
With the Wheelchair Curling round-robin passing the halfway point on Tuesday (8 March), the focus was on the leaderboard with two days of preliminary play remaining.
Sweden moved to the top of the standings at the end of day four with five wins and only one loss.
Slovakia propelled themselves to joint second, alongside defending champions China, after an impressive 9-8 win over three-time gold medallists Canada.
The Canadians share fourth place with Latvia and PyeongChang 2018 silver medallists Norway. All those teams have four wins and three losses each.
Sweden's double victory
Sweden won both of their games against Estonia and Great Britain on Tuesday.
In their afternoon game Sweden stole a single point in the first end when Estonian skip Andrei Koitmae could only remove one Swedish counter with his double take-out attempt.
In the second end, Estonia put one point on the board. They followed that up with a single steal in the third when Swedish skip Viljo Pettersson-Dahl was unsuccessful with his last take-out attempt.
Estonia led the game by 2-1 after three ends.
In the fourth, Sweden had a chance to score three points, but Pettersson-Dahl was heavy with his last draw attempt, and Sweden needed to settle for two.
The Scandinavians stole a single point in the fifth when Estonia's Koitmae was heavy with his last draw attempt. After five ends, Sweden was leading by 4-2.
In the sixth, Estonia scored two points, partly due to two perfect shots by Koitmae, to tie the game at 4-4.
Sweden attempted to blank the seventh end to carry the last-stone advantage over to the eighth end, but Pettersson-Dahl's shooter stuck around after his final take-out, and Sweden picked up a single point.
Going into the eighth end, Sweden was leading the game by 5-4, and Estonia had the hammer.
Sweden played a perfect end without last-stone advantage and had a guarded stone in the eight-foot when Koitmae played his last take-out attempt. He wrecked on a guard with it, giving up a steal of one and giving Sweden a 6-4 win.
After the game, Sweden's lead player Kristina Ulander said, "I think we had the game under control, but they did some good stones and we got a little pressure, but we solved it."
Commenting on claiming top spot on the standings, she added, "It feels very good."
Sweden then cemented their first place in the standings with a 6-4 win over Great Britain in the evening.
Canada leave day four empty-handed
Canada had a tough day on the ice, losing both of their games.
In their first game, their opponents South Korea changed their line-up, and original vice-skip Baek Hyejin — still throwing first stones — skipped the game, while original third player Jang Jaehyuk threw last stones and took on vice-skip duties.
Canada shook up their line-up as well, as original alternate player Collinda Joseph was throwing second stones.
Canada blanked the first end.
In the second end, South Korean fourth player Jang Jaehyuk played a terrific hit with his last stone, and rolled his shooter perfectly behind cover. Canada's fourth player, Jon Thurston couldn't remove it with his last stone, giving up a steal of one.
In the third end, Jang played an excellent draw to sit shot stone. Thurston's take-out attempt wrecked on a guard, and Canada gave up another single-point steal.
In the fourth end, South Korea played an exceptional draw game, and Canada had a couple of take-out misses. It resulted in a steal of two points for South Korea and a 4-0 scoreline in their favour going into the break.
Canada put their first points on the board in the fifth end, scoring two and narrowing the gap to two points.
At the start of the sixth end, South Korea changed their line-up, and Go Seungnam came to play third stones instead of Jung Sunghun. In that end they scored four points and took an 8-2 lead.
In the seventh end, Canada scored two and reduced their deficit to four points, 8-4.
In the eighth end, Thurston had a nearly impossible shot with his last to keep Canada in the game. He was unsuccessful with it, and South Korea won the game without needing to throw their last.
The final result was 9-4, South Korea winning and picking up their second victory.
With both teams fighting hard, the Canada v Slovakia evening game was a tense affair. Canada took an early lead only to lose it when Slovakia levelled the score. Slovakia then proved too strong and the Canadians had to admit defeat by just one point, 9-8.
Great day for Norway
Norway changed their line-up for their game against Latvia, and Ole Fredrik Syversen took on skip duties and threw fourth stones, while Jostein Stordahl played third stones and was the vice-skip.
Latvia capitalised on their last-stone advantage in the first end and put two points on the board.
After blanking the second end, Norway responded with two of their own to tie the game at 2-2.
In the fourth end, Latvia had a chance to score two points, but their skip Polina Rozkova just missed her difficult promotion take-out attempt, and they needed to settle for one.
In the fifth, Latvia stole two points as Norway's Syversen was not successful with his raise attempt.
In the sixth, Norway scored three points and tied the game at 5-5.
The teams went into the eighth end with a 6-5 score, Latvia leading and Norway having the hammer.
Norway played an excellent eighth end, which resulted in three points and an 8-6 victory for them.
Norway took their second win of the day 8-5 over Switzerland in their evening game.
China executed a clinical 10-2 victory over the USA to hold on to their second place in the standings.