Ina Forrest, the force behind Canada's Wheelchair Curling dominance
Female participation has grown in the mixed gender sport since its Winter Paralympic debut at Turin 2006
08 Mar 2022
Imagen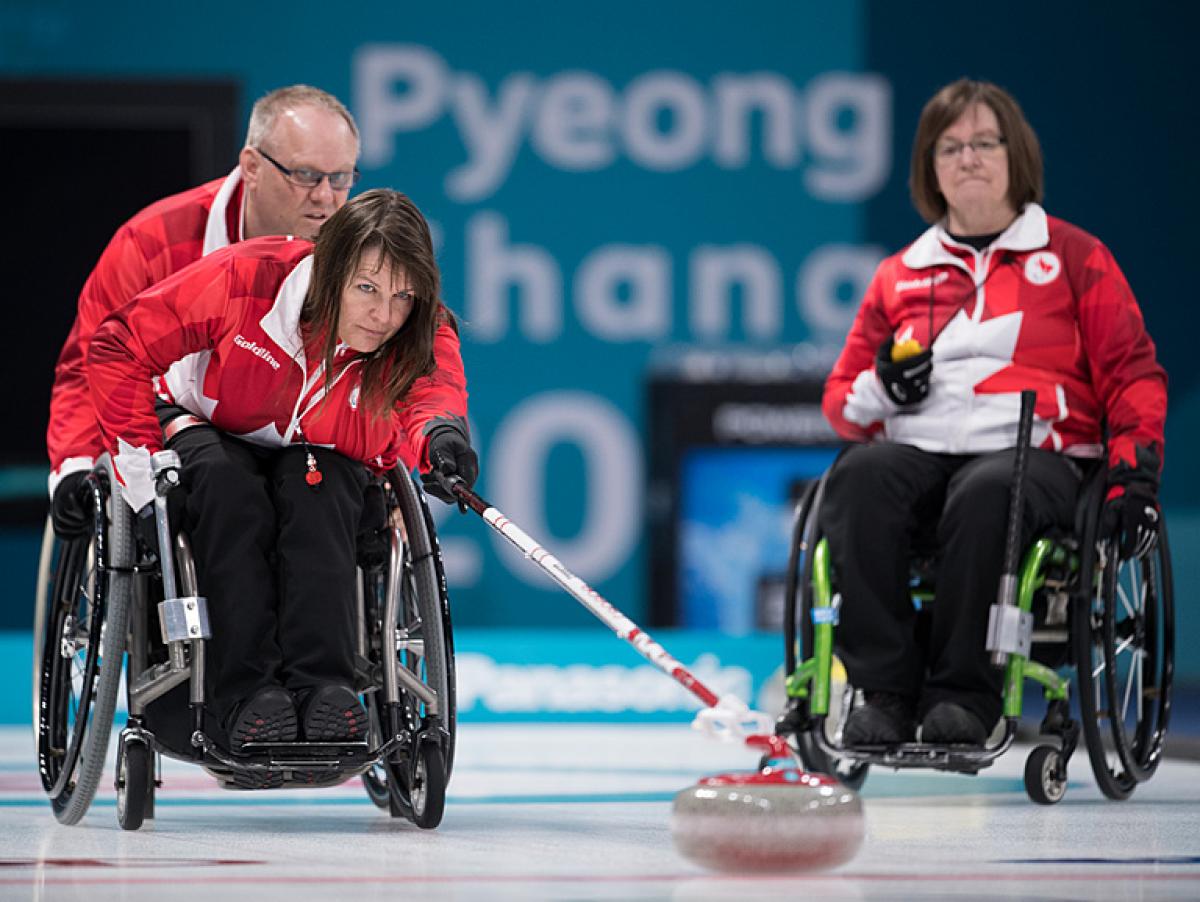 ⒸOIS Photos
By OIS
Canada are the most successful team in Wheelchair Curling, having won a medal at every edition of the Paralympic Winter Games since Turin 2006 – three of them gold.
For three of those four podium finishes, one woman has been a constant figure: Ina Forrest. 
The vice-skip, who turns 60 in two months, is the most experienced player on the Canadian side, and over the years has become an indispensable force for the team. 
On 8 March – International Women's Day –, her teammates toasted to the unique qualities she brings to the ice. 
"Ina is so experienced, and she brings such a calming professionalism. She's a total gamer," Canadian skip Mark Ideson said. "She always shows up, she always plays hard, plays her best. You can't help but feed off that positivity." 
Jon Thurston described her as a difference maker on the ice.
"Ina makes some amazing shots to switch some ends," he said. "She's a big game player, and it's a pleasure to play with her." 
Canada are in pole position to reclaim the gold they last won at Sochi 2014.
Wheelchair Curling at the Paralympic Winter Games is a mixed gender competition, and there must be at least one man and one woman on every team. 
Men make up the majority - and tend to play positions that allow them to throw later in each end, given there is often a need to throw heavier stones - but the sport has grown and developed over the years for women too. 
At Turin 2006, when Wheelchair Curling was first contested, there were just 11 women in the 40-person field (27.5%). That percentage swelled to 38% at Sochi 2014, and has not dropped below 30% since then.
At Beijing 2022, there are 18 women out of 55 athletes (32.7%) – and women such as Latvia's Polina Rozkova and South Korea's Baek Hyejin have skipped their teams. 
For Great Britain, Meggan Dawson-Farrell has brought some athleticism to the team, given her background as a wheelchair racer who competed at the Commonwealth Games. 
"She brings a different perspective from another sport, a different viewpoint," skip Hugh Nibloe said.
"She learned things in her wheelchair racing career. We are doing cardiovascular stuff and working in the gym. Meggan's brought things like that through, and helped our output."
Gender is not a factor when it comes to performance on the ice, Ideson said. 
"All the women playing right now are the best in the world. Gender doesn't necessarily matter on the ice. The women are out there kicking butt, which is awesome."