Umstead 'has potential for one more Paralympics'
Despite advancing multiple sclerosis, US ski racer Danelle Umstead is determined to reach the PyeongChang 2018 Paralympic Winter Games.
03 Oct 2015
Imagen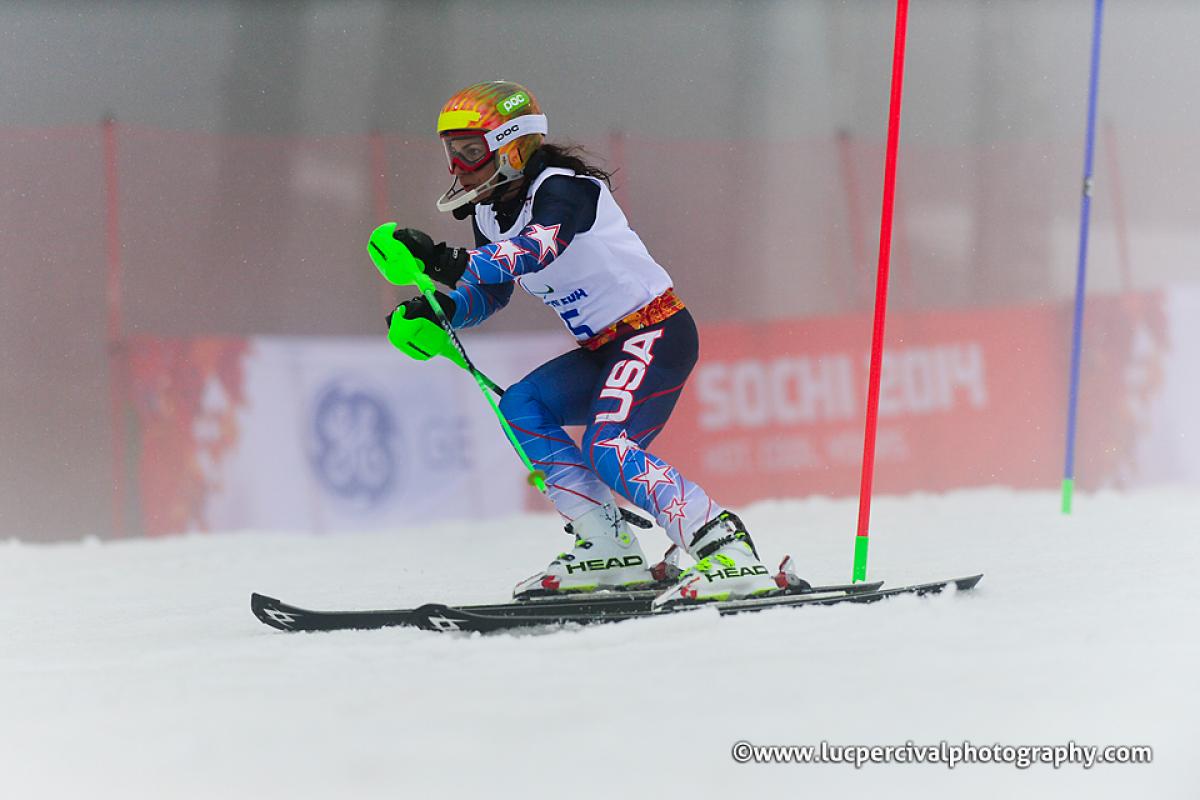 Ⓒ© Luc Percival Photography
By Jake Duhaime | For the IPC
"I want to be faster, I want to be quicker, I want all the things we all want as ski racers."
Two-time US Paralympian Danelle Umstead has spoken of her determination to keep racing with her husband guide Rob, despite raising a young son and managing multiple sclerosis.
After more than 40 career World Cup medals, Umstead reached the podium at the IPC Alpine Skiing World Championships in Panorama, Canada, for the first time in 2015. She was also Panorama's most decorated US athlete winning two silver medals (downhill, super-G) and a bronze (super-combined).
While a quest for more hardware and a spot on the 2018 US team keeps Umstead going, family and multiple sclerosis could sidetrack that mission. Her son Brocton is now in the second grade and due to a rigorous travel schedule, mum missed the final days of summer vacation and the first day of a new school year due to a recent competition.
"It takes its toll on me more than him," Umstead said. "There's no possible way I could travel the way I am without Skype and FaceTime."
To manage, the Umsteads have a deal with Brocton to step away from the sport if he ever wants them to. To the surprise of few, he is a fan of his mother's competitive career, saying that he loves the fact she represents the United States.
"There are pros and cons to everything in life and this is one of them," Umstead said. "When I'm home, I'm home and completely involved. When I'm not, I'm still calling every day, often times at all hours of the night, to check in. I was doing that at 1am from New Zealand."
Three plus weeks on the road, first to the United States Olympic Training Centre in Chula Vista, California to train, then to New Zealand for a pair of events, had Umstead living out of a suitcase for 18 days. She finished second to South Korean Jae Rim Yang in two different events, the Southern Hemisphere Cup and the Audi quattro Winter Games NZ.
"We went into these races with no expectations, no mindset of competing with the exception of training and it wasn't a big field," Umstead said. "We had good moments and some not so good moments, but we were also trying to push limits in certain areas. That's what training is all about."
Umstead says she will compete as long as her body allows her, which brings up the one thing that could physically tame her. Diagnosed with multiple sclerosis in 2010, the disease leaves her with both good days and bad days, with those bad days progressively taking their toll.
"There have been races where I can barely move and I've had to power may way through the best that I can, Umstead said. "My mindset is that as long as my body holds up and I continue to train and continue to push myself, I'll try and go three more years and then retire."
"I have the potential for one more Paralympic Games, but I need to prove it on a race-by-race basis."
According to her coach Tony McAllister, Umstead's ongoing battle with multiple sclerosis is just one of many variables the coaching staff must take into account when working with any given athlete.
"Danelle and Rob's positive attitude and endless commitment go a long way to overcoming the days that are most challenging," McAllister said.
The disease had defined Umstead's performances at previous World Championships, which in 2011 and 2013 led to less than ideal results for the Colorado native. This past season, McAllister and his fellow coaches shifted the majority of her focus to the downhill, a move that would pay dividends in Panorama.
"I remember waking up on the morning of the race and feeling as mentally prepared as I've ever been," Umstead said. "After working for months with our coaches and sport psychologists, I felt ready."
As for 2015-16, the Umsteads will look over the recently released season schedule with their coaches with the goal of peaking at the two World Cup events held in Aspen, USA at the end of February.
"I want to be faster, I want to be quicker, I want all the things we all want as ski racers," Umstead said. "To feel better and stronger than I was the year before."
The 2015-16 calendar can be found at IPC Alpine Skiing's website.