USA Men Win Gold and Germany Swipes Bronze
USA defeated Great Britain in the finals and Germany finished in third place in the men's Wheelchair Basketball competition at the BT Paralympic World Cup.
26 May 2012
Imagen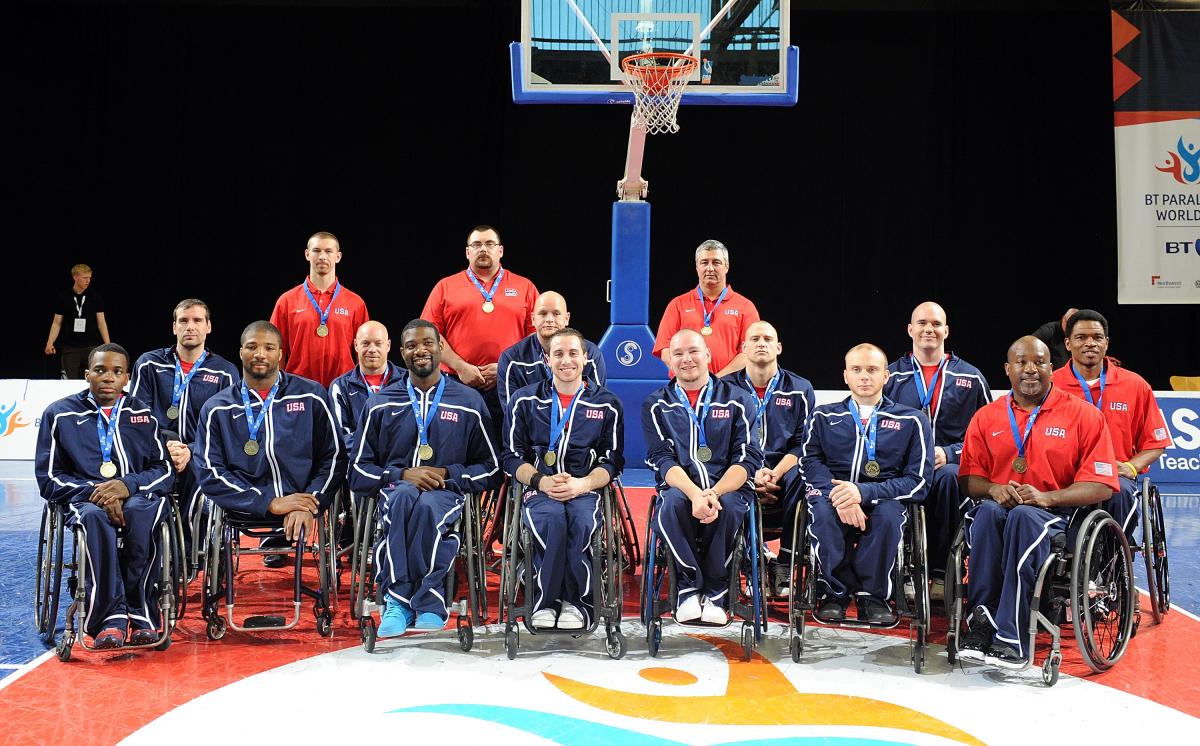 ⒸGetty Images
"We're just trying to make sure that we're making the right reads and guys are in the right position to take the open shots, and today I just happened to be in that position."
In a highly anticipated gold-medal matchup in the men's Wheelchair Basketball finals at the BT Paralympic World Cup, USA reigned supreme on Saturday (26 May), handing host nation Great Britain a 61-57 defeat.
Jason Nelms was virtually unstoppable for the Americans, lighting up the scoreboard with 17 points, Joe Chambers added 14 and the American bench contributed a whopping 26.
Although it led for just 58 seconds the entire game, Great Britain managed to stay in the thick of it thanks to a 16-point, 15-rebound performance by Simon Munn and 12 points from Ian Sagar.
But late in the fourth quarter, USA capitalized on British turnovers to churn the couple extra baskets it needed to pull out the win in the finals.
"It's a team thing," Nelms said of USA's performance in Manchester. "We're just trying to make sure that we're making the right reads and guys are in the right position to take the open shots, and today I just happened to be in that position."
Nelms, headed to his third Paralympics this year, believes USA's squad will be much more experienced and poised at London 2012 than it was when it failed to medal at Bejiing 2008 and Athens 2004.
"So far so good, we're hitting our stride right now, and hopefully we'll be playing together a lot more in the next few months and definitely be ready to come into London," he said. "The Games have been unbelievable experiences. I wouldn't trade them for anything in the world."
Despite the loss for Great Britain, the home squad players are happier they had the chance to experiment and test lineups now against some of the world's best rather than wait until August at the Basketball Arena at the Olympic Park.
"It's good to get these high-quality games in the lead-up to London, because once we get to London there are no easy games," Sagar said.
"The U.S. in the group game blew us out really, so we learned a lot from that and obviously we gave them a great game. I think we had maybe two flat spots within that final a couple of minutes each, and if we can correct those, the game would be winnable.
Meanwhile, Germany slipped by Japan to grab the bronze medal in Manchester with a slim 59-54 victory, despite leading by as many as 14 points earlier in the game.
The game was highlighted by a heated battle in the paint and a couple of sharp shooters in Germany's Andre Bienek and Sebastian Wolk, and Japan's Reo Fujimoto and Hiroaki Kozai.
Bienek's aggressive ball handling skills, 15 points and seven rebounds, and Wolk's 10 points and 11 rebounds were supported by a strong German bench to keep the lead on its side for most of the game.
Fujimoto showcased why he is one of the best in the world, tallying 23 points and grabbing 17 rebounds, and Kozai added 19 points to help him keep Japan in the contest throughout.
But Japan could never get that boost to give itself a solid lead, and Germany proved throughout the tournament that it could hang with the best.
"We wanted to keep up with the big teams like GB and America – and Japan is always in there, too – so it was a good tournament for us," Bienek said.
"We had a close game against GB and a really close game against America, so with a little bit more luck shooting wise we could definitely beat them in a game at the Paralympics."
Related Images