Victory puts Yujie Li on top
Pan Am Open success puts Chinese fighter in strong position
20 Jun 2019
Imagen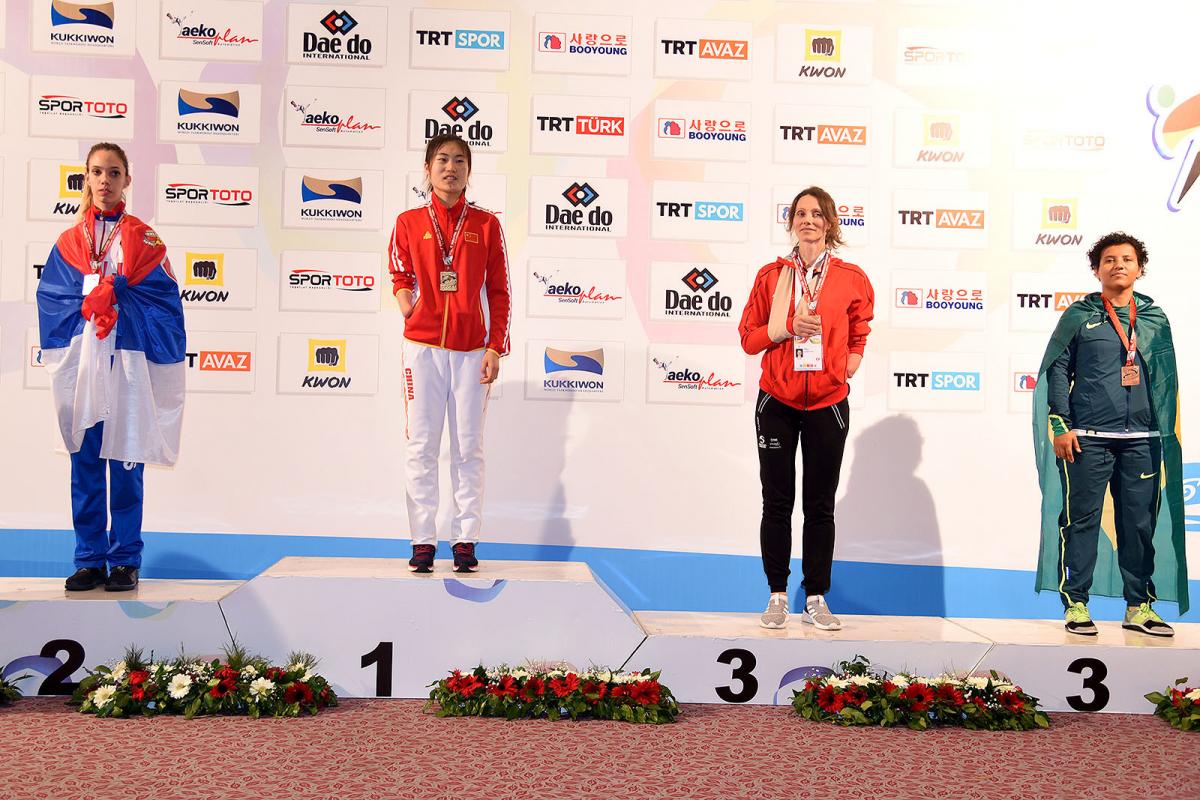 ⒸTurkey Taekwondo Federation
By Lee Reaney | For the IPC
This time last year, China did not have a single Para taekwondo fighter ranked in the top 20. After the Pan Am Open Championships in Portland, USA, they are now poised to qualify two.
None was more impressive than young Yujie Li – China's first world champion. After shocking the division by winning that title in her first international competition, Li rolled over the competition in Portland on 16 June to prove her world title was no fluke.
She demolished her competition by a combined score of 67 to 16, while knocking off the division's No. 3, 4, and 9-ranked fighters in the women's up to 58 kg K44 to claim her second straight tournament.
The win should see her move to No. 6 in the division, within striking distance of the top four ranking needed to qualify for the Tokyo 2020 Paralympics.
With Denmark's undefeated No. 1 Lisa Gjessing still out with injury, the division now has two undefeated superstars. Li fights at next week's Oceania Open beginning 28 June, while Gjessing is hoping to be back in time for October's European Championships.
Medell's revenge
With many of the men's over 75 kg K44 division's fighters sitting this tournament out, the pressure was on Croatia's No. 1 Ivan Mikulic and the USA's No. 2 Evan Medell to perform.
The home favourite did not disappoint, confidently knocking off the No. 1 seed 27-10 in the final. It was a bit of retribution for Medell, who fell to Mikulic in the Pan Am final last year, allowing the Croatian to move into the division's top seed.
France's Bopha Kong keeps on ticking in the men's up to 61 kg K43, as he won his 11th straight tournament. Other champions include Brazilian world champion Debora Menezes, Ukrainian world champion Vika Marchuk, and Turkey's No. 3 Meryem Betul Cavdar.
European surprises
Serbia's Nikola Spajic captured his first international title in Portland, getting by Costa Rica's Andres Molina 29-21 in the final.
Spain's Aythami Santana Santana showed he has eyes set on Tokyo 2020 by winning the men's under 61 kg K44. The No. 4-ranked Spaniard knocked off some of the division's top fighters, including Turkey's Ali Can Ozcan and Italy's Antonino Bossolo.
Top fighters Down Under
As the chase for ranking points continues, many of the sport's top fighters are headed to Gold Coast, Australia, beginning 28 June for the Oceania Open Championships.
Pan Am champions Santana, Medell, and Menezes will all be Down Under looking to defend their titles. Santana will have to get by some of the division's best fighters, while Medell will need to upend British world champion Matt Bush. Menezes needs to top hometown favourite Janine Watson.
The women's under 58 kg K44 boasts perhaps the most intriguing lineup. While Gjessing is still out, three of the division's top four seeds will try have to find a way past Li.
Also in the mix is Egypt's 15-year-old phenom Salma Ali Abd Al Moneem Hassan, who will be looking to better her silver medal at this year's African Championships – her first international tournament.