VISTA 2017 opens in Toronto
Scientific Award to British professor caps first day of sport science conference.
21 Sep 2017
Imagen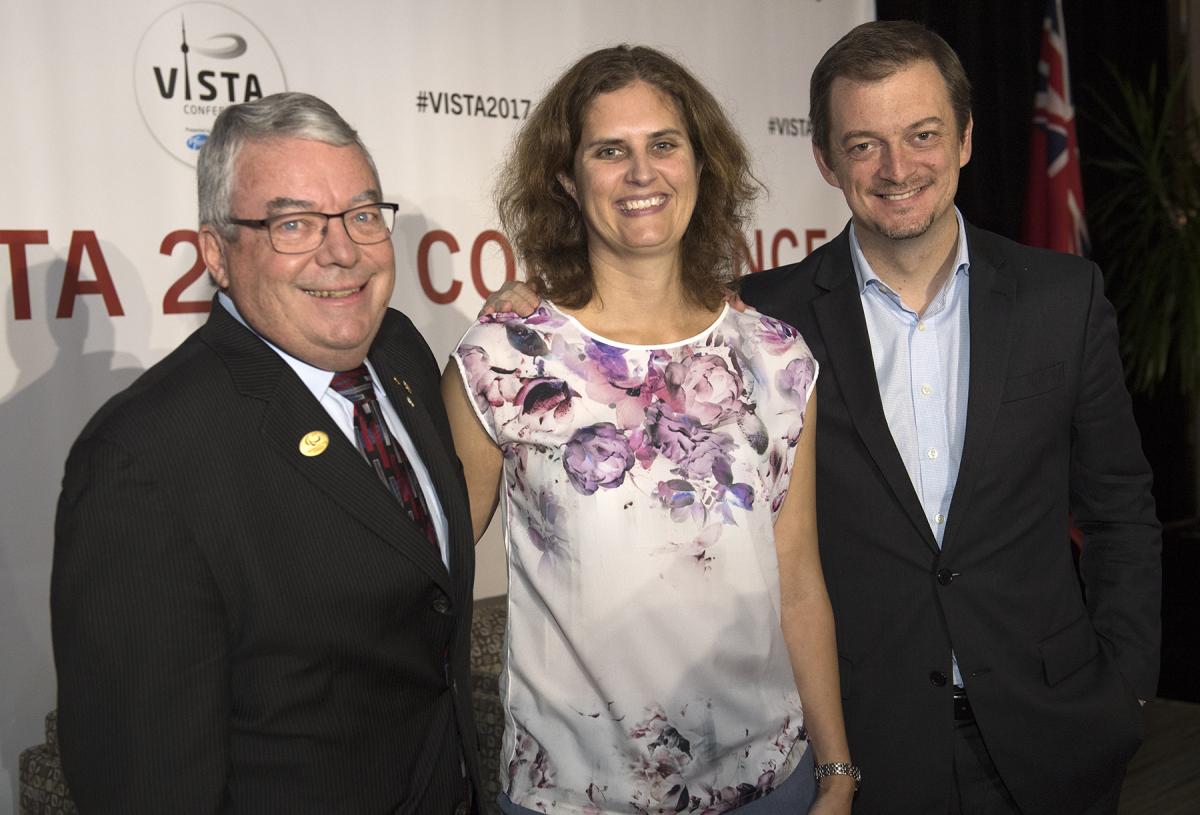 ⒸDan Galbraith / VISTA 2017
Great Britain's Victoria Goosey-Tolfrey was presented with the Scientific Award in Wednesday's (20 September) Opening Ceremony to cap day one at the 2017 VISTA Conference being held at the Chelsea Hotel and the Toronto Pan Am Sport Centre, Canada.
This year's event is organised through a partnership between the International Paralympic Committee (IPC), the Canadian Paralympic Committee (CPC) and the Canadian Sport Institute Ontario (CSIO) and is being presented by Pfizer Canada Inc.
The theme of this year's conference is: "Opportunities and challenges in Paralympic sport science and medicine support."
After a full day of conferencing, the Opening Ceremony gathered the more than 300 attendees from 41 countries. The hosts were CBC broadcaster and athletics Paralympian Rob Snoek along with triple Paralympic alpine skiing medallist Caroline Viau.
Goosey-Tolfrey, a professor at Loughborough University, Great Britain, delivered her keynote address ''Pushing from Atlanta to Rio: Reflections of my Practitioner and Research Journey" to highlight the Opening Ceremony.
"I am overwhelmed by the award," said Goosey-Tolfrey, recognised for her academic work to optimise athletic performances in Para athletes for more than 20 years. "This journey for me has been all about teamwork and sharing knowledge."
Sports scientists and researchers from around the world are in Toronto to provide a forum for exchange on current information, expertise on Paralympic sport and the Paralympic Movement.
In total there will be 132 oral and poster presentations, and 10 interactive workshops.
"This is the biggest VISTA ever," confirmed Andrew Parsons, the newly-elected IPC President. "The IPC Sport Science Committee has put together a very strong programme and so far it has been absolutely fascinating."
Parsons also highlighted how during his presidency he aims to work with the sport science community.
"In my manifesto to become IPC President, I said I wanted to unlock the potential of Paralympic sport, by building an organisation for all. An organisation for all is not just related to athletes or the IPC membership; it extends to all stakeholders in the Paralympic Movement, including you the sport science community.
"In order to take the Paralympic Movement forward in the coming years it is vital we collaborate and consult in order to overcome challenges and maximise opportunities that may come our way. Only with teamwork can true progress be made and I look forward to working with many of you in the coming years."
The conference continues through to Saturday (23 September) with a packed schedule running approximately from 08:00 to 17:00 each day. Thursday and Friday's sessions are at the Chelsea Hotel while on Saturday the conference heads to the Toronto Pan Am Sport Centre.
This is the eighth edition of VISTA. Jasper, Canada, hosted the first conference in 1993.
"We are proud to welcome the Paralympic scientific committee to Toronto," said Bob Steadward, the IPC's founding president and honorary chair of the local organising committee. "There have been events all year long in this Canada's 150th birthday and this is another one of those special occasions."