Wheelchair Curling Worlds: Day 4
Five Wheelchair Curling squads are still fighting for four playoff spots on the ice in Korea.
22 Feb 2012
Imagen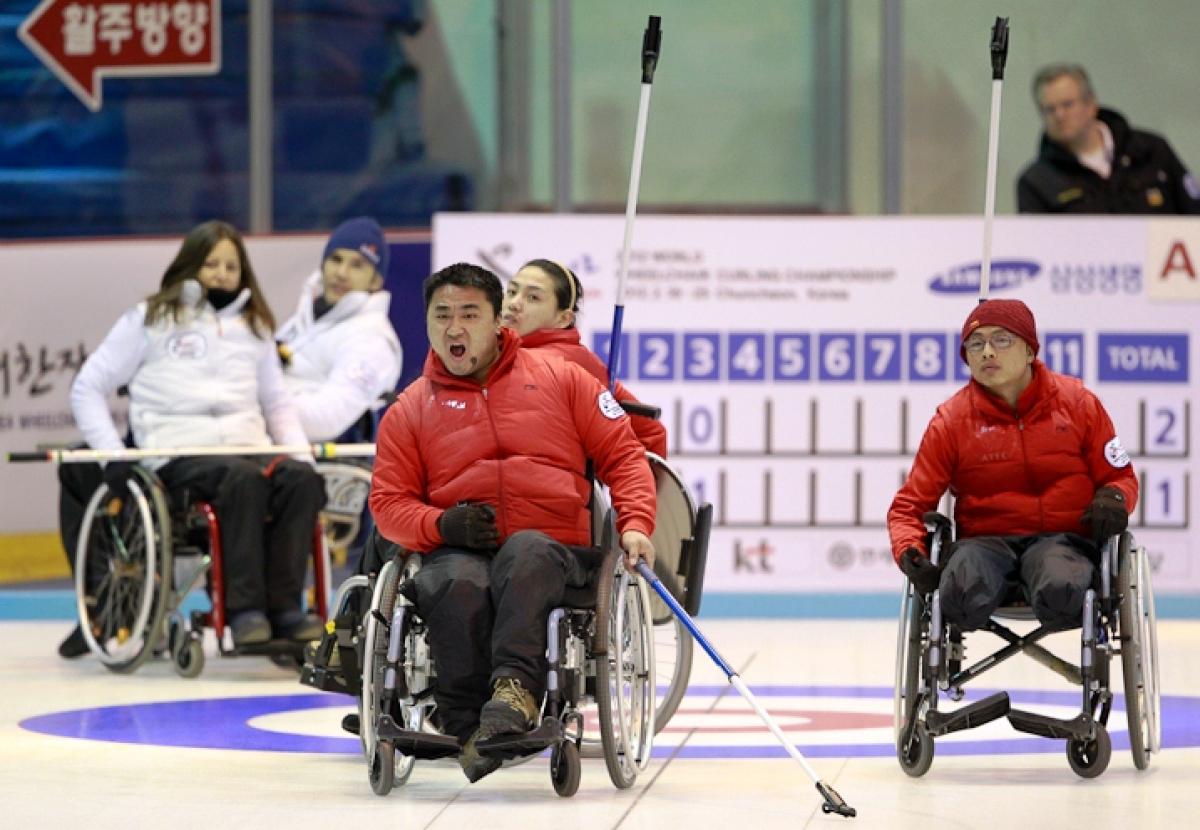 ⒸKOSAD/Young Bok Kim
By IPC
The final round-robin session of the 2012 World Wheelchair Curling Championship in Chuncheon, Korea will be crucial, as five teams – China, Korea, Russia, Slovakia and USA – are now tied with six wins apiece after Wednesday's (22 February) action and with a chance to earn one of four playoff spots.
The remaining five teams – Scotland, Canada, Norway, Sweden and Italy – will fight to avoid relegation to the World Wheelchair Curling Championship qualification event in Finland next November.
China, Korea and Russia were on winning form on Wednesday, as all three won both of their matches.
China secured an 8-3 win over Italy and then a 7-2 defeat of Canada. Korea stole four points to secure a 6-2 win against Norway and then stole a crucial two points in the seventh end of its game against Sweden to boost them to a 10-7 win in the eighth end, running their opponents out of stones.
Russia's close 3-2 win over USA in the morning left the team a bit nervous heading into its game against Slovakia in the afternoon.
Russia Skip Andrey Smirnov said "When we stole five points without the hammer in the fifth and sixth ends we became calm, relaxed and it was ok from there on."
The Russians eventually ran the Slovaks out of stones in the eighth end for a 7-4 win.
Norway's medal hopes are over too after it won bronze at last year's World Championships. After dropping its game against Korea, several missed shots by skip Rune Lorentsen cost it the game against USA.
Norway's mistakes helped the Americans steal their way to a 7-3 win.
Canada has struggled to find its winning form without skip Jim Armstrong, who returned home for personal reasons before the event started. Lead Sonja Gaudet skipped the morning game against Sweden, but missed shots handed Jalle Jungnell's team an 8-1 win.
Italy suffered two defeats as well, first and 8-3 defeat against China and then a 10-0 defeat against Scotland.
In the final round-robin matches Thursday morning, the matches will include: Slovakia-Korea, Norway-China, Russia-Italy, Sweden-Scotland and USA-Canada. Tiebreakers will be played in the afternoon and evening, if required.
Standings
China 6-2
Korea 6-2
Russia 6-2
Slovakia 6-2
USA 6-2
Scotland 3-5
Canada 2-6
Norway 2-6
Sweden 2-6
Italy 1-7