Wheelchair Curling Worlds: Day 6
Korea and Russia advance to Saturday's gold-medal game.
24 Feb 2012
Imagen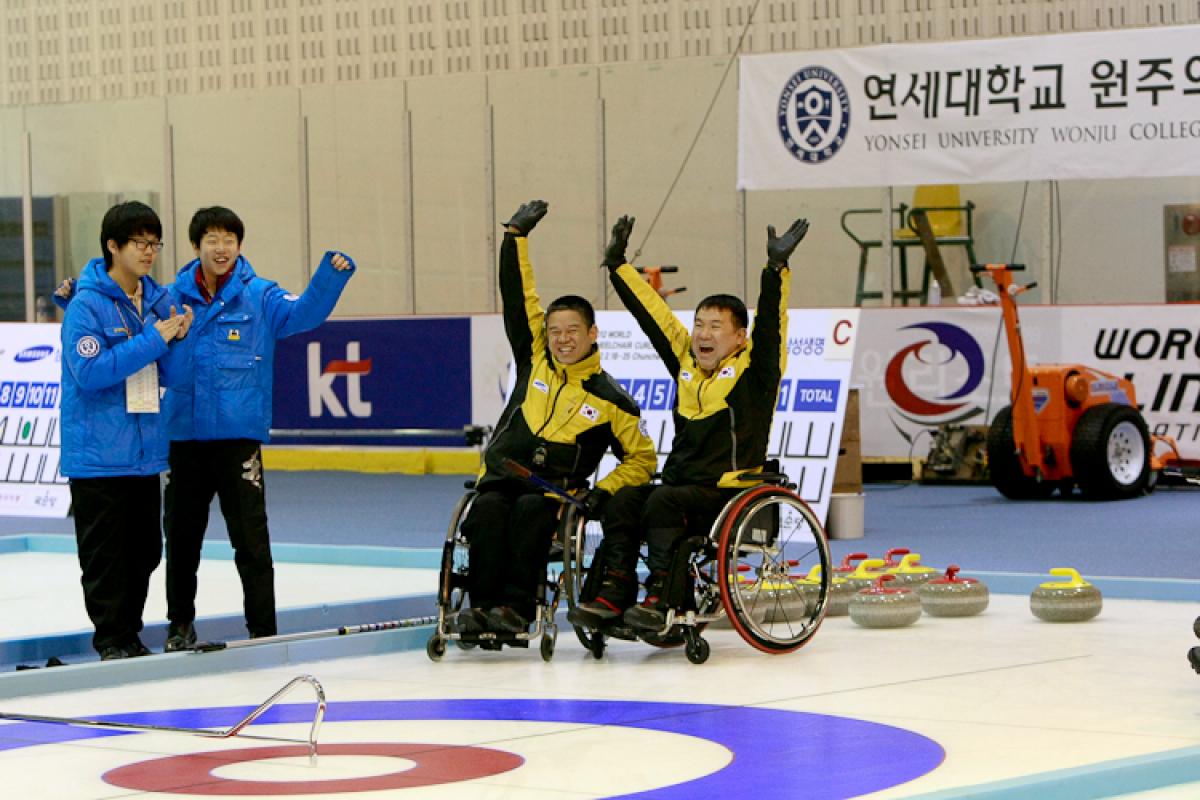 ⒸKOSAD/Young Bok Kim
By IPC
Host nation Korea has made it to the final of the 2012 World Wheelchair Curling Championships in Chuncheon and will play Russia on Saturday (25 February), while China and Slovakia will compete in the bronze-medal game.
Under the World Curling Championship playoff system, both Korea and Russia met in the 1v2 playoff on Friday morning, having finished first and second, respectively, in the round-robin stage.
It was a tight game which went down to a measure. Russia went into the eighth end up 4-3, but without the last-stone advantage. Korea eventually made its way to a 5-4 win
"The team were really tense beforehand," said Korean skip Hak Sung Kim. "I gave them some directions before the game but it didn't go well, that's why the game was so close and so difficult. The last shot was really crucial and it went really well for us."
Korea advanced straight to Saturday's final scheduled for 14:00 local time (KST), and the Russian's were left having to face the winner of the 3v4 playoff game, where China beat Slovakia, 7-2.
Russia and China then met in a semi-final contest that proved to be a defensive game with few stones to play. Russia went into the eighth end up 3-1, and China was left looking for 2 points to tie the game up and force an extra end. But there was not enough weight behind Chinese skip Haitao Wang's last shot to get the two stones he needed into the house to count, and the Chinese fell, 3-2.
"Today, we were thinking too much about the impact of the outcome of our games," Wang said. "We really wanted to win. I don't feel too good as we didn't take advantage of the opportunities we had. With my last stone, I didn't give it enough weight," lamented Wang.
China will play Slovakia in the bronze-medal game at 10:00 local time (KST) Saturday.
With their performances in Chuncheon, Korea, Russia, China, Slovakia, USA, Sweden, Canada and Scotland have all secured a place at the 2013 World Wheelchair Curling Championship which will take place in Sochi, Russia from 16-23 February next year.
Norway and Italy have been relegated to the World Wheelchair Curling Qualification, event which will be staged at the Kisakallio Sports Institute in Lohja, Finland from 27 October - 3 November 2012. The top two teams at this event will gain entry to the 2013 World Championships as well.
Related Images