Wheelchair Curling Worlds: Norway continue unbeaten run
Norway, Switzerland remain undefeated teams after five sessions.
24 Feb 2016
Imagen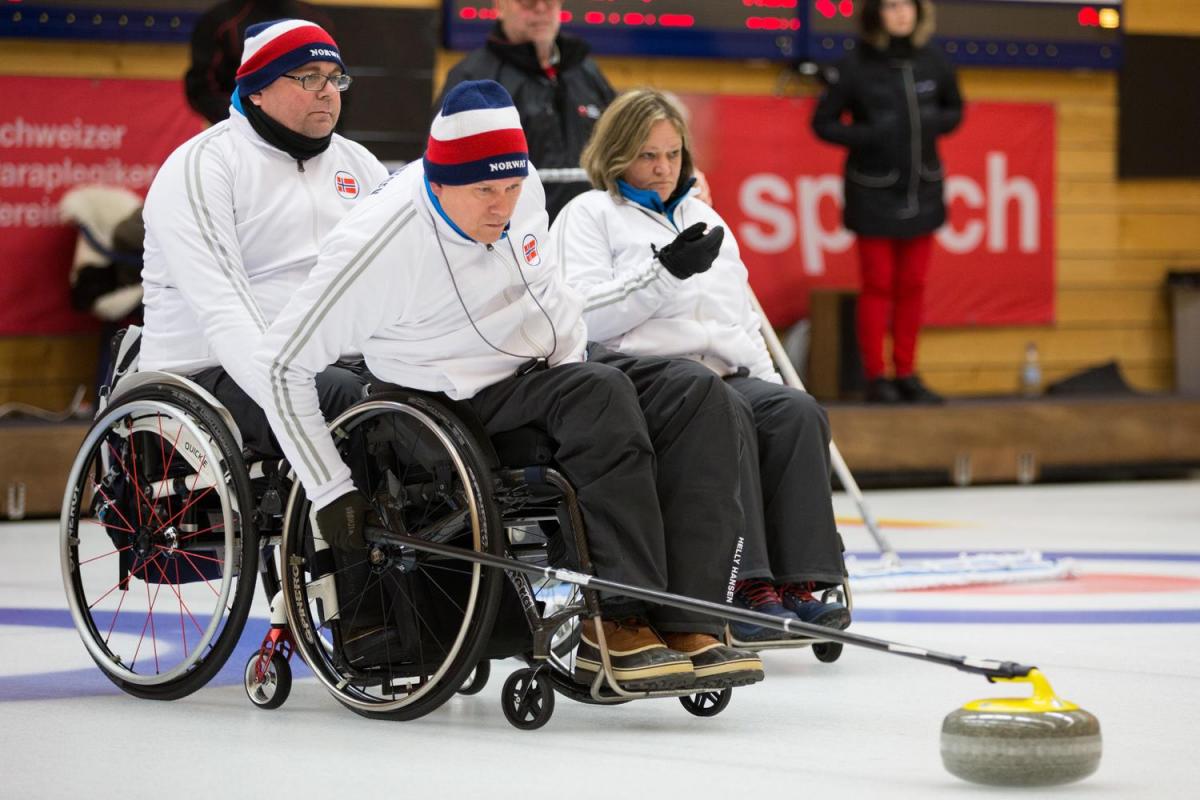 ⒸWCF / Céline Stucki
By World Curling
"It was a very important victory for us, we are very relieved that we broke the spell."
The World Wheelchair Curling Championship 2016 being held at the Lucerne Curling Club in Lucerne, Switzerland, continued with two sessions of round-robin play on day three (23 February) that saw Norway and hosts, Switzerland remain the only undefeated teams.
In the morning session, Switzerland, playing their third game of the competition, narrowly defeated Finland by a score of 6-5. Switzerland found themselves down by a point going into the eighth end but the win was sealed by a delicate draw in the final end from their skip, Felix Wagner, to score the required two points.
In the other games of the session South Korea defeated Slovakia 4-2, Germany narrowly defeated the USA 6-5 for their first win of the week. China defeated Canada 8-7 in the competition's first extra end game.
"It was a very important victory for us, we are very relieved that we broke the spell," said German skip Christiane Putzich. "We had the aim to follow our game plan and not let ourselves get distracted and just execute. … I was a little nervous with those last two stones, but I had faith in myself and the team to make it in the last end with the last stone."
The afternoon session saw the other undefeated team, Norway, play Slovakia. The game was tied 5-5 after seven ends but when Slovakian skip, Radoslav Duris, was unable to draw into the house with his final stone, Norway scored a vital two points to record their fourth win of the competition.
"It was a tough game for us," said Norway's skip Rune Lorentsen. "We had a couple of easy misses and we couldn't get things going the way we wanted. We managed to get a couple of points then the steal. At 5-5 after 7 you're a little bit nervous, but it was just a clean-up at the end.
"It was a game we had to struggle a little bit with and we needed one of those. Everything went well in our other games but not this one."
USA and Russia both recorded dominant wins against Finland and China, respectively.
USA took an 11-0 lead going into the break, and though Finland responded with single points in the next two ends, it was not enough and they conceded in the seventh end with the score at 11-2.
Russia built up a lead of 8-0 at the fourth end break in their game. But China began to fight back with single points in the fifth and sixth end. That recovery was stopped short when Russia scored three points in the seventh end to win 11-3.
In the final game of the session, South Korea defeated Canada 7-3. With Canada requiring four points in the eight end to draw level, South Korea kept the house clean and eventually ran Canada out of stones for their win.
Competition continues Wednesday (24 February) with two session. The medal matches will be held Sunday (28 February). The World Wheelchair Curling Championships 201 and can be followed at the event website, Facebook and Twitter @worldcurling using the hashtags #curling #WWhCC2016 #Roadto2018 #WWhCC2016 #Roadto2018.
Day three results
Session 5
Russia 11-2 China; Slovakia 5-7 Norway; Canada 3-7 South Korea; Finland 2-11 USA
Session 4
Slovakia 2-4 South Korea; USA 5-6 Germany; Finland 5-6 Switzerland; Canada 7-8 China
STANDINGS after 5 sessions (W-L):
Norway (4-0)
Switzerland (3-0)
South Korea (3-1)
Russia (3-1)
China (2-2)
USA (2-2)
Germany (1-2)
Slovakia (1-3)
Canada (0-4)
Finland (0-4)