WWRC15: Australia, Canada remain top contenders
WWRC15: Australia, Canada remain top contenders
15 Oct 2015
Imagen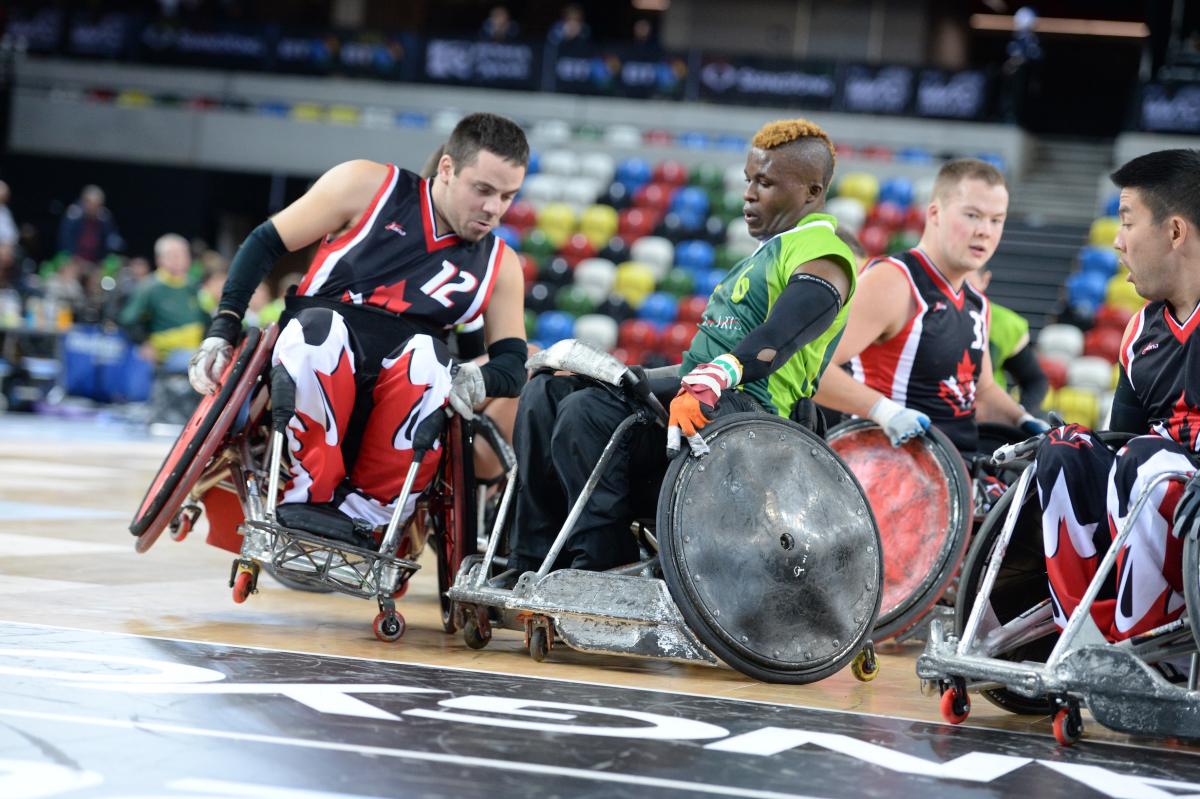 ⒸBT World Wheelchair Rugby Challenge
By Nathaniel Holland for the International Wheelchair Rugby Federation
The top-ranked teams stay undefeated after day three.
The pool stages are coming to an end and the serious contenders are emerging at the BT World Wheelchair Rugby Challenge.
Day three started with a bang on Wednesday (14 October) at London, Great Britain, where world No. 1 Australia became the first team to confirm their spot in the semi-finals.
Canada and Japan both won their games against South Africa and France, respectively, battling for the top of their respective pools.
Australia 66, France 56
Australia cruised into the semi-finals, rounding off their pool B matches with a victory. This time, they won by a bigger gap compared to their previous two matches, which Australia won by just a matter of five points total.
That leaves Oliver Cusin's French team still searching for their first victory of the tournament, with Japan their next opponent.
Australia's Ryley Batt was a standout performer, opening quarter by scoring 16 of his nation's 20 tries as they took a six-point lead into the second period.
France's Ryadh Sallem kept his team in by scoring all 14 of their tries in the opening quarter.
France were on top in the second period and took advantage of Australia's decision to give Batt a rest on the substitutes bench.
Jonathan Hivernat replaced the in-form Sallem, and the high-pointer did not disappoint, scoring eight times as France went in at the break needing four points to draw level. Hivernat continued to find the line to add to his personal tally, putting France only three points behind with one period remaining.
Australia however showed why they are ranked No. 1 with an efficient final quarter. They were able to counteract the threats from Sallem and Hivernat to end the game.
Canada 59, South Africa 13
Canada continued their unbeaten record in the competition with a convincing victory over South Africa, who finish bottom of pool A following three straight defeats.
South Africa struggled against the solid Canadian defence in the first half, scoring just twice in 16 minutes of action.
Jaco Dorfling's South Africa side looked much improved in the second half as they tried to restore some pride and limit their losses. Okker Anker inspired his nation in attack and they managed eight tries to end their scoring drought. Anker was the standout performer for South Africa, claiming 10 of his country's 13 tries.
Canada went on to defeat New Zealand 55-34 later on Wednesday.
Japan 57, France 52
Japan won their first game of the week and condemned France to a third straight defeat to set up a must win game against Great Britain – which the Japanese came away victorious 55-48.
The world No. 4 Japan and France posed a physical match. Daisuke Ikezaki was on fine form again as he helped Japan build an early five-point lead after the first quarter.
France battled in the second period, with Sebastien Lhuissier scoring seven as he tried to galvanise the French side.
Japan were resilient and extended their advantage to seven points leading into the half-time break. The third quarter was tense, but Japan held on restoring a seven-point gap with one period to play. France had nothing left to give, and Japan managed the clock well to confirm victory and give them a chance at progressing to the semi-finals.
Complete results from the World Wheelchair Rugby Challenge can be found on the event website, as well as a live stream of the matches.
The competition will conclude on Friday (16 October).