Yu growing in confidence ahead of home Paralympics
South Korean Para ice hockey goalkeeper ready for medal glory at PyeongChang 2018
15 Jan 2018
Imagen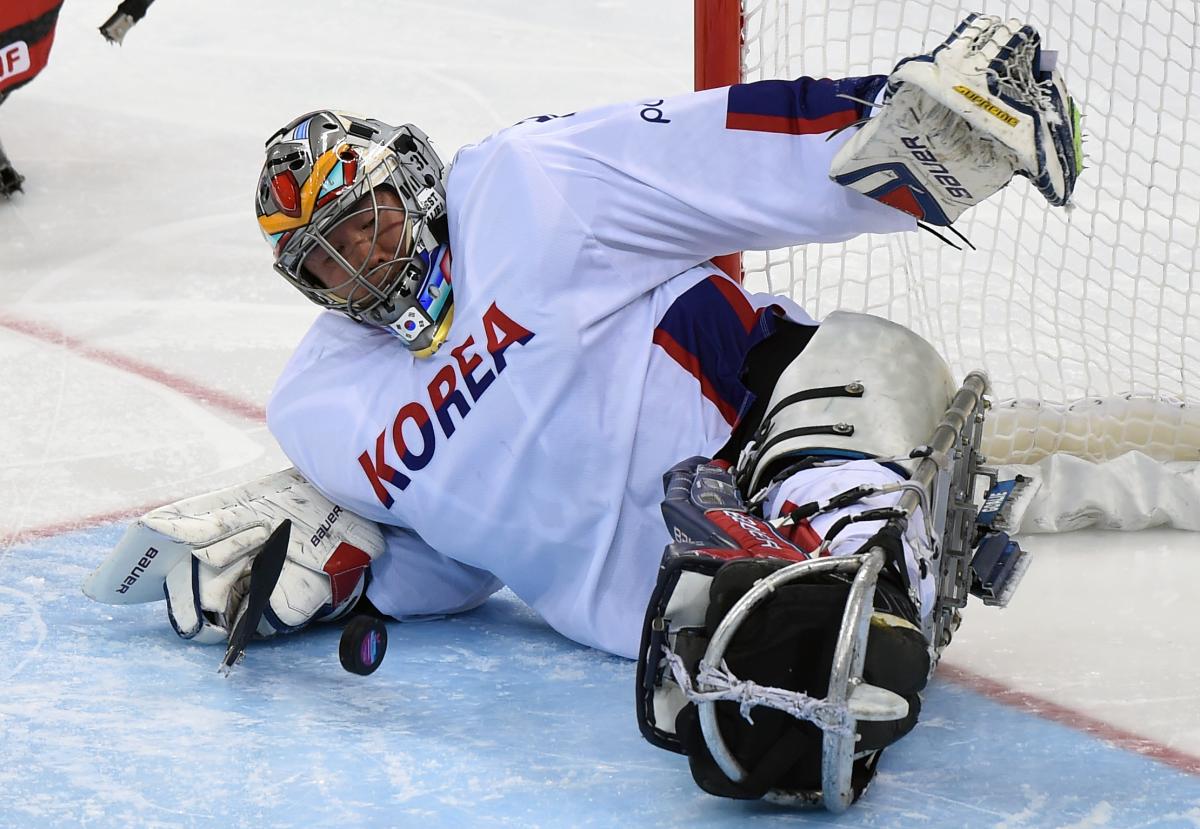 ⒸSeokyong Lee / POCOG
By EJ Monica Kim | For the IPC
"If I look nervous during a match, players playing up front will feel anxious too. I believe that the colour of a medal can be changed depending on my effort."
With less than two months to go until the PyeongChang 2018 Paralympic Winter Games, one of the home favourites in South Korea is targeting medal success in front of his own fans.
Goalkeeper Man-Gyun Yu is returning to full form after surgery in October 2016, just in time to help South Korea add a Paralympic medal to the bronze they won at the 2017 World Para Ice Hockey Championships A-Pool last April.
"My aggressive play style affected my neck, so I underwent a surgery," Yu said. "I had a lot of pressure, because I couldn't get back my form [for the 2017 Worlds]. However thanks to my teammates' great performance, I could relieve a bit of my stress."
South Korea defeated Norway in the bronze medal match. It was the country's second medal in the A-Pool following silver at the 2012 edition.
Since then, the 47-year-old has been spending extra time on individual training following the team sessions.
"Training is the only way for me to stir up confidence as well as good form," he said. "Anyone hardly imagines how much a goaltender feels oppressed in front of the goal post.
"However as the very last defender of my team, I always do all my best to show confidence even in my daily life to teammates who rely on me. If I look nervous during a match, players playing up front will feel anxious too."
"I believe that the colour of a medal can be changed depending on my effort," Yu added.
In November 2017, the team seedings and groups for the 2018 Paralympic Games were decided. South Korea was drawn in Group B with Czech Republic, Japan and three-time Paralympic champions USA.
"Team USA will be definitely not easy, but we are confident to compete against the other two countries."
South Korea has yet to beat the USA, and lost 8-0 to them at the 2017 World Sledge Hockey Challenge.
"I don't look this defeat negatively, because we just finalised the final squad for the 2018 Paralympic Games three weeks before the competition. We are on the way to refine our teamwork with rookies," he explained.
"However it is not deniable that USA's speed and physical strength are superior to us. We should focus on building physical strength particularly in order to defend them to the end."
The host country start their PyeongChang 2018 campaign against Japan on 10 March at the Gangneung Hockey Centre.
Until then, the team is hoping to stay healthy.
"Most key players including me are aged, as we are in their 40's. This dynamic sport can cause injury suddenly, so we shouldn't loosen up while training and competing," Yu emphasised.
"Now we only think about reaching a gold medal match."
The Paralympic Winter Games take place in PyeongChang, South Korea from 9-18 March. Tickets can be purchased from the official website.