Imagen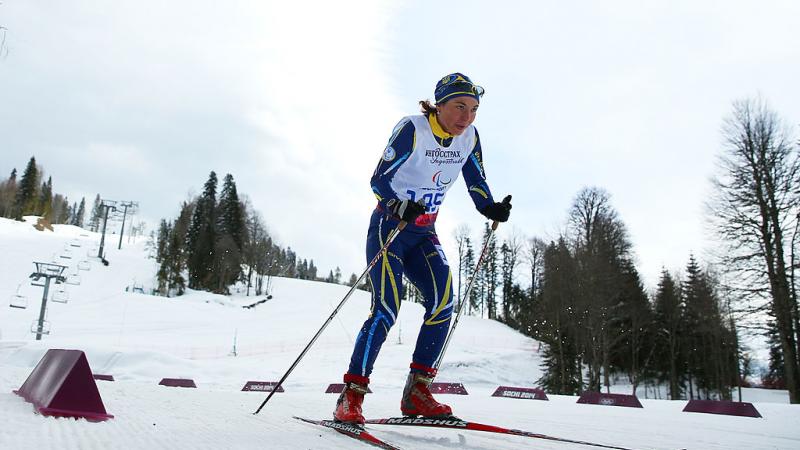 Oksana Shyshkova
Nordic Skiing
It will be no easy task for Oksana Shyshkova to defend her two biathlon and one cross-country world titles at Prince George 2019.
However, the Ukrainian seems ready to do so after delivering good performances in the 2018-19 World Cup circuit, securing three wins overall in the women's vision impaired.
Shyshkova had already proven to be highly-competitive at PyeongChang 2018, where she won her first Winter Paralympic titles.
The Nordic skier, guided by Vitaliy Kazakov, won gold in the biathlon middle distance and cross-country mixed relay. She then went on to claim three silvers and one bronze. Shyshkova also ended second in the biathlon World Cup overall rankings and third in the cross-country.
Her breakthrough season was 2016-17 as she claimed her maiden world titles at Finsterau 2017 and also ended top of the biathlon World Cup overall rankings, as well as second in cross-country.
She won the women's biathlon sprint and long distance, and the cross-country middle distance races at the 2017 World Championships. She followed that up with silver in the biathlon middle distance; and cross-country sprint and long distance.
Shyshkova began her active life in a circus school and toured Germany as part of a choir when she was a youngster. She has always been into sports too, playing football and practising athletics before her former coach suggested she try Nordic skiing.
She was 17 when she first skied on the trails of Ukraine. Only six years later, she would stand on the podium at Sochi 2014 four times across biathlon and cross-country events, all of them bronze medals.
Biography
Impairment information
Type of Impairment
Vision impairment
Further personal information
Languages
Russian, Ukrainian, English
Higher education
Management - Kharkiv State Veterinary Academy: Ukraine
Sport specific information
When and where did you begin this sport?
She began skiing in 2008 in Kharkiv, Ukraine.
Why this sport?
She has liked sports since childhood. She played football and was involved in athletics before her first coach Mykola Vorchak suggested she try skiing. "Once I tried it I couldn't stop doing this sport even though I don't like winter and cold weather. I really like this sport because you can open something new for yourself and every day, every time you have so many details you can improve and discover. It's a really hard sport but it's my sport and I really like it."
Club / Team
Invasport: Kharkiv, UKR
Name of coach
Valery Kazakov [cross-country skiing], UKR; Volodymyr Ivanov [biathlon], UKR
General interest
Nicknames
Ksyusha (Facebook profile, 10 Jun 2021)
Hobbies
All sports. (Athlete, 18 Dec 2017)
Memorable sporting achievement
Her performances at the 2017 World Championships in Finsterau, Germany, and the 2018 Paralympic Winter Games in Pyeongchang. (Athlete, 17 Dec 2018)
Awards and honours
In December 2018 she was named an Honourable Citizen in the Kharkiv region of Ukraine. (oblrada.kharkov.ua, 06 Dec 2018)

In recognition of her performances at the 2014 and 2018 Paralympic Winter Games, she received the Orders of Princess Olga [third and second classes] in Ukraine. (president.gov.ua, 29 Mar 2018, 23 Aug 2014)

She has received the titles of Honoured Master of Sport in biathlon and cross-country skiing in Ukraine. (paralympic.org.ua, 22 Feb 2022)
Other sports
She has received the title of Master of Sport in Para athletics in Ukraine. She also competed in both biathlon and cross-country skiing at the Paralympic Winter Games in 2010, 2014 and 2018. (SportsDeskOnline, 18 Dec 2018; Athlete, 17 Dec 2018)
Famous relatives
Her great grandfather Vyacheslav Shishkov was a well-known writer in the Russian Federation and the Soviet Union. (fakty.ua, 20 Mar 2018)
Impairment
At age 10 her vision started to deteriorate. (paralympic.org.ua, 08 Mar 2010)
Results
IPC Nordic Skiing World Championships Solleftea (Solleftea, Sweden)

| Event | Medal | Unit | Date | Rank |
| --- | --- | --- | --- | --- |
| Women's Sprint - Classic VI | | Final | 2013-02-25 | 5 |
| Women's Long Distance - Free Style VI | | Final | 2013-02-27 | 9999 |
| Women's Short Distance VI | | Final | 2013-02-28 | 9999 |
| Women's Middle Distance VI | | Final | 2013-03-01 | 3 |
| Women's Long Distance VI | | Final | 2013-03-03 | 4 |
2015 IPC Nordic Skiing World Championships Cable (Cable, United States of America)

| Event | Medal | Unit | Date | Rank |
| --- | --- | --- | --- | --- |
| Women's Short Distance VI | | Race 1 | 2015-01-24 | 2 |
| Women's Long Distance - Free Style VI | | Race 1 | 2015-01-25 | 9999 |
| Women's Middle Distance VI | | Race 1 | 2015-01-27 | 2 |
| Women's Sprint - Classic VI | | Race 1 | 2015-01-28 | 2 |
| Women's Long Distance VI | | Race 1 | 2015-01-30 | 4 |
| Women's Middle Distance - Classic VI | | Race 1 | 2015-01-31 | 3 |
2017 IPC Nordic skiing World Championships Finsterau, GER (Finsterau, Germany)

| Event | Medal | Unit | Date | Rank |
| --- | --- | --- | --- | --- |
| Women's Middle Distance VI | | Final | 2017-02-11 | 2 |
| Women's Sprint - Free Style VI | | Final | 2017-02-12 | 2 |
| Women's Long Distance VI | | Final | 2017-02-14 | 1 |
| Women's Long Distance - Classic VI | | Final | 2017-02-16 | 2 |
| Women's Sprint VI | | Final | 2017-02-18 | 1 |
| Women's Middle Distance - Free Style VI | | Final | 2017-02-19 | 1 |
Prince George 2019 World Para Nordic Skiing Championships (Prince George, Canada)

| Event | Medal | Unit | Date | Rank |
| --- | --- | --- | --- | --- |
| Women's Middle Distance VI | | Final | 2019-02-16 | 2 |
| Women's Middle Distance - Free Style VI | | Final | 2019-02-17 | 1 |
| Women's Sprint - Free Style VI | | Final | 2019-02-18 | 2 |
| Women's Sprint VI | | Final | 2019-02-20 | 2 |
| Women's Long Distance VI | | Final | 2019-02-21 | 2 |
| Women's Long Distance - Classic VI | | Final | 2019-02-24 | 2 |