Imagen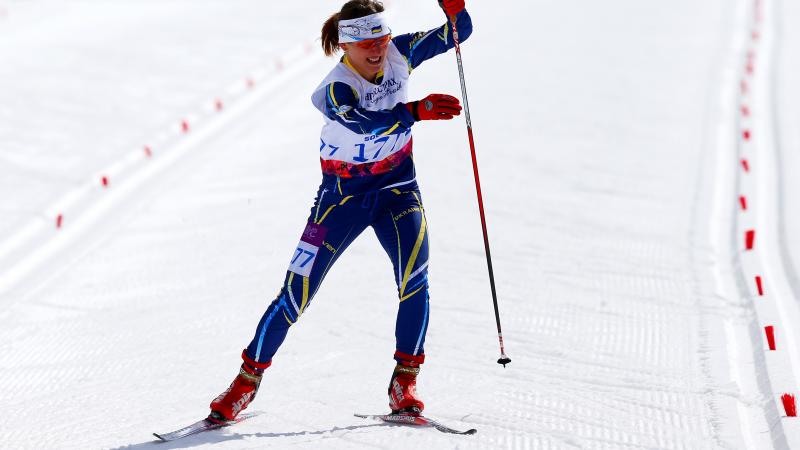 Oleksandra Kononova
Nordic Skiing
It was hard to see Oleksandra Kononova miss the 2017-18 season, including the Paralympic Winter Games in PyeongChang, South Korea, due to health-related issues. The Ukrainian Nordic skier had dominated the women's standing category for years.
But she seems to be back into full form as she secured six wins across biathlon and cross-country events over two World Cups in the 2018-19 season.
The last major competition Kononova shone at was the 2017 World Championships, where she claimed six medals including three individual world titles in both cross-country and biathlon.
She also finished top of both the overall women's biathlon and cross-country standing World Cup rankings.
But Kononova has followed a long path before becoming one of her country's best Nordic skiers.
As the youngest member of the team at Vancouver 2010 at just 19-years-old, she picked up three golds in the women's biathlon long distance, as well as the cross-country sprint and middle distance.
In the following year, she added one more gold to that tally in biathlon at her second World Championships.
Abandoned by her parents as a baby and raised by her grandmother, a bone infection in her right hand caused a reduction in growth that worsened as she grew older.
At Sochi 2014, Kononova won biathlon long distance gold yet again, while also winning silver in the biathlon middle distance and cross-country sprint.
In 2015, she followed that up with an incredible six world titles across cross-country and biathlon. In addition, Kononova won the overall biathlon World Cup and finished a strong third in the cross-country edition.
In 2015-16, the Ukrainian finished third overall in both the biathlon and cross-country World Cups.
Biography
Impairment information
Type of Impairment
Limb deficiency
Origin of Impairment
Acquired
Further personal information
Family
Husband Anatoly, daughter Adriana [2011]
Occupation
Athlete, Student
Languages
Russian, Ukrainian
Higher education
Coaching - Hryhorii Skovoroda University in Pereiaslav: Ukraine
Sport specific information
When and where did you begin this sport?
She took up skiing in around 2004 in Ukraine. She began competing in Para skiing in 2007.
Why this sport?
She saw some teenagers who were skiing on roller skis and wanted to try it. She then began skiing under coach Anatoly Zavedeev.
Club / Team
Invasport [UKR] / NKSIU Kyiv [UKR]:
Name of coach
Vasyl Mukshyn [biathlon], UKR; Anatoly Zavedeev [cross-country skiing], UKR
General interest
Nicknames
Sasha (kp.ua, 07 Apr 2010)
Hobbies
Beadwork. (Athlete, 04 Mar 2022)
Memorable sporting achievement
Winning four medals [three gold, one silver] at the 2010 Paralympic Winter Games in Vancouver. (Athlete, 04 Mar 2022)
Most influential person in career
Coach Anatoly Zavedeev. (Athlete, 04 Mar 2022)
Hero / Idol
Italian biathlete Dorothea Wierer, Norwegian biathlete Tarjei Boe, French biathlete Quentin Fillon Maillet. (Athlete, 04 Mar 2022)
Sporting philosophy / motto
"Don't stop." (Athlete, 04 Mar 2022)
Awards and honours
She received Ukrainian Orders for Merits, third and second grades, for her achievements at the 2010 and 2014 Paralympic Winter Games. (president.gov.ua, 23 Aug 2014, 25 Mar 2010)

In 2011 she won the Best Games Debut award at the International Paralympic Committee [IPC] Paralympic Awards in recognition of her performance at the 2010 Paralympic Winter Games in Vancouver. (paralympic.org.ua, 09 Feb 2012)

She has received the titles of Honoured Master of Sport in biathlon and Master of Sport of International Class in cross-country skiing in Ukraine. (paralympic.org.ua, 22 Feb 2022)
Other sports
She competed in both biathlon and cross-country skiing at the Paralympic Winter Games in 2010 and 2014. (paralympic.org, 2016; SportsDeskOnline, 25 Feb 2022)
Ambitions
To win a gold medal at the 2022 Paralympic Winter Games in Beijing. (Athlete, 04 Mar 2022)
Impairment
She had osteomyelitis [a bone infection] as a baby, and her right hand was affected. (kp.ua, 07 Apr 2010)
Results
IPC Nordic Skiing World Championships Solleftea (Solleftea, Sweden)

| Event | Medal | Unit | Date | Rank |
| --- | --- | --- | --- | --- |
| Women's Sprint - Classic Standing | | Final | 2013-02-25 | 3 |
| Women's Long Distance - Free Style Standing | | Final | 2013-02-27 | 2 |
| Women's Short Distance Standing | | Final | 2013-02-28 | 3 |
| Women's Middle Distance Standing | | Final | 2013-03-01 | 3 |
| Women's Long Distance Standing | | Final | 2013-03-03 | 8 |
| Women's Middle Distance - Classic Standing | | Final | 2013-03-05 | 1 |
2015 IPC Nordic Skiing World Championships Cable (Cable, United States of America)

| Event | Medal | Unit | Date | Rank |
| --- | --- | --- | --- | --- |
| Women's Short Distance Standing | | Race 1 | 2015-01-24 | 1 |
| Women's Long Distance - Free Style Standing | | Race 1 | 2015-01-25 | 1 |
| Women's Middle Distance Standing | | Race 1 | 2015-01-27 | 1 |
| Women's Sprint - Classic Standing | | Race 1 | 2015-01-28 | 1 |
| Women's Long Distance Standing | | Race 1 | 2015-01-30 | 1 |
| Women's Middle Distance - Classic Standing | | Race 1 | 2015-01-31 | 1 |
| Mixed Relay | | Final | 2015-02-01 | 2 |
2017 IPC Nordic skiing World Championships Finsterau, GER (Finsterau, Germany)

| Event | Medal | Unit | Date | Rank |
| --- | --- | --- | --- | --- |
| Women's Middle Distance Standing | | Final | 2017-02-11 | 1 |
| Women's Sprint - Free Style Standing | | Final | 2017-02-12 | 2 |
| Women's Long Distance Standing | | Final | 2017-02-14 | 8 |
| Mixed Relay | | Final | 2017-02-15 | 1 |
| Women's Long Distance - Classic Standing | | Final | 2017-02-16 | 1 |
| Women's Sprint Standing | | Final | 2017-02-18 | 2 |
| Women's Middle Distance - Free Style Standing | | Final | 2017-02-19 | 1 |
Prince George 2019 World Para Nordic Skiing Championships (Prince George, Canada)

| Event | Medal | Unit | Date | Rank |
| --- | --- | --- | --- | --- |
| Women's Middle Distance Standing | | Final | 2019-02-16 | 3 |
| Women's Middle Distance - Free Style Standing | | Final | 2019-02-17 | 3 |
| Women's Sprint - Free Style Standing | | Final | 2019-02-18 | 5 |
| Women's Sprint Standing | | Final | 2019-02-20 | 2 |
| Women's Long Distance Standing | | Final | 2019-02-21 | 2 |
| Mixed Relay | | Final | 2019-02-23 | 1 |
| Women's Long Distance - Classic Standing | | Final | 2019-02-24 | 7 |