Imagen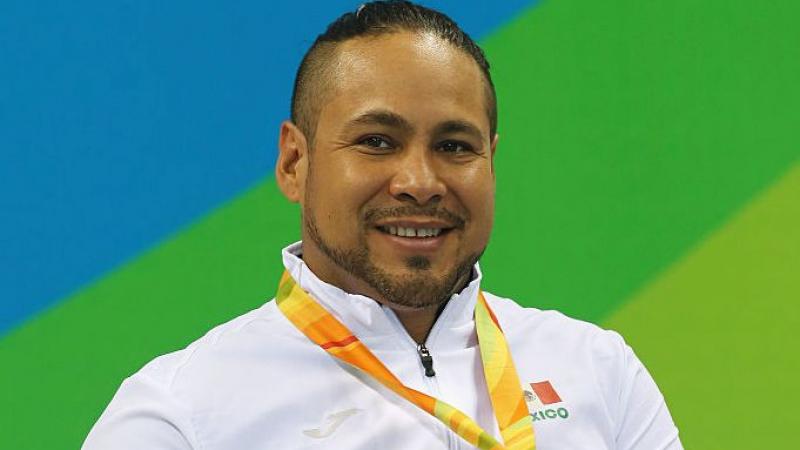 Pedro Rangel has proven to be a 100m breaststroke SB5 specialist throughout his career, having won all of his medals at Paralympic Games and World Championships in that event.
On his Paralympic debut at Athens 2004, the Mexican claimed bronze, repeating that feat twice at London 2012 and Rio 2016. His major achievement came in Beijing, China, in 2008, when he sealed his only Paralympic title.
In 2013, the 37-year-old touched in second at the World Championships in Montreal, Canada, to take silver. He seeks to win another medal on home soil at the Worlds in Mexico City, from 30 September-7 October 2017.
Rangel stood out on the regional stage as well. In 2003, he sealed two silvers at the Parapan American Games in Mar del Plata, Argentina, and followed that up with a gold at Guadalajara 2011 and another silver at Toronto 2015.
Rangel showed top form also in the open water, as he was part of the first team made up of Paralympic swimmers that crossed the English Channel, in 2014.
Results
IPC Swimming World Championships Mar del Plata 2002 (Mar del Plata, Argentina)

| Event | Medal | Unit | Date | Rank |
| --- | --- | --- | --- | --- |
| Men's 100 m Freestyle S7 | | Heats | | 16 |
| Men's 100 m Breaststroke SB5 | | Heats | | 8 |
| Men's 100 m Breaststroke SB5 | | Final Round | | 9999 |
| Men's 4x50 m Freestyle 20 pts | | Final Round | | 6 |
IPC Swimming World Championships Durban 2006 (Durban, South Africa)

| Event | Medal | Unit | Date | Rank |
| --- | --- | --- | --- | --- |
| Men's 100 m Freestyle S7 | | Heats | | 15 |
| Men's 100 m Breaststroke SB5 | | Final Round | | 1 |
| Men's 100 m Breaststroke SB5 | | Heats | | 2 |
| Men's 400 m Freestyle S7 | | Heats | | 11 |
| Men's 4x50 m Freestyle 20 pts | | Final Round | | 2 |
| Men's 4x50 m Medley 20 pts | | Final Round | | 7 |
2013 IPC Swimming World Championships (Montreal, Canada)

| Event | Medal | Unit | Date | Rank |
| --- | --- | --- | --- | --- |
| Men's 100 m Breaststroke SB5 | | Final 1 | 2013-08-16 | 2 |
| Men's 100 m Breaststroke SB5 | | Heat 1 | 2013-08-16 | 2 |
2015 IPC Swimming World Championships (Glasgow, Great Britain)

| Event | Medal | Unit | Date | Rank |
| --- | --- | --- | --- | --- |
| Men's 100 m Breaststroke SB5 | | Final 1 | 2015-07-14 | 6 |
| Men's 100 m Breaststroke SB5 | | Heat 1 | 2015-07-14 | 6 |
London 2019 World Para Swimming Championships (London, Great Britain)

| Event | Medal | Unit | Date | Rank |
| --- | --- | --- | --- | --- |
| Men's 100 m Breaststroke SB5 | | Heat 1 | 2019-09-09 | 6 |
| Men's 100 m Breaststroke SB5 | | Final 1 | 2019-09-09 | 6 |
Madeira 2022 World Para Swimming Championships (Funchal, Portugal)

| Event | Medal | Unit | Date | Rank |
| --- | --- | --- | --- | --- |
| Mixed 4x100 m Medley 34pts | | Heat 1 | 2022-06-16 | 11 |
| Men's 100 m Breaststroke SB6 | | Heat 2 | 2022-06-17 | 14 |
| Men's 100 m Breaststroke SB5 | | Final 1 | 2022-06-17 | 3 |