Imagen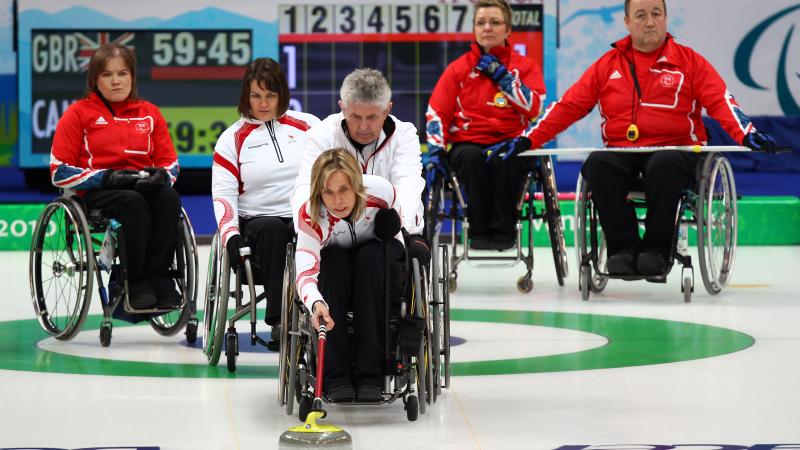 Sonja Gaudet
Wheelchair Curling
Canada's wheelchair curling queen Sojna Gaudet will be aiming to help her country win a third consecutive Paralympic gold medal at the Sochi 2014 Games.
Gaudet is Canada's most decorated wheelchair curler and in the summer of 2013, she was the first ever wheelchair athlete inducted into the Canadian Curling Hall of Fame.
Nearly 14 years ago, Gaudet fell from a horse, sustaining a spinal-cord injury. But that didn't stop her from pursuing sports, as she continued to play basketball and tennis, in addition to rowing, cycling and swimming.
The 47-year-old, who resides in Vernon, British Colombia, became a double Paralympic champion in front of her home crowd at the Vancouver 2010 Paralympic Winter Games, adding to her 2006 gold medal from Torino.
Gaudet plays in the lead position where she has helped her compatriots win three world titles in 2009, 2011 and 2013.
The 2013 World Championships also served as the wheelchair curling Sochi 2014 Test Event.
The Canadian team dominated the tournament winning nine out of 11 matches, and made amends for their earlier 8-7 loss to rivals Sweden with a 4-3 victory over them in the final.
Therefore, Gaudet and her team will travel to Sochi hoping to build on their gold mine as favourites for a fourth Paralympic title.
Off the ice, she is raising two teenagers – Alysha and Colten – with her husband Dan. She is also a certified teacher's assistant and hopes to work in schools once her athlete career is over.
Photo Gallery
Imagen