Imagen
Taiki Morii
Alpine Skiing | Powerlifting
Taiki Morii started sit-skiing after watching the 1998 Nagano Winter Games while in hospital.
He is a three-time Paralympian and while he has enjoyed success at the highest level away from the Paralympic Games, he has also medalled at every single Games since 2006.
Morii won a silver medal at the Torino 2006 Paralympic Winter Games in giant slalom, a silver medal in downhill at the Vancouver 2010 Games and a bronze medal in the super-G. He followed that up in 2014 with a super-G silver in Sochi.
Morii got his first taste of gold taking top spot in giant slalom at the 2011 World Championships.
His form continued in 2013 where the sit-skier won world titles in giant slalom, super combined and super-G, in addition to picking up a silver medal in the slalom.
Morii has a healthy rivalry with fellow countryman Takeshi Suzuki and between them they won four medals at the 2015 World Championships, where only Suzuki left with a coveted gold.
Morii will get the chance to change that in 2017 at the World Para Alpine Skiing Championships in Tarvisio, Italy.
He heads to Italy as overall 2015-16 World Cup winner, as well as claiming individual titles in slalom and giant slalom.
Photo Gallery
Imagen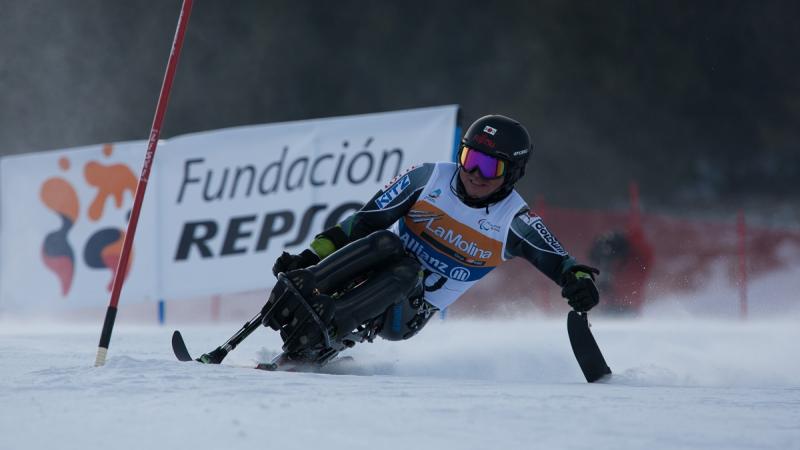 Results
IPC Alpine Skiing World Championships (Kangwonland, South Korea)

| Event | Medal | Unit | Date | Rank |
| --- | --- | --- | --- | --- |
| Men's Super-Combined Sitting | | Final | 2009-02-23 | 2 |
| Men's Super-G Sitting | | Final | 2009-02-23 | 2 |
| Men's Super-G Sitting | | Run 2 | 2009-02-24 | 3 |
| Men's Downhill Sitting | | Final | 2009-02-28 | 7 |
2011 IPC Alpine Skiing World Championships (Sestriere, Italy)

| Event | Medal | Unit | Date | Rank |
| --- | --- | --- | --- | --- |
| Men's Downhill Sitting | | Final | 2011-01-16 | 2 |
| Men's Super-G Sitting | | Final | 2011-01-18 | 2 |
| Men's Super-Combined Sitting | | Final | 2011-01-19 | 9999 |
| Men's Slalom Sitting | | Final | 2011-01-20 | 7 |
| Men's Giant Slalom Sitting | | Final | 2011-01-21 | 1 |
IPC Alpine Skiing World Championships (La Molina, Spain)

| Event | Medal | Unit | Date | Rank |
| --- | --- | --- | --- | --- |
| Men's Downhill Sitting | | Race 1 | 2013-02-20 | 16 |
| Men's Super-G Sitting | | Race 1 | 2013-02-21 | 1 |
| Men's Slalom Sitting | | Race 1 | 2013-02-24 | 2 |
| Men's Super-Combined Sitting | | Race 1 | 2013-02-25 | 1 |
| Men's Giant Slalom Sitting | | Race 1 | 2013-02-26 | 1 |
2015 IPC Alpine Skiing World Championships Panorama (Panorama, Canada)

| Event | Medal | Unit | Date | Rank |
| --- | --- | --- | --- | --- |
| Men's Downhill Sitting | | Race 1 | 2015-03-04 | 3 |
| Men's Super-G Sitting | | Race 1 | 2015-03-05 | 7 |
| Men's Super-Combined Sitting | | Race 1 | 2015-03-07 | 4 |
| Men's Giant Slalom Sitting | | Race 1 | 2015-03-08 | 3 |
| Men's Slalom Sitting | | Race 1 | 2015-03-10 | 2 |
2017 IPC Alpine skiing World Championships Tarvisio, ITA (Tarvisio, Italy)

| Event | Medal | Unit | Date | Rank |
| --- | --- | --- | --- | --- |
| Men's Downhill Sitting | | Race 1 | 2017-01-25 | 9999 |
| Men's Super-G Sitting | | Race 1 | 2017-01-26 | 5 |
| Men's Super-Combined Sitting | | Race 1 | 2017-01-28 | 2 |
| Men's Giant Slalom Sitting | | Race 1 | 2017-01-30 | 9999 |
| Men's Slalom Sitting | | Race 1 | 2017-01-31 | 9999 |
Kranjska Gora/Sella Nevea 2019 World Para Alpine Skiing Championships (Kranjska Gora/Sella Nevea, Slovenia)

| Event | Medal | Unit | Date | Rank |
| --- | --- | --- | --- | --- |
| Men's Giant Slalom Sitting | | Race 1 | 2019-01-21 | 7 |
| Men's Slalom Sitting | | Race 1 | 2019-01-23 | 4 |
| Men's Downhill Sitting | | Race 1 | 2019-01-30 | 5 |
| Men's Super-G Sitting | | Race 1 (from SC) | 2019-01-31 | 5 |
| Men's Super-Combined Sitting | | Race 1 | 2019-01-31 | 9999 |